When all the cashiers at your local joint know your name, burger order, and no-ketchup policy by heart, you know it's time to branch out. We're here to help.
From the traditional beef-and-cheese burger to one with a creative French twist, our selected picks have Marin County residents from Stinson Beach to Larkspur reeling from the juicy flavor.
In Mill Valley? Sit down by the fire-pits or the 16 table patio on their parking lot for an amazing cocktail and burger. Any burger dressed with 'Awesome Sauce' has to be amazing, right? If you're still stuck on which one to choose, try the Bungalow Burger.
For your dose of upscale California cuisine in a burger, look no further than Bungalow 44. Smoked onion rings? Yes, please. Awesome sauce? It's got that too. White cheddar, shredded lettuce, and fries. Need we say more?
Sometimes food tries to do too much. If you want the basics, and you want it done well, Buckeye Roadhouse is your spot. Described as "fully garnished" on their menu, the Roadhouse Burger is a formidable player in the burger game by nailing the basics. It involves a solid and simple combination of smoky beef flavors, a black-seeded sesame bun, and pickles. Enjoy a complimentary side of their golden fries with your order and wash it all down with one of Buckeye's beer offerings: "I would pair it with Mt. Tam Pale Ale or — if you are super lucky — Pliny the Elder double IPA. We only get three cases a week." – Robert Price, Executive Chef (Mill Valley). 
15 Shoreline Hwy, Mill Valley, CA
Floodwater – Wagyu Cheeseburger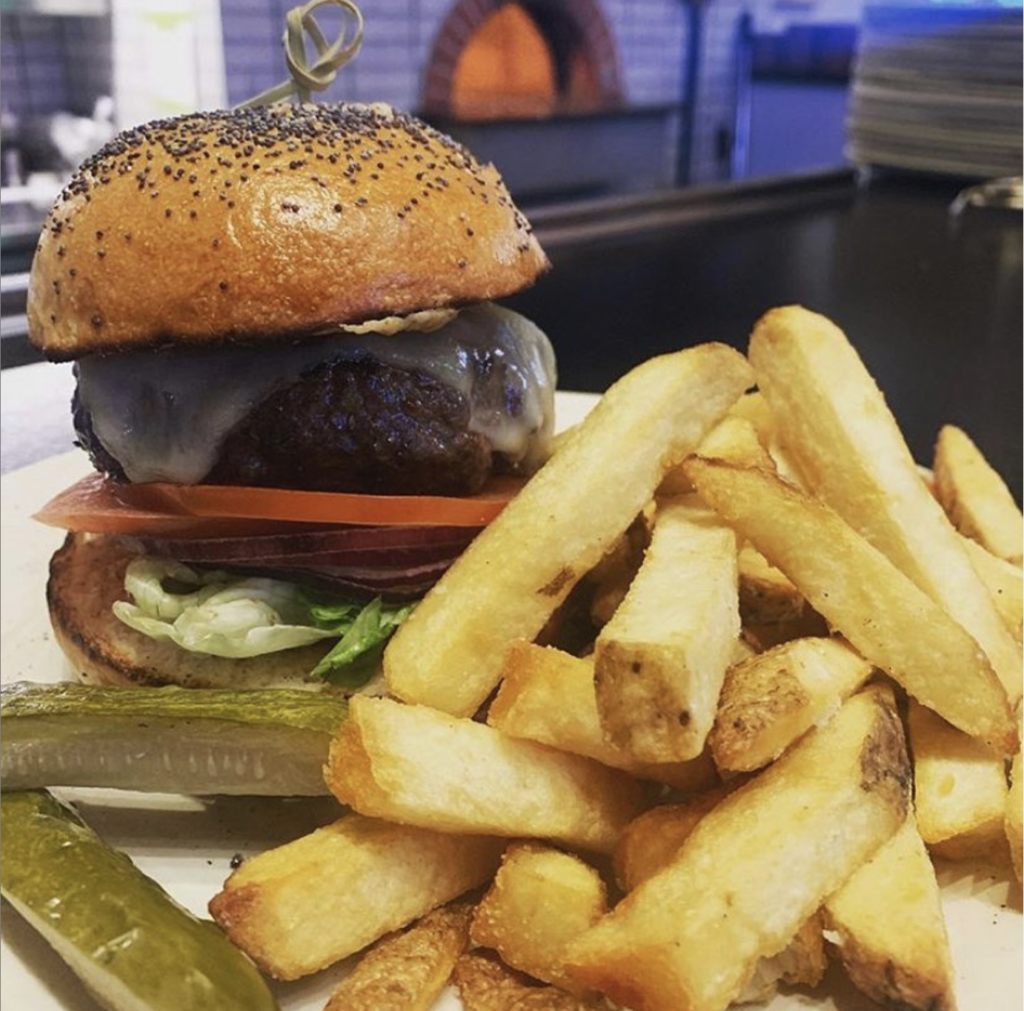 Delicious, rich, and well-worth it. This house ground patty made with tender Wagyu beef is drizzled with French onion bone marrow and served with all the works. A side of thick, house cut fries and a crunchy pickle round off this burger experience. If you're feeling like a little extra something, bacon, avocado, a fried egg can be added for an additional cost — add one or add them all.
When it comes to chain restaurants, food quality drops as the number of locations go up. Not with Gott's. Despite the sheer number of burgers they dish out, Gott's achieves a slam dunk each time with their rendition of the bacon cheeseburger. Toppings include American cheese, Zoe's bacon, lettuce and pickles stacked on a plushy, toasted egg bun — not to mention Gott's "secret sauce" (yes, lots of sauce secrecy going on). The president of Gott's himself recommends the "Ballast Point Sculpin IPA on draft that pairs especially well with [the] bacon cheeseburger. It's a medium-bodied IPA with bright flavors that aren't too hoppy — it really balances out the richness of the burger but doesn't overpower it." – Clay Walker, president (Greenbrae).
302 Bon Air Center, Greenbrae, CA
Want to spice it up? Gravity Burger will send your tastebuds soaring. With their seared house grind burger, horseradish aioli, aged sharp cheddar, and little gem slaw, this burger has the praise-worthy 'salt, fat, acid, heat' that we have come to deeply appreciate.
A casual waterfront restaurant specializing in rotisserie and local brews, the Joinery fills a tall order in the size and scope of their meals. Don't believe us? Look at their Joinery Burger, a tall stack made of a sesame seed bun and stacked high with tomato, pickles, onions and beef — all swimming in a pool of mouth-watering melted cheese. You can also choose from a variety of fries, served in massive metal trays, to pair alongside your burger. Pick a fry. Any fry!
Selections include sweet potato, garlic and dirty fries with pork belly and cracklings.
300 Turney Street, Sausalito, CA 

An American burger and a French fry? Oui, s'il vous plaît! Served with delicate butter lettuce, juicy tomato slices, and a crispy side of frites, this generous ½ lb. burger is guaranteed to satisfy. Sandwiched between a toasted, hearty bun, this meal not only provides the flavor you love but the texture you never knew you wanted.
When you don't want to stray too far from the traditional taste and look of a burger, Perry's nails down the art of simplicity by paying attention to quality above all else: "The Perry's Burger Classic is classic and simple. High-quality meat, handled minimally, seasoned with salt and pepper, grilled and placed on a lightly toasted brioche bun." —Perry Butler (Larkspur)
The burger is served with house-made cottage chips on the side. Spice it up by adding avocado, crispy bacon, or extra cheese at an extra cost.
234 Magnolia Ave, Larkspur, CA
Parkside's Niman burger is a whopping 8-ounce masterpiece of grass-fed beef and house brioche bun, served with hand cut fries and lettuce, tomato, onion, pickle and mustard aioli on the side. "A juicy grilled burger after a day at Stinson Beach is simply perfection. Our burger is made with local beef and served on a brioche bun. Eat well, be happy," says Maxine Gilbert, the chef and co-owner. Well said, and if you like a dense bun, oh boy. The fluffy and floury brioche will be the hallmark of your Parkside experience.
To balance out the decadence, order their fresh cobb or the delectably sweet and crunchy beet, butternut and apple salad for a nice health kick! And if not for the burger, at least visit for the spectacular views of ocean waves hitting the rocky Stinson Beach cliffs while slurping down their raw oysters.
While there are plenty of options to choose from, the classic ShackBurger is the way to go. A few notches above the traditional fast food joints, Shake Shack delivers that satisfaction you're craving for under ten bucks. Prefer your burger cooked well done? This one maintains its great flavor. Oh, and don't forget to throw in a shake while you're at it.
Best part about of Super Duper in Mill Valley… the drive-thru for their delicious burgers! Almost contactless pick up has the line starting when they open at 12 in the morning. Don't miss out on their Super Burger, a side of Garlic Fries and home-made pickles!
Watershed MV – Stemple Creek Cheeseburger
A celebration of local goodness, this burger features a grass-fed patty from Stemple Creek Ranch in Tomales and a brioche bun from Parkside in Stinson Beach — toasted to perfection. Thick-cut fries on the side. Add grilled red onion or Cherokee tomato at an additional cost (we recommend both!).
---