There are more places to quaff a well-crafted brew in Marin than ever. Marin beer brands are
getting creative. And the non-alcoholic beer trend is making a mark, too. What's your California
beer style?
Though he does not have a beer garden with his non-alcoholic (NA) beers on tap, Tate Huffard of Sausalito's Best Bay Brewing designed a set of brews in a can with an eye on NorCal's outdoor-focused, up early to hike culture. In 2021, Huffard launched a non-alcoholic Kölsch and an IPA onto the market. Building on the success of these early adapters, Huffard's hazy IPA followed in 2022. You can find his NA beer wherever beer is sold.
Home to over 30 different craft beers from over 25 top craft breweries, plus kombucha and cider on tap. From local favorites, seasonal offerings, rotating handles and specialty breweries, guests are invited to explore the ever-changing, wide range of products with a personalized flight of craft beers. Enjoy happy hour every day at 4 p.m. with $4 beers on tap and $4 wines by the glass. Creekside To Go always has a great selection of 4-pack cans for takeout, outdoor dining, and online ordering. Open seven days a week from 11AM.
638 San Anselmo Ave, San Anselmo; 415.785.4450
The see-and-be-seen patio enlivens the outdoor eating scene at Corte Madera Town Center, one
of eight NorCal locations for this brewery. The draft list includes everything from Belgian
dubbel-style to lighter Czech-style lagers and hoppier double IPAs. The pizzas have a dedicated
following and roasted Brussels sprouts and a chopped kale salad round out the menu.
107 Corte Madera Town Center, Corte Madera; 415.891.8273
Although the brewery famed for showcasing Marin's hills on its labels opened its first brewery in
Lafayette, CEO Austin Sharp is not only scouting for a spot to open a taproom in-county, his
team is celebrating a partnership with the Golden Gate Parks Conservancy for 2023. As if you
needed a reason to drink Marin-themed beer, the "Golden Gate" seasonal series of IPAs launched
with Golden Gate in November, 2022, Muir Woods is expected in April and Alcatraz is
scheduled for July. "We are donating $1 of every 4-pack sold to the parks," said Sharp.
The self-proclaimed "West County Pub" plans to reopen in early 2023 with a reimagined menu
of small bites, handhelds and shareables that go head-to-head with an expansive beer menu. We
hope the beer hall-style tables, especially the ones with banquettes, return, too.
765 Center Blvd, Fairfax: 415.485.1005
The tables shaded by umbrellas and live music pumping from the stage set a lively scene for this
beer garden at Novato's Vintage Oaks Shopping Center. While many come to savor a Pliny the
Younger (when in season), the restaurant is known for its killer Reuben and fish and chips with
Caribbean slaw.
224 Vintage Way, Novato; 415.892.6200
Just off of Novato's main drag, this nano brewery has an outdoor patio complete with umbrellas
and picnic tables to savor everything from Grumpas, a Scotch style ale, to a dry stout named
Genius. Taquiza Los Cunados serves up Mexican food every Wednesday, Friday and Sunday and
Amore Mio Pizza serves their signature pies on Thursdays during trivia. Look for pop-ups from Lone
Mountain Barbecue, too.
1016 Railroad Ave., Novato
Owner Dez Fiedler's devotion to micro-produced and local beer is evident from the 30 taps and a
robust can program including Socks and Sandals from Humble Sea in Santa Cruz, and
experimental bottlings, like Barebottle Brewing's Tangberry Typhoon, all easy to pair with
pizzas from Pizzahacker. Grab your fleece to sip one by a fire pit on the huge backyard patio
where live music is often on offer and a kids play area beckons.
226 Shoreline Hwy, 415.888.3544
Like the original in San Francisco, Christian Albertson's restaurant in the shopping center kitty-
corner from the Terra Linda Pool serves quaffable beers (like Pliny the Elder on tap), burgers,
and pub grub to match the suds. The Mission Fried Chicken has an ardent following but there are
plenty of veg-forward offerings, too. The mochi pancakes at brunch are not to be missed — try them with an Ettaler Heller Bock from Bayern, Germany.
655 Del Ganado Rd, San Rafael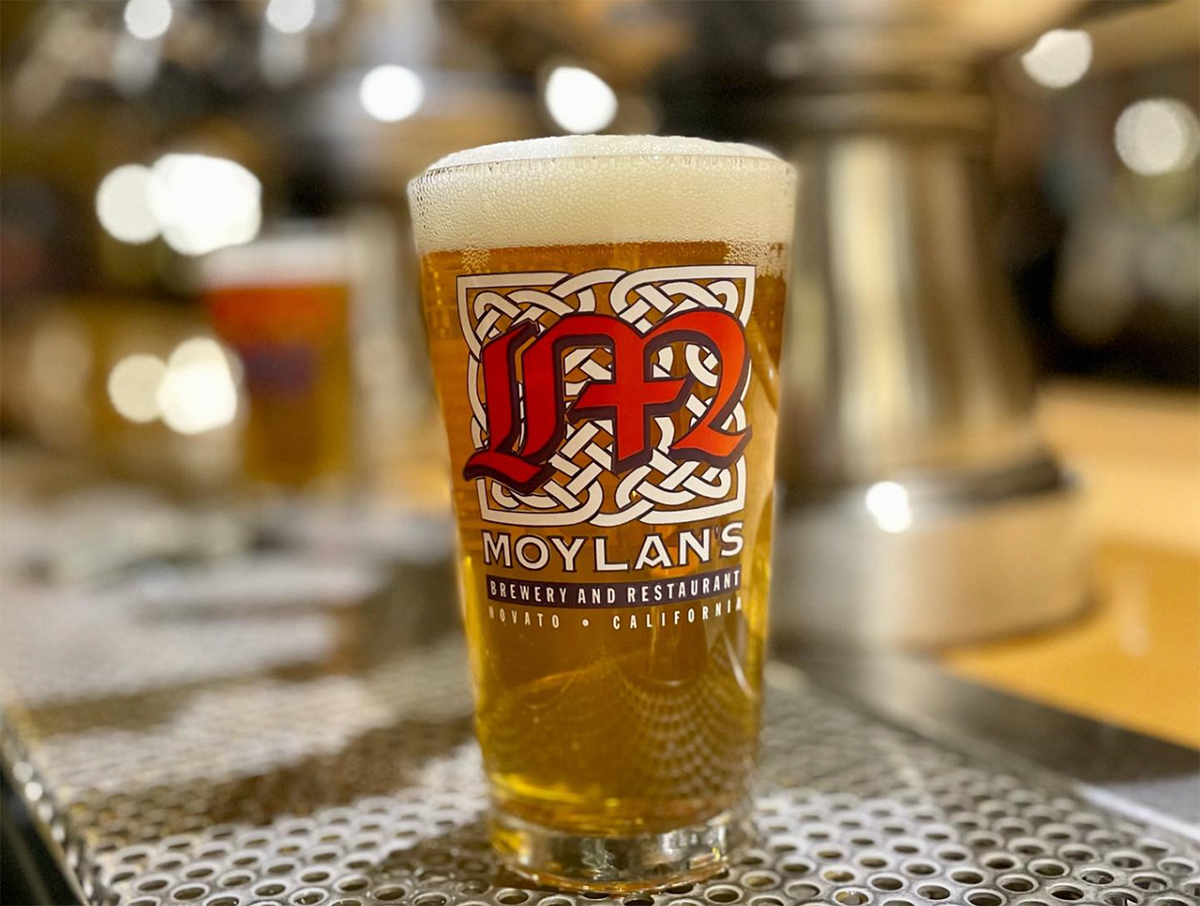 The big tanks out front are a sign of the beer to come at this long-running brewery in Novato.
Grab a seat at one of the picnic tables in the backyard patio before sinking into a bowl of beef
and bean chili or the restaurant's famous corned beef and cabbage. The beer menu is similarly
Irish-American in flavor with Irish stouts and NorCal IPAs available in equal measure.
15 Rowland Way, Novato; 415.898.4677
Enjoy small-batch, locally brewed beers on tap from Adobe Creek Brewing, Fogbelt Brewing
and Pond Farm Brewing, or a range of ciders at an all-outdoor, dog-friendly beer garden with fire
pits and bocce courts. Grab a seat at a picnic table before digging into a chile verde pork or steak
and mushroom savory pie, a warm pretzel with mustard, or a caramelized onion grilled cheese
sandwich.
5800 Northgate Dr, 877.747.0383
The microbrewery in the West End from husband and wife team Trevor and Stephanie Martens
has a rotating list of beers on tap from brewer Trevor, and a new food menu for enjoying in the
beer garden or at the bar. Look for snacks like a pretzel loaded with cornichons, gruyere and
salami, salads and mains like a sausage plate with mashed potatoes or a veggie sandwich.
1848 Fourth St, 415.524.8709
Though probably better known for their 'cue (the plant-based burger with avocado is great, too),
the former gas station and mechanics shop in the center of town boasts an extensive draft
program featuring not only pilsners, hazy IPAs and Kölsches from local breweries but wines
from California and around the world.
2001 Sir Francis Drake Blvd, Fairfax; 415.300.3099