There's always something that calls for a little celebration. Chefs have answered the call with desserts ready to strut their stuff.
Celebrating 25 years in the restaurant business is no small thing, and chef Heidi Krahling and her team have added a new dessert (and other new items) to celebrate the milestone. Chocolate olive oil mousse rests under a cloche of shredded phyllo that shatters when struck with a fork. A whirlwind swirl of chocolate similarly captures sesame, tahini cream and za'atar sesame crumble for a look that's so retro-fabulous it's avant garde.
120 Sir Francis Drake Blvd, San Anselmo; 415.457.7700
Executive sous chef Celtin Hendrickson-Jones designed the restaurant's carrot cake with Sicilian Paesano olive oil to give it a luxurious texture and flavor. Warmly spiced with ras el hanout, a Moroccan spice blend, the cake leans savory and is studded with sunflower, pumpkin and sesame seeds. Cream cheese and Greek yogurt frosting is sprinkled with fresh thyme and marigold petals that gives the dish a sunny outlook, even on the drippiest winter day.
320 Magnolia Ave, Larkspur; 415.924.0300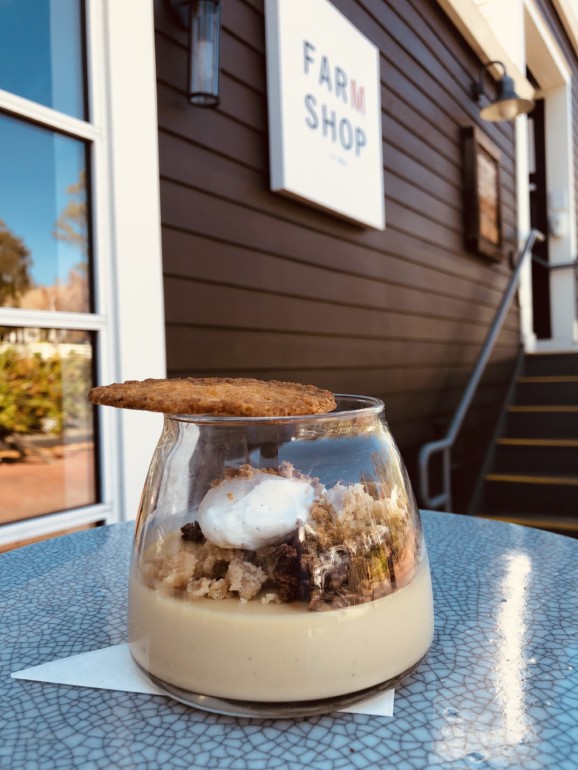 The Salted Butterscotch Budino may be inspired in equal measure by Italian pudding and Yorkshire treacle, revealing the multi-culti origins of the dish. From the French comes a crispy topper of feuilletine in shades of vanilla and chocolate, while toffee and crème fraîche add layers of buttery flavor to a dish designed to be eaten by the spoonful.
2233 Larkspur Landing, Larkspur; 415.755.6700
The dessert menu is tight at Crave, but each item hits just the right notes. No need to pine for chocolate with the Triple Chocolate Cake. The moist cake is 70% Valrhona chocolate and is slightly bittersweet. Chocolate buttercream adds sweetness while chocolate ganache sauce graces the top and adds chocolatey oomph to the layers. Did I mention "chocolate" enough?
340 Ignacio Blvd, Novato; 415. 883.0901
Braziliana
Chocolate sponge cake and espresso liqueur? Chantilly cream filling and chunks of milk chocolate? What doesn't sound good in that description? This dessert, also available as a wedding cake, comes recommended by Aaron Wright, executive chef of The Tavern at Lark Creek.
Crème Brulee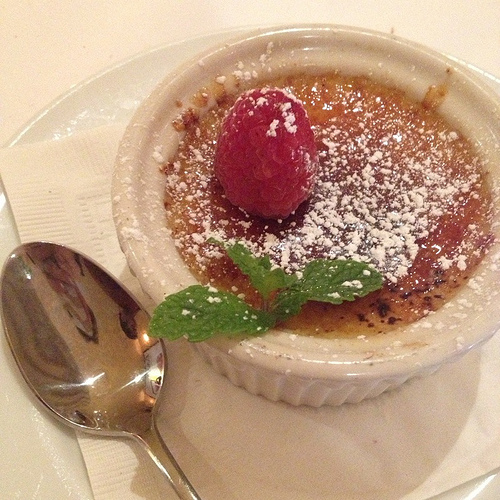 Acclaimed by Osteria Stellina's executive chef Christian Caiazzo, the Left Bank Crème Brulee is a French dessert consisting of rich custard and caramel.
Chocolate Tasting
Murray Circle's chef Justin Everett's answer may be a little biased, but his restaurant was Michelin star-awarded in 2011. He suggests the chocolate tasting – not one piece of chocolate, but a few to satisfy your chocolate fix.
Apple Pie with Bourbon Ice Cream
Jared Rogers, Picco's chef, recommends this dish that puts a twist on the traditional homemade apple pie. The mini pie with crispy, golden crust is complemented with a scoop of bourbon ice cream.
Soft-Serve Ice Cream with Extra-Virgin Olive Oil and Sea Salt
With ice cream toppings like dark caramel sauce, red wine poached pears, chocolate hot fudge and chipotle caramel, it's hard to imagine having a favorite. But Todd Shoberg, executive chef at Piatti, believes the extra-virgin olive oil and sea salt is the way to go.
Jamoca Almond Fudge
Okay, so it may not be authentically Marin, but Baskin-Robbins knows ice cream. At least, Peter Schumacher of Buckeye Roadhouse and Bungalow 44 thinks so. The Jamoca Almond Fudge is a simple but sweet swirl of sliced almonds and chocolate.
Fairfax Scoop
Mocha Almond Fudge Ice Cream
Scott Whitman, executive chef of Sausalito's Sushi Ran, recommends the Mocha Almond Fudge, a coffee-chocolate-nut treat.
---
Christina Mueller is a long-time Bay Area food writer. She hails from the East Coast and has spent way too much time in South America and Europe. She discovered her talent as a wordsmith in college and her love of all things epicurean in grad school. She has written for Condé Nast Contract Publishing, Sunset, and the Marin Independent Journal, among others. She volunteers with California State Parks and at her child's school, and supports the Marin Audubon Society, PEN America, and Planned Parenthood. When she is not drinking wine by a fire, she is known to spend time with her extended family.