On June 22, 2022, more than 200 community healthcare advocates, local leaders and proponents of Marin Community Clinics gathered at Inn Marin's outdoor garden space in Novato to celebrate the nonprofit's 50 years in Marin County.
Held on the summer solstice, the event commemorated Marin Community Clinics' legacy of advancing equitable health care— from its humble beginnings operating out of a Mill Valley church basement in 1972 to its current network of modern clinics throughout Marin offering a breadth and depth of medical, dental and behavioral health services to nearly 1 in 5 Marin residents.
Guests, which included Benita McLarin, Matt Willis and Susan and Dennis Gilardi, dined on paella, polenta and empanadas from Rickey's and Scrumptious Occasions Catering and sipped on specialty cocktails. Rolando Morales provided musical entertainment while two artists drew complimentary caricatures.
Marin Community Clinics presented two guests with its 2022 Community Health Champion award: Marian Huntington, the founder and executive director at NovatoSpirit, and Erik Schten, MD, medical director at its Novato clinic. The nonprofit's CEO, Mitesh Popat, MD, MPH, discussed the future of Marin Community Clinics and its ongoing commitment to adapt to and address community needs.
By the conclusion of the evening, Marin Community Clinics had raised more than 221,000 to support its ongoing mission to promote health and wellness through excellent, compassionate care for Marin residents, regardless of income level or ability to pay.
Event sponsors included the Marin Community Foundation, Sutter Health Novato Community Hospital, the Nancy and Richard Robbins Family Foundation, and several individuals.
---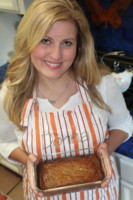 A freelance writer in Marin who writes about family, kids and parenting, Glass is the mother to one son, one dog and a hamster named Miss Geri. When she's not writing, trekking up steep hills in Marin or driving her kid to sports practice, she and her family spend time in their tiny cabin in Lake Tahoe. She avidly supports the California Academy of Sciences, a world class science museum and research institution, and the Institute on Aging which provides much needed services to Bay Area seniors and disabled adults. Glass is obsessed with baking the perfect loaf of banana bread, something she makes so often she no longer needs to look at a recipe card.