Designer Pamela Hayes has spent the past 25 years designing homes for clients in Marin and San Francisco, developing lasting relationships along the way with industry pros ranging from contractors to cabinet makers. When she finally got the opportunity to design and build her own home in Larkspur from the ground up, Hayes knew exactly who she wanted on her dream team, which included McCoppin Studios architect Ned White and Flint Construction. "One of the reasons I was motivated to do this is because of those relationships," Hayes says. "I worked with the contractor for many years, for example. I knew that if I was ever going to do this, I had to use him, especially since he was going to be retiring soon.
Set in a sunny clearing surrounded by trees, the original home on the property where Hayes' house now stands did little to capitalize on the beauty of the site, although Hayes saw the potential immediately. "I always tell my clients, 'You can change a house, but you can never change a location,' and the minute I saw this location, I knew it would be amazing.'"
The new 2,400 square-foot, three-bedroom, three-bath home was built from the ground up, with the exception of two foundational walls that were retained, and features a Japanese modern design. "I spent the first seven years of my childhood in Japan, and it made a huge impact on my aesthetic," Hayes says. "I appreciate the simplicity of Japanese art and design, and I knew I wanted to integrate that into the house." Hayes employed the Japanese concept of wabi-sabi, or finding beauty in imperfection, for example, throughout the house, from the shou sugi ban (charred wood) exterior siding to the use rusted raw steel beams.
Hayes often describes herself as an interior architect rather than an interior designer, since she specializes in helping clients select materials and finishes like windows, railings, tile and cabinetry, and she draws all of the plans herself. This meticulous approach to design is evident in her own home, where she carefully considered each decision.
Large-format concrete floor tiles and graphic black-and-white sea coral-patterned wallpaper embellish the entryway. In the kitchen, the dual-surface Negresco Quartzite and butcher block countertop provides an optimal surface for cooking prep and baking; box beams add visual interest on the ceiling; and the backsplash features tile imported from Japan. Seen throughout the house, cabinetry built by Hayes' longtime cabinetmaker, Jerry Wick, closely matches the wood of several tansu chests that the designer saved from her family's home in Japan, infusing the spaces with a sense of warmth. Large windows showcasing the property's lush natural surroundings also produce a calming effect. "As you design, there are so many choices to make, but I have to say that I don't have a single regret," Hayes says.
From the beginning of the project, Hayes knew she wanted to furnish the house with many of the pieces she already owned rather than buying all new furniture, and she even made sure to consider size and proportion during the initial planning stage with the architect. "We've collected such beautiful furniture over the course of marriage, including a walnut table from Spain, the tansu chests from our family home in Japan, a glass-and-wood cabinet that our cabinetmaker made for our old home," Hayes says. "I measured every piece of furniture before we sold our old house so that I would know how to fit it into this house."
Despite the magnitude of the project, Hayes' home was completed in less than two-and-a-half years, a feat she credits to her team, whose names are immortalized on one of the home's 30-foot beams. "After the house was done, I had a big party for all the crew, and I got out the chalk out and a ladder and told everyone to sign their names on the beam," she recalls. "Everyone said, 'You're going to wash this off, right?' and I said, "No, it's going to stay like that forever."
Where: Larkspur
What: New construction
Interior designer: Pamela Hayes
Architect: Ned White, McCoppin Studios
Contractor: Flint Construction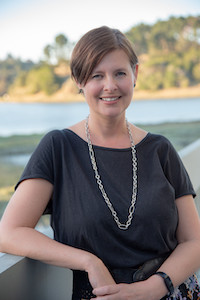 Lotus Abrams has covered everything from beauty to business to tech in her editorial career, but it might be writing about her native Bay Area that inspires her most. She lives with her husband and two daughters in the San Francisco Peninsula, where they enjoy spending time outdoors at the area's many open spaces protected and preserved by her favorite local nonprofit, the Peninsula Open Space Trust.