On a tucked-away street in Malibu that's known only among locals, there's a Mediterranean villa-style home that was built in the seventies. Its name appears on the front gate and in a mosaic on the front steps: "Villa di Vita Bella." "That means beautiful life in Italian," says owner Susan Noyes, the founder of Make It Better Media Group, which owns Marin magazine. (She has also owned a home in Marin since 2004).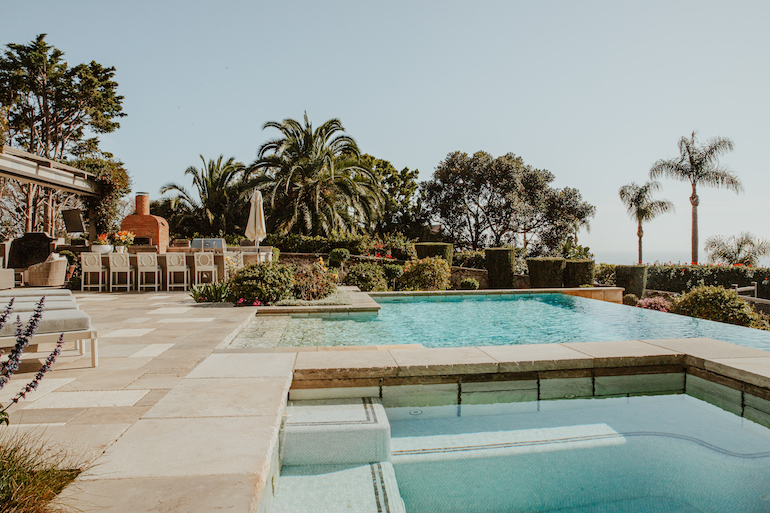 Living the sweet life for Noyes means spending as much time as possible out in nature and fresh air, with her large family, which includes: her husband, Nick; six adult children; two adult step children; daughters- and sons-in-law; six (soon to be seven) grandchildren, ages 4 to 21; and her 88-year-old mother. ("And sundry pets," she adds.)
Noyes's husband has always loved California. But she, an Indiana native, was adamant about raising their children in the Midwest, so they chose the suburbs of Chicago, where Noyes also launched her business. As their adult children migrated to California, the couple started spending more time there, ultimately deciding to make it their new home.
"I wasn't sure about Malibu," Noyes says. "I thought it was full of hippies. But, when we rented a home here for a couple months, I fell in love with the town, the climate and the view."
And, she fell in love with the five-bedroom home, which is full of exquisite Italian details, such as the wrought-iron gate on the front door. The Noyeses bought the house in August 2020 and in October they moved in. They hired Harrison Design, a firm with an international reputation, to transform the house in just two months before their arrival.
Though moving during a pandemic wasn't ideal, Noyes was eager to make use of the home's outdoor spaces for gathering safely with her family. Ultimately, several family members were able to come for Thanksgiving and Christmas around the outdoor fire pit, and Noyes threw a gender reveal party for her expectant daughter at the house in February. 
A Place for Gathering
In the center of the home is an open-plan family room and kitchen, with wall-sized glass doors that open to the outside. "They're open, all day, every day," Noyes says. Outside the doors is a terrace with a living area, including a large fire pit, and a dining area, all under a pergola covered with ivy, jasmine and wisteria, among other flowers.
"If you've ever been to the Hotel Bel Air, with its pergola, flowers and fountain, this is like a mini Hotel Bel Air," Noyes says. A fully-equipped outdoor kitchen, by Kalamazoo Outdoor Gourmet, includes a pizza oven.
Harrison Design principal Jesse Harrison and director of interiors Daniel Romanoff collaborated on the project. "Coming from Chicago, the Noyes family wanted to enjoy the outdoors as much as possible," Harrison says. "Susan wanted the outdoor spaces to be beautiful and groomed, but not precious or overly formal."
A major component was commissioning inviting outdoor furnishings. "The terraces are all stone, in shades of taupe, green and gray, so I pulled the colors from there," Romanoff says. The taupe outdoor dining table and dining chairs from Janus et Cie.
With only two months to complete the project, the designers chose outdoor furniture from RH and Janus et Cie in part because it was readily available—so they wouldn't have to contend with pandemic shipping delays.
Then, they created custom blue cushions for the Janus et Cie pieces, with fabric from F. Schumacher. "The blue gives the otherwise subtle color palette a pop of color," Romanoff says. 
A Swim, a Ride or a Tennis Match
Beyond the patio is what Noyes calls "the best swimming pool in the world": "There are three tiers of fountains, which work elegantly with the infinity edge, the hot tub waterfall, and the overall architectural aesthetic." She loves splashing around with her grandchildren.
Also on the property is a sports court that was customized by Sport Court of Southern California. The company added additional lines to the existing tennis court so it can also be used for shuffleboard, pickle ball and basketball (a hoop was installed)—all with grandchildren in mind.
Beside the court is a greenhouse that was transformed into a home gym, by Danny Valdez of Kondition Studios. Inside is a Peloton bike, a treadmill, a Hydrow rowing machine and a Crossfit area.
The entire property is lined with "ever-changing flowers," Noyes says. Walking along one path, she muses, "Every time I walk here, I feel like I'm in Italy, or the South of France." 
Secret Garden
One outdoor space is hidden away: A light well at the front of the house has been turned into a "secret garden room" that can only be accessed from basement level. Harrison commissioned acclaimed artist James Goldcrown to create a custom mural of overlapping hearts on a background of mirrors, in his signature medium: spray paint.
"The idea was to take a dreary space and give it life," Harrison says. "It's happy and joyous, and about love—but with a little edginess. It's elevated street art." 
Subtly scrawled on the walls are secret messages of love, intended to be found by Noyes's grandchildren. "She was very vocal about this room being for all four generations," Harrison recalls. 
This light well is one of the best spots for listening to birds, Noyes says. A thrush she often hears she's nicknamed Renée, after the opera singer Renée Fleming, whom Noyes has known for years from serving on the Women's Board of the Lyric Opera of Chicago. "The secret garden is really like an opera house," Noyes observes. 
Growing a Healthy Lifestyle
Behind the guest house is one of Noyes's favorite spots, her expansive organic garden. There, expert permaculture gardener Tommy Teeple designed a layout of numerous beds and boxes for growing fruits and vegetables: lettuces, sweet peppers, blueberries, raspberries, herbs.
The bright-orange nasturtium are "delicious, and healthy in a salad," Noyes says. Fruit trees provide four different kinds of lemons, and mandarin oranges. "We're making a lot of lemonade, juice blends and margaritas," she says. The whole family eats daily salads from the garden, and socially distanced friends often leave with a bag full of produce. "We are living as sustainably as we can," Noyes says, "and have a lot of fun doing it."
This article originally appeared on spacesmag.com.
---
More from Marin:
---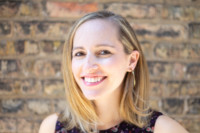 Liz Logan is the editor-in-chief of SPACES. Her writing about art, design and lifestyle, has appeared in numerous publications, including The New York Times, The Wall Street Journal, O, The Oprah Magazine and Martha Stewart Living.