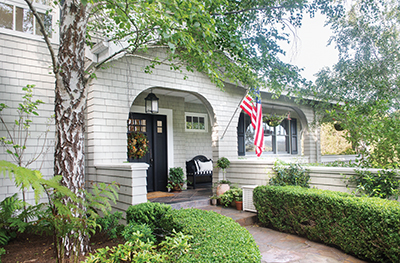 WHEN KRISTINE AND Matt Curwood sent their second of three children to college last August, their 1893 Victorian in San Rafael's Forbes neighborhood suddenly felt too large. At 5,700 square feet, it was built on four levels, with a lot of small rooms — too much for the couple and their school-age daughter. "The house had a lot of up and down," says Kristine, "and we wanted someplace where the three of us would feel comfortable."
They reached out to their realtor, Monica Pauli, and told her they wanted to downsize. On their list: more privacy, a secluded lot and contemporary floor plan, and definitely less square footage.
They got it all. Except the square footage part. This house, a three-level set on a private, wooded acre-and-a-half, is smaller — by 300 square feet. "But it doesn't seem that big," says Pauli, "because most of the living is on two levels."
Indeed, the Curwoods hang out mostly on the main floor, which has an open, airy layout, and the second, which has four bedrooms, one of which Matt (a transplanted Australian who runs a transportation company) uses as an office. The bottom floor is mostly a place for their sons to stay when they come home from college.
Though the house is fairly new, built in 1998, it has the feel of an older home, with a gray-shingled exterior, paned glass windows and built-in bookshelves, a contrast the Curwoods appreciate. It also reflects Kristine's decorating style: she likes to blend contemporary furnishings with family heirlooms and flea-market finds. In the dining room, the oval-shaped mahogany table that belonged to her great-grandmother, America Grant (who was married to the son of Ulysses S. Grant), sits below a modern Cadiz shell chandelier; on the wall hangs a mirror Kristine found at a consignment store.
It's questionable, though, how much time anyone spends in the dining room, because the kitchen is so phenomenal people are loath to leave it. Designed for a serious cook, which Kristine is, it features four ovens, a double Wolf range, two walk-in pantries, and a black leatherized granite island that's just shy of runway-length. Adjacent is a family room with cushy white couches and huge windows looking out on expansive foliage.
With the centralized kitchen, they don't mind all the space. "In my old house, I'd be cooking and hear the laughter in the dining room, thinking, 'Oh, I wish I was a part of that,' " says Kristine. "But here, I'm in the middle of everything."
---
THE DETAILS
WHERE THEY PURCHASED The West End neighborhood of San Rafael
WHAT THEY BOUGHT A six-bedroom contemporary Cape Cod
LISTING AGENT Tracy McLaughlin, Pacific Union/Christie's International Real Estate
SELLING AGENT Monica Pauli, Coldwell Banker STATS Price per square foot for homes in the neighborhood: $455–$587
This article originally appeared in Marin Magazine's print edition under the headline: "Leveling Out." 
[gtx_gallery]