Although Belvedere is just 16 miles from San Francisco, it still embodies its small town character and uniqueness similar to Portofino, Italy, its twin city. One of the more consequential reasons it's so well preserved is the integrity of the architecture and character of this 2.4 square mile hamlet, thanks in part to Hadley Construction, a Belvedere-based building company that began working here in 1950. Three generations and 70 years later, Larry Hadley, Hadley's owner, and Jeff Hadley, Larry's nephew and the general manager, have built many of Marin's most magnificent homes. Hadley makes sure it is done right the first time: on schedule and within budget. Hadley has worked on more than half the homes in Belvedere. It has built many custom homes on large estate properties in Marin, Sonoma and Napa Counties, as well as beautiful homes in San Francisco, many of which overlook the San Francisco Bay.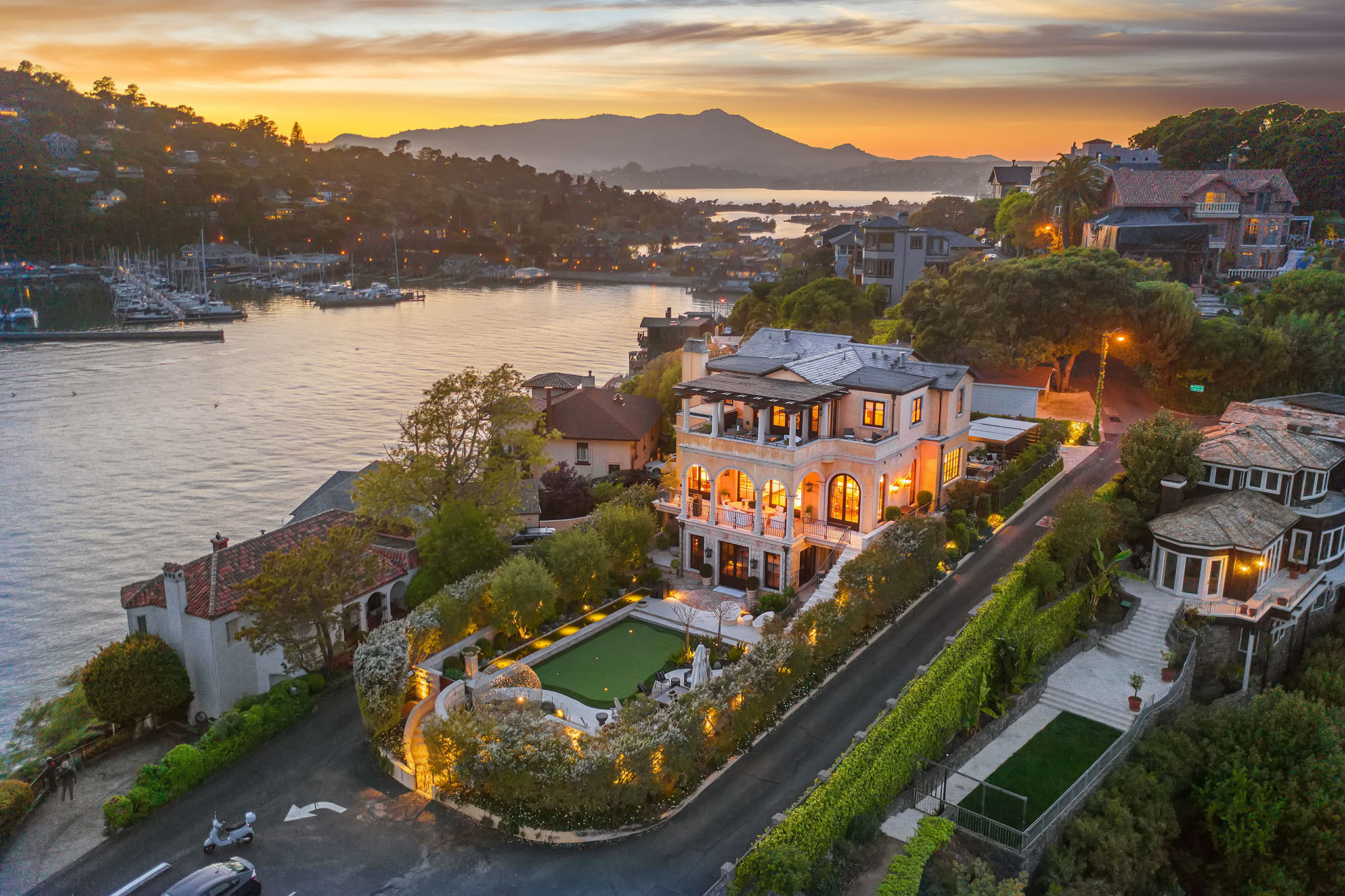 This Hadley-built landmark house perches on the southernmost tip of Corinthian Island.
The 6,340 square foot house has four bedrooms, three and a half baths, an expansive great room, a gourmet kitchen, a luxurious master suite with two offices, a large family/entertainment room, two wine cellars, three car garage, outdoor kitchen, and multiple balconies. This ambitious project began with demolition of the existing home and underground garage. Because the site is on a one way, very narrow road, the city required traffic control for all deliveries to the site.
The custom-crafted glass-and-iron front door of the house opens onto a gracious foyer and a curved floating staircase. The steel structural core of the stairway was built off-site. In order to get it into the house, it was laid horizontally, and then a forward-reaching forklift inserted it through the door; it was hoisted into position using block and tackle.
The voluminous great room includes the living room, dining area, and kitchen, all with tall windows and French doors that frame views of the San Francisco Bay and city skyline. The custom handcrafted dark wood trim and coffered ceilings contrast with pale Venetian plaster walls and blonde hardwood floors.
The lower floor family room, again with custom handcrafted ceiling, walls and floor.
These fine architectural details continue upstairs to the grand master suite, beamed ceilings, dark wood built-in cabinets and mosaic tiled floors.
The custom wine cellar holds 2000 bottles.
Contact Hadley today for your construction needs.
This house is currently for sale. Please contact Bill Smith or Ann Aylwin. 415-902-4456.
---