Tiburon's Anyi Lu—a former chemical engineer by day, and competitive ballroom dancer by night—is now an acclaimed shoe designer. Made with precision and creativity, her sandals, flats and pumps excel in fit, flexibility and style. Find her Naomi pumps in our fall fashion shoot on page 106.
Describe your personal style. Classically clean and simple with enough quirky details to keep things interesting. I favor retro
influences and whimsical touches. I love mixing vintage and modern pieces.
What are you wearing? I honestly don't remember where I got this black knit top; I must have 20 just like it in my closet. The skirt is from Catherine Jane. I like the understated details on this piece. And of course, my favorite "Spicy" black patent croc pump. I could wear them every day and with everything I own. They are super-comfortable, and I could walk around San Francisco in them.
Who are your fashion influences? Coco Chanel revolutionized women's fashion by shunning corsetry and bustles, empowering women by giving them freedom of movement and choices they enjoy today. She believed luxury was as spiritual a need as love—but luxury on her terms was low-key, not vulgar. "Fashion passes; style remains," she said.
Favorite designers? I get one cotton wrap dress from Diane von Furstenberg every season. Oh, and I am always on the lookout for vintage Alaia and Chanel.
Where do you love to shop in Marin? Catherine Jane in Mill Valley and the Sunday Farmers' Market in San Rafael.
What is always in your bag/pockets? Lipstick from Nars—Dolce Vita, to be exact.
What is your best cheapo secret? My huge, sparkling camellia cocktail ring from Agatha.
What's your fashion pet peeve? Women who wear one designer from head to toe, especially all from the same collection. It's kind of saying that I don't have my own style, so I just let my credit card dress me.
Where do you love to eat in Marin? Three Degrees in Tiburon is my new favorite spot. I love to cozy up next to the fire [there] on a cool foggy evening. Their dressing for the Farmers' Market Salad is to die for.
How do you spend your weekends? I have a two-year-old…need I say more?
Where do you go to pamper yourself? I truly enjoy Mill Valley Massage. I usually get a long massage after my international flights.
How would your friends describe you? Sweet lemonade.
What was the last book you read? Mr. Brown Can Moo! Can You? by Dr. Seuss.
What was the last movie you saw? The Pursuit of Happyness. I saw it three times on cross-Atlantic flights. I cried and laughed each time. It bears the message that a hunger for learning, hard work, and never giving up on the people who make you truly "wealthy" can break destructive cycles and propel anyone to unlimited heights—no matter what their circumstances may be.
If your life were a movie, what would be your theme song? "The Star-Spangled Banner." I am proud to be American. I obtained my U.S. citizenship 12 years ago. As a global nomad, I lived on three continents before settling in Marin. I still fly between Florence and San Francisco eight times a year. I am so happy to find a place to call home. Marin is the most beautiful place in the world.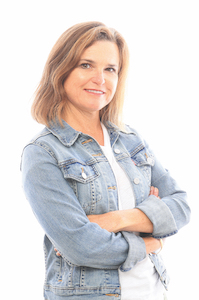 Mimi Towle has been the editor of Marin Magazine for over a decade. She lived with her family in Sycamore Park and Strawberry and thoroughly enjoyed raising two daughters in the mayhem of Marin's youth sports; soccer, swim, volleyball, ballet, hip hop, gymnastics and many many hours spent at Miwok Stables. Her community involvements include volunteering at her daughter's schools, coaching soccer and volleyball (glorified snack mom), being on the board of both Richardson Bay Audubon Center. Currently residing on a floating home in Sausalito, she enjoys all water activity, including learning how to steer a 6-person canoe for the Tamalpais Outrigger Canoe Club. Born and raised in Hawaii, her fondness for the islands has on occasion made its way into the pages of the magazine.