Tim porter
Last January, 28-year-old Bianca Valenti of Mill Valley surfed the biggest wave of her life. It was a 30-foot monster at Nelscott Reef, located near Lincoln City just off the Oregon coast. The rest is history. Wearing a 5/4 mm wetsuit and her characteristic smile, Valenti became the first female Big Wave World Tour champion. Ever. In fact, she is the only female professional surfer in the Bay Area. To become ranked as a professional, a competitor must win what's called the "money round" in a competition and get paid. She won her first money round at age 15 at the Women's World Long Board championships in Costa Rica and has been competing ever since. While there is prestige for a professional surfer, it rarely pays the bills, which explains Valenti's other dream job — wine and beer buyer and occasional bartender for the newly opened family-owned Valenti & Co. in San Anselmo.
---
1. Where did you learn to surf? I taught myself. By the time I was 7 years old, I was standing up on my boogie board in the waves right offshore in Doheny in Dana Point. I loved it.
2. When did you start taking it seriously? When I was 13, I was surfing every day.
3. Any influences? Grant Twiggy Baker, the current Big Wave World Tour men's champion. He has the right outlook on surfing and life. When he's not working he's helping his family's orphanage in South Africa.
4. Your top three places to surf? Pipeline, Ocean Beach and Rincon.
5. Shout-out to any local surf shops? Proof Lab, the best shop in the nation! Surf, skate, art, coffee — they have it all. Stop by.
6. Being in a restaurant family, What do you cook most often? My dad taught me the simplicity of letting ingredients speak for themselves. I make an anti-inflammation green smoothie every morning with chia seeds. When you are training all the time and working, you need to eat foods that help with inflammation and support recovery.
7. Favorite drink and where you like to drink it? Lately I have been enjoying the Sean Thackrey Pleiades XXIII red wine, which we serve by the glass at Valenti & Co. I also enjoy our San Anselmini, which is Lillet blanc on the rocks with a twist.
8. Why should people try Valenti and Co.? The food is outstanding. We've had such a great response and the atmosphere is cozy; it's like you are sitting in Duilio's living room.
9. What's next? Mavericks is a stand-alone event that has always been run by Jeff Clark and was recently taken over by Cartel Management. This past June, when they were being interviewed on the radio, I called to ask about women being involved in the next competition, and they said yes, as long as we follow pre-tournament criteria.
10. Which is… Surf Mavericks [a point near Half Moon Bay, known for huge waves] whenever it is breaking.
11. Will you? I'm in. I just got my Patagonia inflatable vest.
12. Have you always wanted to be a pro surfer? From the moment I started surfing. If I could drop my night job and just surf I would, but I need sponsors to make that happen.
13. Any other hobbies or side projects? One exciting project I am working on is a documentary called It Ain't Pretty with filmmaker Dayla Soul, about women who surf Ocean Beach in San Francisco. The film will culminate with the Mavericks event in 2015.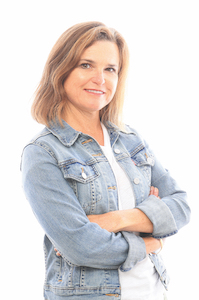 Mimi Towle has been the editor of Marin Magazine for over a decade. She lived with her family in Sycamore Park and Strawberry and thoroughly enjoyed raising two daughters in the mayhem of Marin's youth sports; soccer, swim, volleyball, ballet, hip hop, gymnastics and many many hours spent at Miwok Stables. Her community involvements include volunteering at her daughter's schools, coaching soccer and volleyball (glorified snack mom), being on the board of both Richardson Bay Audubon Center. Currently residing on a floating home in Sausalito, she enjoys all water activity, including learning how to steer a 6-person canoe for the Tamalpais Outrigger Canoe Club. Born and raised in Hawaii, her fondness for the islands has on occasion made its way into the pages of the magazine.