ER: What was it like for you growing up in Bethlehem, Pa (also my hometown!)? How did you get your start in music?
SK: In hindsight, growing up in Bethlehem was probably the quintessential small town American experience. Naive, innocent, friendly neighbors, walked or rode my bike everywhere, floated down Monocacy Creek in an inner tube, hopped an occasional train, played pinball, when I almost got into trouble I knew the cops by name, that kind of thing. Long gone for the most part, seems like.
I got into music at a personal level because of family. My Aunt Dotty was an honest to God folk singer back when that was cool, which for folk music meant before it was cool. She made it ok to strum and sing and just generally stand in front of people and smile. My cousin Kenny was a real live electric blues guitarist – he's the guy who showed me how it was done. Still does.
At a generational level, everybody my age was completely knocked out by The Beatles. That was the entry level formative listening in terms of records and radio but it was more of a catalyst to the family music connection than the answer to "why" I got into it.
ER: What brought you to the Bay Area?
SK: San Francisco music brought me to the Bay Area! No kidding. Every time something really caught my ear in my late teens, when I figured out where it was coming from it was West Coast.
I remember hearing Amos Garrett with Maria Muldaur, Bill Kirchen with Commander Cody, Jerry Garcia's pedal steel playing on various projects, Hot Tuna, Moby Grape, Santana, Quicksilver, Sly Stone, East West – just too much really diverse and interesting music all seeming to emanate from the same place to ignore.
And we were stuck in a farmhouse in the middle of nowhere – Upper Bucks County – with our little Goodman Brother's rock band, so when opportunity presented itself in the mid 70's to bail we loaded up the truck and moved to Beverly. So to speak.
ER: You have been a member of so many incredible bands, including Zero, Phil Lesh and Friends, and RatDog. Do you have a favorite combination of musicians that you've enjoyed working with? Do you also have a favorite onstage memory?
SK: Every single band I've ever played in, every combination of musicians and people has provided me with both "peak experience" and indelible memories, although I've got to give a nod to Zero for a preponderance of anecdotal evidence. I could write a book, but better you than me, so next…
ER: How does it feel to be compared to Jerry Garcia and to know he was a huge fan of yours?
SK: Right…there's a slice of it that makes sense from a purely guitaristic POV, but it's extreme nerd-level stuff in my opinion. The reality is people compare stuff they like to stuff they know.
I remember two early reviews of a Goodman Brother's gig in SF, one reviewer compared the set favorably with Simon and Garfunkel, while the other reviewer thought we sounded like the Mahavishnu Orchestra. It was a 45-minute set. 
The flip side is Jerry did actually go out of his way to give me a nod back in the day which was extremely sweet of him, and we did become close on our own shared guitar-nerd level, but comparing the two of us? C'mon…
I'll go so far as to say I think I'm legitimately a member of the SF psychedelic guitar scene in terms of a performance understanding of that music but it's come at the expense of having my ass kicked all over the stage by every one of those guys.I'm grateful for the experience, no pun intended.
ER: Tell us about this star-studded line up of friends for the June 15–16 Sweetwater shows? And is it true you were the first act to play at the new Sweetwater when it opened?
SK: Indeed my band played the first public show at the new Sweetwater (we had a night or two of private Ratdog shows prior). 
Coming up this weekend at the Sweetwater…. the core band is myself on all things guitar, my son John Kimock on drums, Andy Hess on bass, Leslie Mendelson on vocals, keys. We put out a record this past year (Satellite City) and we'll revisit some of that material along with some new original stuff, and we'll be joined over the weekend by two of my favorite Sweetwater sparring partners Dan "Lebo" Lebowitz and Jackie Greene, plus Rob Sudduth on sax who just played some shows with me at Hopmonk last month…and probably more.
The Sweetwater has always been a special place for us where things come together – audience, musicians, community, venue, fun…the whole bit.  So come on down, we need each other. Let's make it happen.
ER: What's next on the horizon for you?
SK: If by "horizon" you mean that imaginary line in the distance that recedes with every step you take towards it, it's probably Europe the way things are going these days. The collapse of Western Civilization aside, I intend to press forward the only way I know how which is "more guitar." I'm gonna double down on performing and recording with specific groups of musicians on more stylistically specific projects. I'm 62, it's art for art's sake at this point, thank God.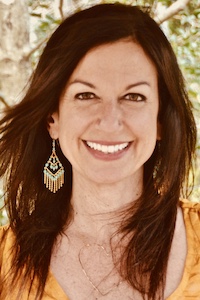 Emilie Rohrbach has taught music and theater to grades pre-school through 8th in San Francisco and Marin counties for the last 20 years. She has been a freelance writer for Divine Caroline for five years, and her writing has appeared in Narratively, Hippocampus, Common Ground, Travelers' Tales, and Marin Magazine, among others. She is passionate about Room to Read, Shanti Bhavan, and Destiny Arts and serves on the board of Knighthorse Theatre Company.