You may have seen Larkspur Hotels impresario Karl Hoagland at Marin Tack and Feed, getting supplies for his property's collection of llamas, goats, donkeys, chickens, ducks, geese and dogs or driving his vegetable-oil-powered car to coach his kids' soccer and basketball teams, but when the longtime Fairfax resident isn't busy with his company's collection of more than 20 hotels, he's keeping his own 20-acre property eco-friendly with solar installations and rainwater collections for irrigating his vegetable garden and his wife's 50 rosebushes.
How would you describe Fairfax living? Fairfax living is about being in a small-town community that embraces new ideas and innovations and has especially strong values around sustainability and nature/open spaces. People in Fairfax are creative and open-minded, if not a little wacky, which I happen to like.
How would you describe yourself? I think I am nice and friendly, but also very competitive and internally motivated—I am always seeking to improve things. I love to make big plans and work hard to achieve goals of all sorts.
What do you wear to the office on a normal day? Khakis and a button-down shirt with a jacket or a sweater. It's all Italian from head to toe.
Where do you love to eat in Marin? I like M&G burgers for organic fast food, Grilly's for grab-and-go burritos, Pancho Villa's for blue corn enchiladas and guacamole made tableside, bear claws at Bovine Bakery in Point Reyes Station and I think Sol Food is hands down the best ethnic food in Marin. For a nice dinner my favorite is Insalata's in San Anselmo.
What is always in your pockets? I can't imagine this is interesting—but I'd say whatever I don't need—golf tees, paper clips, pennies, lint.
What is your view of Marin style? I would say natural and in tune with nature. The county is organized around the flanks of Mount Tamalpais and each community has a small-town feel, but they are all distinct, just like Mount Tamalpais looks so different from each perspective, even though it is the same mountain. People in Marin are intelligent and aware of important issues in the world, and they want to live good lives.
How do you spend your weekends? I spend lots of time with our children doing things outside as much as possible. I try to get on the trails for running or hiking on the weekends.
What was the last book you read and why? Over Thanksgiving weekend I looked at my bookshelves and a book on the Enneagram jumped into my lap. It was very interesting and helpful for me to check in on some of my "basic nature" as I navigate the challenges and changes that the economic environment is bringing to our business, and how that will affect me, my priorities and roles at the company.
We know you are a father; where do you take your kids in Marin? Our kids have not yet discovered television, so anywhere outside. We go on picnics and spend time at Tamarancho, Deer Park, White's Hill, Lake Lagunitas (the kids love to fish), Cataract and Cascade falls. We also like the beaches in West Marin.
What was the last movie you saw? Duel on DVD. It is Spielberg's first movie and Dennis Weaver is exceptional in it without any lines. It is one of my all-time favorites. It is very simple and yet gripping.
If your life were a movie, what would be your theme song? I don't know. It would be something about overcoming challenges, reaching goals and striving for a better future.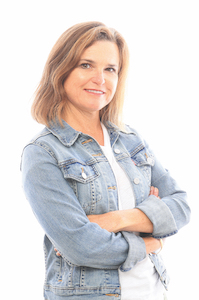 Mimi Towle has been the editor of Marin Magazine for over a decade. She lived with her family in Sycamore Park and Strawberry and thoroughly enjoyed raising two daughters in the mayhem of Marin's youth sports; soccer, swim, volleyball, ballet, hip hop, gymnastics and many many hours spent at Miwok Stables. Her community involvements include volunteering at her daughter's schools, coaching soccer and volleyball (glorified snack mom), being on the board of both Richardson Bay Audubon Center. Currently residing on a floating home in Sausalito, she enjoys all water activity, including learning how to steer a 6-person canoe for the Tamalpais Outrigger Canoe Club. Born and raised in Hawaii, her fondness for the islands has on occasion made its way into the pages of the magazine.