Everyone wants to be Mark Pitta's friend—or at least maybe hang out backstage with his other famously funny friends. Either way, Pitta is a BMAM (big man around Marin). Careerwise he has shared his comedic talent with audiences of the Tonight Show with Johnny Carson and Bob Hope's Young Comedians Special as well as a few network comedies such as Mad About You and Third Rock from the Sun. Many might also remember him during his five-year stint as the entertainment reporter on KTVU's Mornings on Two. These days, he and Lucy Mercer have been putting on a very popular Tuesday night comedy show at 142 Throckmorton Theatre, "Mark Pitta and Friends," which will celebrate its four-year anniversary in November. Offstage, he can be found enjoying a meal at Mama's Royal Cafe on Miller Avenue in Mill Valley or Rain Tree in the Strawberry Village Shopping Center—both allow dogs.
You could live anywhere. Why Marin? I lived in Los Angeles for 18 years and Marin compared to L.A. is like comparing Paradise Foods with a hot dog stand. I get a sense of calm when I pass through the rainbow tunnel after crossing the Golden Gate Bridge.
What makes you happy in Marin? Spending time at the dog park watching Reno be absolutely joyful. Sometimes I'll hide behind a tree and watch him frantically search for me.
What gets on your nerves here? People who back their car into a spot at the pump at the Arco station in Tam Junction, which causes the flow of cars to go the opposite direction. You know who you are.
What's your personal idea of luxury? Watching a movie in the afternoon with no one else in the theater. Right before it starts I'll say, "Roll it, Bob."
What do you value every day? My friendships with the people I trust like my next door neighbors and my show producer, Lucy Mercer. They have keys to my house and there's no higher trust barometer than that.
What person has influenced you the most? Joseph, the guy in the red hooded sweatshirt who walks around the town square in Mill Valley. He's a genius.
What's been the most fulfilling moment in your work? Creating a comedy show with Lucy Mercer every Tuesday at the 142 Throckmorton Theatre. I get so many e-mails from people thanking us for having a consistent place to have a good laugh. Plus the comedians say it's the best room in the country, not just California…the country!
What's a Marin stereotype that works? All the women over 40 who live here are hot!
What stereotype doesn't fit? I think people who say they are "following their energy" are harmful if the energy takes them to an improper place. They are just giving themselves an excuse to do what they want.
Do you have a favorite Marin view? From the stage at the Throckmorton Theatre looking out to a standing-room-only crowd.
What do you like about yourself? Oh, let's not make this full-page interview with a color photo all about me.
What is your favorite journey? From my mother's womb to where I am now.
How do you want to be remembered? As the guy who lived forever!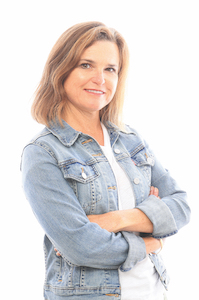 Mimi Towle has been the editor of Marin Magazine for over a decade. She lived with her family in Sycamore Park and Strawberry and thoroughly enjoyed raising two daughters in the mayhem of Marin's youth sports; soccer, swim, volleyball, ballet, hip hop, gymnastics and many many hours spent at Miwok Stables. Her community involvements include volunteering at her daughter's schools, coaching soccer and volleyball (glorified snack mom), being on the board of both Richardson Bay Audubon Center. Currently residing on a floating home in Sausalito, she enjoys all water activity, including learning how to steer a 6-person canoe for the Tamalpais Outrigger Canoe Club. Born and raised in Hawaii, her fondness for the islands has on occasion made its way into the pages of the magazine.