Looking for a bit of cultural enrichment this summer? Thanks to Strawberry resident Michael Knight, never-been-viewed treasures of the Ming dynasty (1368-1644) are on display through September at the Asian Art Museum. As the museum's senior curator of Chinese art and director of strategic programs and partnership, Knight co-curated Power and Glory: Court Arts of China's Ming Dynasty. Ming porcelains, metalwork and lacquerware are renowned for their quality and value—remember the media fanfare, back in 2006, about the $10.13 million world-record selling price for a rare underglaze copper-red Ming dynasty vase? While that piece won't be there, many other valuable ones will.
Obtaining these pricey and rare pieces was no easy task; Knight spent months negotiating with the Chinese government to borrow them from three different institutions. Has all the hard work been worth the time taken away from tossing the baseball with his two boys? "Absolutely," he says. "We hope that visitors of all ages will learn more through this exhibition about the artistic and cultural traditions of one of China's most celebrated dynasties."
You could live anywhere. Why Marin? Good schools, great place to raise children, an enjoyable commute by bicycle to S.F.
What makes you happy in Marin? Marin is a great place to raise children. Nothing beats watching my boys play ball at one of the fields in Marin.
What bothers you here? Cold, foggy, windy summer days.
What do you value every day? Family, friends, the environment.
What is your personal idea of luxury? Time.
What person has influenced you the most? Two professors have certainly had a profound influence on the direction of my professional life: Dr. Cameron Pauline at Willamette University, who took an interest in a lost and wandering undergraduate and set me on my way to where I am now. Dr. Miyeko Murase at Columbia University, who supported and mentored me through graduate school and forced me to finish.
What has been the most fulfilling moment in your work? There are many: completing a major project like the upcoming exhibition Power and Glory: Court Arts of China's Ming Dynasty; getting someone hooked on collecting at a serious level; private moments with great works of art.

What's your desert-island favorite book or album? I read to my two boys every night (ages 8 and 12). Cannot say that I have a favorite book, but I am enjoying reading all kinds of interesting books checked out from the Tiburon public library— a great resource, by the way.
What's your favorite place to unwind? On my bicycle somewhere in West Marin or in my garden.
Do you have a favorite Marin view? Sunrise over San Francisco from the Headlands.
What do you like about yourself? I am lucky to be blessed with physical and mental gifts that allow me to garden, build houses, restore cars, create furniture, bicycle, hike, play with my boys and make serious contributions to my field of study.
How do you want to be remembered? For my passion and dedication to the things I undertake, be they at work, at home or with my family.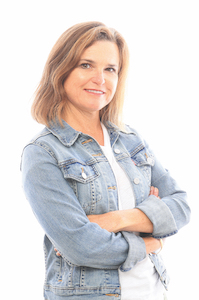 Mimi Towle has been the editor of Marin Magazine for over a decade. She lived with her family in Sycamore Park and Strawberry and thoroughly enjoyed raising two daughters in the mayhem of Marin's youth sports; soccer, swim, volleyball, ballet, hip hop, gymnastics and many many hours spent at Miwok Stables. Her community involvements include volunteering at her daughter's schools, coaching soccer and volleyball (glorified snack mom), being on the board of both Richardson Bay Audubon Center. Currently residing on a floating home in Sausalito, she enjoys all water activity, including learning how to steer a 6-person canoe for the Tamalpais Outrigger Canoe Club. Born and raised in Hawaii, her fondness for the islands has on occasion made its way into the pages of the magazine.