Marin's queen of hearts, matchmaker Pari Livermore, doesn't do it for the money. In lieu of a fee, she asks for a substantial donation to a Bay Area charity. "So many wonderful things have happened to me in my life," she says, "matchmaking is my way of giving back. It's just good karma." Her story is also about reinvention. At 40 Pari Caldwell, a flight attendant, decided to give her spare time to the American Heart Association, for which she founded the Red and White Ball fundraiser. While doing this work, she met her second husband, Putnam Livermore. "It was love at first sight," she recalls. "He is an amazing man, loves me for who I am and allows me to enjoy my crazy career!" Throughout the couple's years together she has written a book, How to Marry a Fabulous Man; she currently hosts Everyday Angels, an award-winning cable television show; and she can claim responsibility for over 240 marriages and more than $4 million in donations (via her clients) to various Bay Area charities.
Why Marin? We moved back to Marin six years ago, and for my husband it was moving home. His family had much to do with preserving the open space here in the county, and we both love and appreciate the beauty. In fact, in our new home we have the same view of Mount Tam my husband enjoyed as a child. I know this makes him happy.
Favorite view spots? We love having picnics in the Marin Headlands and at the Marin Art and Garden Center in Ross. The views at MAGC are of the grounds, and they bring back wonderful memories for Put, since his mother, Caroline Livermore, founded the center
What gave you the idea of becoming a matchmaker? When I first created the Red and White Ball I was the caterer, along with a crew of 26 remarkable women. When it came to having another party, the guys would say, "Well, we like that you can cook, but if you bring some of the gals who were at the ball, we will definitely show up!" It turns out that I was better at finding great women than I was at the food. I haven't looked back.
Favorite restaurant in Marin? There are so many great spots here. I love Insalata's and I think the Tavern at Lark Creek (used to be Lark Creek Inn) is so romantic. And we always love going to Cafe Arrivederci on G Street in San Rafael; the pesto gnocchi and clam linguini (extra garlic) are fabulous.
How do you find your clients? Mostly through word of mouth. Every moment of life is an opportunity. If I meet someone who interests me, I ask him or her (to meet) for coffee. I'm cheeky, but it works.
Is it harder to meet people these days? In my day it was much easier to attract a mate. Today, for instance, women are expected to bring home the bacon, fry it up, etc., and then have the energy to go out and meet people? Meeting people is a time-gobbler. So I would say, yes, it is harder.
What age group do you work with? Mostly I start to work with people in their 30s. In the last couple of years I've matched a few women in their 60s. I think women are getting to be more exciting in their 60s—perhaps it's the new 40.
What are men looking for? Every man wants to brag about his girlfriend and vice versa. And most important, how she is making a contribution to the world. Today's trophy wife is not only attractive but has a Harvard MBA; she's got the whole package.
What is your secret to success? I'm like everyone's sister or aunt, so finding them a perfect mate is a very personal thing. I also only take people I believe in and more important, (who) believe in themselves.
How do you want to be remembered? As an incredibly blessed girl from Chicago, whose reality went way beyond her dreams…and who was lucky in love and helped others find it too. And the funds we have raised for good causes have made the journey that much better.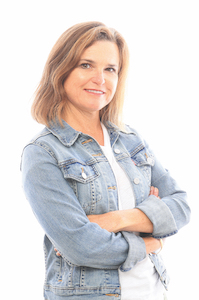 Mimi Towle has been the editor of Marin Magazine for over a decade. She lived with her family in Sycamore Park and Strawberry and thoroughly enjoyed raising two daughters in the mayhem of Marin's youth sports; soccer, swim, volleyball, ballet, hip hop, gymnastics and many many hours spent at Miwok Stables. Her community involvements include volunteering at her daughter's schools, coaching soccer and volleyball (glorified snack mom), being on the board of both Richardson Bay Audubon Center. Currently residing on a floating home in Sausalito, she enjoys all water activity, including learning how to steer a 6-person canoe for the Tamalpais Outrigger Canoe Club. Born and raised in Hawaii, her fondness for the islands has on occasion made its way into the pages of the magazine.