Who says boys can't wear skirts, and girls should only wear pink? Not Elizabeth Brunner, the San Francisco-based designer and founder of fashion-forward children's clothing company StereoType, which launched late last year. StereoType's "blended fashion" clothing is intended to celebrate kids' individuality and freedom of expression by blending traditional ideas of boys' and girls' wear. The company's first capsule collection, shipping in August, includes a blazer, hoodie, sweatpants, leggings, graphic tees, an athletic skirt and accessories. We recently sat down with Brunner — whose own boy-girl twins inspired the line (and model the clothes on the company's website) — to learn more about what blended fashion is, and how StereoType intends to empower kids to express themselves in how they choose to dress. 
I understand your kids are one of the biggest reasons you decided to launch the company. How did they inspire you? 
Elizabeth Brunner (EB): My 8 year-old boy/girl twins inspired the business by sharing clothing at a very young age and dressing in ways that made them feel good about themselves, regardless of the gender the clothing was intended for. There was no question that my kids wanted to dress in their own way. By stepping aside with my parental influence and not limiting them, they started to discover and understand who they are and express themselves through their clothing choices. I viewed that as a beautiful thing, and it was also the very thing that stirred me into action. 
What is "blended fashion," and how is it different from "gender-neutral" clothing?
EB: Blended fashion is about elevating and expanding yourself by choosing clothing pieces from both the boys and girls sections, while gender-neutral is more about keeping colors and shapes more "general," and therefore more neutral, in outer expression. I want kids (and adults) to live outside the box (stereotypes) by dressing in ways that make them feel good about who they are authentically. 
How would you describe the clothes? 
EB: I would describe the clothing as a blended style that pulls inspiration from my twins, and what they like to wear, which includes a lot of black and sparkles. 
Tell us about your blog series, "Unlabeled."
EB: I had the idea for the blog when I started telling people about StereoType and would hear various responses from them about their own experiences with clothing growing up and the messages they were given, which were mostly negative and made a lasting imprint. I started to feel like a larger conversation needed to happen about how we are parenting while unraveling the limits and labels that are embedded within us without really questioning them. It's also about celebrating parenthood and the many, many ways it challenges us, whether you're doing it alone, with a partner, with grandparents or a chosen family. It does take a village, as they say, and I want to create a community where everyone is seen and valued. It's a conversation worth having, and I'm excited to see where it goes.  
Do you have any goals for the company in the next several years?
EB: I have many goals and ideas for the company, but right now my main focus is getting the first capsule out and starting the discussion about blended fashion — how to get started, and most importantly, how to embrace it. The mission for StereoType is about individuality. "Me Is All I Want to Be" is the brand tagline and it encapsulates the meaning behind the brand. Our kids are our best teachers when it comes to dressing how they want to feel, not how we think they should feel. We just need to pay attention, step aside and encourage their self-discovery. 
Where can customers purchase StereoType clothing?
EB: We're selling direct to consumers via Instagram and our website, with plans to do pop-ups in the Bay Area this fall.
---
More from Marin:
---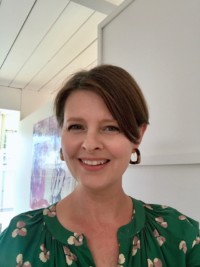 Lotus Abrams has covered everything from beauty to business to tech in her editorial career, but it might be writing about her native Bay Area that inspires her most. She lives with her husband and two daughters in the San Francisco Peninsula, where they enjoy spending time outdoors at the area's many open spaces protected and preserved by her favorite local nonprofit, the Peninsula Open Space Trust.