There's no denying that the world is heating up, just look at our increasingly devastating fires. Give your loved ones and Mother Earth a gift this year with these climate-friendly picks.
AIM, Bounty Box, $30
Bounty Boxes are filled with a local, seasonal assortment of fruit, herbs and veggies. Buying one directly supports local farmers and AIM's mission to support our regional food system.
Lifefactory, 22oz Water Bottle with Silicone Sleeve and Active Cap, $25
Between the classic 16 oz bottle and the "all-you-can-gulp" concept, there is a perfect middle. Ample room for your water, tea, or smoothie, but still easy and graceful in the hand.
Rough Linen, St. Barts Linen Napkin Set, $79
A solid napkin set reduces reliance on deforestation-dependent disposables — ahem, paper. Create your own assorted set by adding a comment in checkout with your desired colors.
U-Konserve, Round Nesting Trio, $25
These are the perfect waste-free solution for lunches, picnics items and family leftovers. Pack pasta salad, cut fruit, crackers, veggies and more while reducing single-use packaging. 
The New Wheel, Gazelle Medeo T9 bike, $2,499
Get everything you need in a low-step ebike with this beauty. Designed and built in the Netherlands, it features a full-sized chain ring for both smoother pedaling and a quieter ride.
Growlers are a way to enjoy the fresh beer from smaller brewers. Grab one at a local spot like Creekside Pizza, Marin Brewing Company, Pond Farm, Iron Springs or Indian Valley Brewing.
Purchase a Native Plant
If you're looking to make insects and birds happy, there's no better bet than keeping it native in your yard. Check out the list of nurseries from the California Native Plant Society to find yours.
Good for the earth and kind to your wallet, secondhand apparel has had quite the makeover in recent years. Find the timeless classics and latest fashions at places like Encore, Knimble Revente and Sax.
---
How to help:
Consider supporting one of these local nonprofits that urgently need support during the pandemic.
---
More from Marin: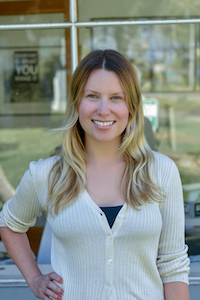 Kasia Pawlowska loves words. A native of Poland, Kasia moved to the States when she was seven. The San Francisco State University creative writing graduate went on to write for publications like the San Francisco Bay Guardian and KQED Arts among others prior to joining the Marin Magazine staff. Topics Kasia has covered include travel, trends, mushroom hunting, an award-winning series on social media addiction and loads of other random things. When she's not busy blogging or researching and writing articles, she's either at home writing postcards and reading or going to shows. Recently, Kasia has been trying to branch out and diversify, ie: use different emojis. Her quest for the perfect chip is never-ending.