Once you find someone you want to spend time with, creative and fun Marin date destinations are ridiculously easy to discover. Whether you're the outdoorsy, foodie, or the chill-and-enjoy-the scenery type, you'll find a Marin County day activity that suits your fancy. Here are some of our local favorites. What are yours?
Originally called "Isla de Angeles," Angel Island is a hiker and sightseer's paradise with 13 miles of trails, eight miles of paved road, three accessible beaches and a peak that's almost 800 feet tall. Needless to say, this 1.2-square-mile gem located at the heart of the bay has everything you need for a day-long adventure.
After a romantic ride on the Angel Island Ferry that'll take you on land, rent bikes and explore the nine miles of bike trails at your disposal. Tickets for adults (ages 13 -64) cost $15.00. If bikes aren't your thing, you always have your own two feet to embark on an easy five-mile perimeter road hike that offers all kinds of spectacular sights and takes about two hours.
Intermediate or advanced hikers seeking some more vigorous exercise can hike to the top of Mount Livermore, which takes about the same amount of time and rewards triumphant hikers with a beautiful view. To get some rest and maybe snack to recover, visitors can find ample seating or reserve a space at the picnic tables that can be found at seven locations throughout the island.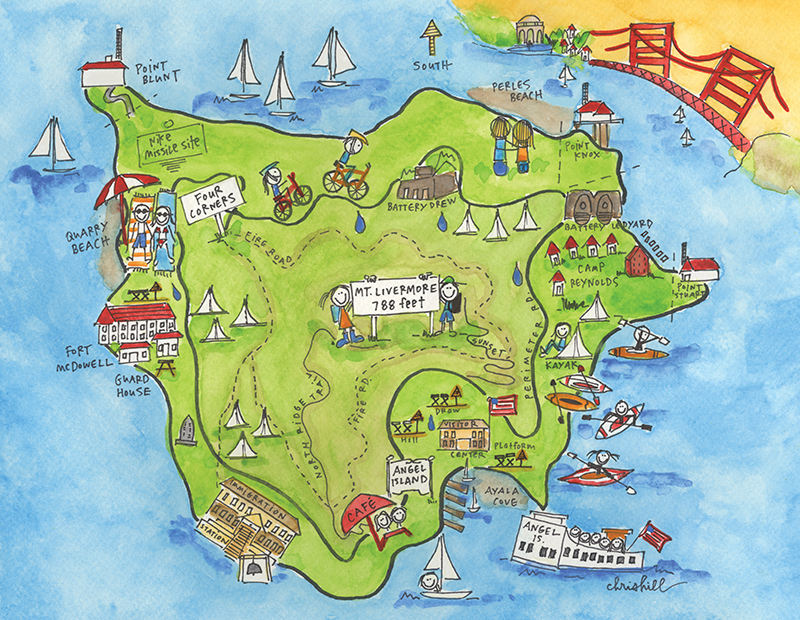 Elevate your view of the county's breathtaking panoramas on a flight with the only remaining seaplane company in California. Located in Sausalito, Seaplane Adventures was originally established in 1945 as "Commodore Seaplanes" by Bob Law, a returning veteran World War II seaplane pilot. Currently operated by Aaron and Tiffany Singer, Seaplane Adventures offers five tours that give passengers a bird's eye views of Alcatraz, the Golden Gate Bridge, Stinson Beach and more. If you or your plus one feel even a little uneasy about riding on any aircraft smaller than a Southwest jet, be rest assured that the pilots know what they're doing. With over 150 years of experience in piloting, Seaplane Adventures has successfully completed over 100,000 flights and 3,500 in-air proposals and traversed over 2,650 miles. Sit back and enjoy fantastic views you'll only be able to see in flight!
For a clean escape from modern life, retreat to Summit Mount Tam and savor the Mountain Home Inn's views and refreshments at the iconic precipice of Mill Valley. Built on Mount Tamalpais in 1904, the inn was recently added to the National Register of Historic Places, where hiking trails, campgrounds, and fauna and flora abound. There are countless trails that pass by the inn. You can park here and make it a hike to the top and back.
Hungry or thirsty after the hike? Check out the menu items at the restaurant, where they offer artisanal cheese boards, crab cakes, sweet and spicy chicken wings, and a glorious array of different sandwiches. You can also opt for a cold local beer or lemonade from their drink menu to cool off. Tables are hard to get on a beautiful day, so we recommend that you reserve a spot.
Acclaimed for their lamb sandwich and wicked mac-n-cheese dish, the Tomales Deli and Café is a peaceful and pleasant pitstop before an eight minute drive down the surf to Dillon Beach, Marin's northernmost bit of coast. It's a private beach so be sure you bring some cash. Got extra time? You can pay a visit to the respected Mostly Natives Nursery or peruse the headstones at one of the town's two cemeteries that date back to the 1700s. Want fresh-from-the-oven pastries? Check in with Cameron at the Tomales Bakery if all the walking has you hungry again.
Whether it be spending a few scenic hours fishing, swimming, or going on a coastal paddle tour, you'll be sure to find a body of water somewhere in Marin County to experience the closeness and beauty to nature. No gear? You can purchase a fishing rod, kayak, or other equipment you need from West Marine, which sells all the gear you need for a fun time out on the water. SeaTrek also rents out top-deck kayaks to beginners and veterans alike, offering a three hour "Scenic Sausalito" guided tour as well as a coastal paddle tour that goes out of Horseshoe Cove near Cavallo point. Participants paddle a distance of about six miles along the rugged coast, exploring sea caves and rock gardens, with a stop for lunch at Kirby Cove.
Can we all agree that food just tastes better on a bayside patio with fire pits and a bocce ball court? That's what makes Bar Bocce in Sausalito locally recognized as one of the sweetest hang-out spots in town. The bar's bocce court serves as boundary between bar and beach, making for a laid-back and scenic experience as you throw the bocce ball amidst a breathtaking backdrop of the bay. If you have a group of friends you can enlist, bocce ball can easily turn into a team sport. Pick a side, toss a ball, and let the hang-out commence. While you're at it, order one of the sourdough bread pizzas and a glass of wine. You'll quickly see why this casual eatery, overseen by Robert Price of Buckeye and Bungalow 44, has become a local favorite.
---
Leslie Lee is the digital editor at Marin Magazine. She enjoys fruit and British T.V. shows to an unhealthy degree. When she is not eating a bucketful of berries or shopping at Madewell, you can find her fellow-shipping with her Bible study group or at her local church. After hearing Blake Lively's harrowing testimony, she supports the Nonprofit Child Rescue Coalition in the fight against child pornography and donates to her church fund to help support foster kids.