California has been ravaged by fires three years in a row — structures burned to the ground, families displaced, and losses ranged from physical to intangible. With the Kincade fire still raging, October might as well be dubbed fire season, not just harvest season.
Economics
In 2017, Santa Rosa's economic loss from the Tubbs Fire was estimated at $1.2 billion, with five percent of the city's housing stock destroyed. The Tubbs Fire also incurred an additional $100 million in fire suppression costs. The Camp Fire in 2018 is considered to be the deadliest and most destructive wildfire in our state's history and last year's most expensive natural disaster in the world. Presently, the Kincade Fire is about half the size of the Camp Fire and is only 15% contained. With another round of high winds in the forecast, despite valiant efforts, the fire is expected to grow. The reality is that burned or not, every winery in Sonoma County will be impacted by the fire.
Action 
Depressing stats aside, we can all do something to help: shop for wine online. While many winery structures are smoldering, most are still operating online, and buying their wines is one small way we can support them. Here is a list of the wineries we have been told have experienced some damage to their property due to the fires over the past week (there may be others we have not heard from), and some information about some of their best wines:
From the San Francisco Chronicle – The Press:
The Skipstone portfolio consists of a Viognier, as well as two reds — the Cabernet Sauvignon-focused Oliver's Blend and the Cabernet Franc-based Faultline. Of those, the Viognier takes the prize. It's a broad wine of texture that escapes the soapier flavors some California Viogniers can have. Both the reds taste a bit oak-dominant. They favor the Oliver's Blend — a decadent Cabernet with smoky, ripe red fruit flavor.
The winery's flagship wine is Tesserae, a tiny-production, proprietary Bordeaux blend that's highly allocated and aged seven years before release. With Cabernet Sauvignon typically dominant, it adds in Merlot, Cabernet Franc, Petit Verdot and Malbec. The Scheurebe, also allocated, is a rare white grape related to Riesling. The Warnelius-Millers are only the second vineyard in California to grow it (Joseph Phelps is the other; it makes an ice wine from it called Eisrebe).
From the San Francisco Chronicle — The Press:
The Chardonnays, while unsatisfying, should be tried — if only as an exercise in understanding the extremes this variety can reach in California. The reds, too, taste overripe on the whole, but the Cabernet Sauvignons seem to improve in quality as you get to their higher range. Their Scion Cabernet shows the most elegance and potential.
From the San Francisco Chronicle — The Press:
This is a great opportunity to explore Viognier, with its intriguing nuances of Honeycrisp apple, peaches and banana.
From the San Francisco Chronicle — The Press:
While you'd assume the reds would be the breadwinners, their whites are actually pretty darn likeable. The Alexander Valley Sauvignon Blanc is crisp and clean with expressions of white peach, orange blossom and lilac. Moving further south, the Santa Rita Hills Chardonnay is unfiltered and presents creamy hints of pear, pineapple and lemon curd within its round body and zesty finish.
Although Soda Rock, in the heart of Alexander Valley, is primarily a Cabernet house, they offer 20 different reds and blends, including an increasing number of Zinfandels. Being part of the Wilson Artisan winery stable gives them access to fruit from a variety of AVAs.
The winery is best known for its Cabernet Sauvignon, Merlot, Sauvignon Blanc and century-old vine Petite Sirah. Field Stone also has handcrafted quantities of other low-production wines: Sangiovese, Syrah, Viognier, Chardonnay, Rosé of Sangiovese and Vintage Port. Recently, they've introduced a new Convivio companion wine, made from a blend of Merlot and Cabernet. A portion of the proceeds from the sale of this companion wine if donated to Clinica Alianza, a nonprofit medical center serving farmworkers and their families in Sonoma County.
From the San Francisco Chronicle — The Press:
Alexander Valley's vintage of rosé of Sangiovese is gentle and dry with perfumes of red cherry, grapefruit and minerality. The Cabernet Franc is full of black cherry, pepper and distinct herbal qualities like anise, tarragon and thyme.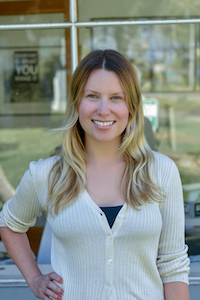 Kasia Pawlowska loves words. A native of Poland, Kasia moved to the States when she was seven. The San Francisco State University creative writing graduate went on to write for publications like the San Francisco Bay Guardian and KQED Arts among others prior to joining the Marin Magazine staff. Topics Kasia has covered include travel, trends, mushroom hunting, an award-winning series on social media addiction and loads of other random things. When she's not busy blogging or researching and writing articles, she's either at home writing postcards and reading or going to shows. Recently, Kasia has been trying to branch out and diversify, ie: use different emojis. Her quest for the perfect chip is never-ending.