Holiday travel is coming up, and we wanted to help you ease the tensions… as in back and neck pain! According to Stacie Dooreck of SunLight Yoga in Larkspur, you can prevent stiffness by doing simple stretches without leaving your seat. For more moves, see her new book SunLight Chair Yoga or go to sunlightchairyoga.com.
Centering Sit in a comfortable position with the spine tall yet relaxed. Take a few deep, sighing breaths. Inhale and exhale for three counts each, five times.
Wave for health Wrist and ankle rotations rotate the wrists, then the ankles — five times each.
Neck rolls Slowly make a circle with your nose five times in each direction, clockwise and counterclockwise. Inhale when facing upward and exhale when looking down. Keep shoulders relaxed.
Side Stretch (Cresent Moon) inhale, sitting tall, as you lengthen the spine skyward. Exhale, facing forward, as you lean gently to the right, placing your right hand by your right hip or letting it hang beside the chair, and raising your left hand to extend it over the left ear. Switch sides. Repeat three times on each side.
Spinal Twist Place feet on the floor, hip-width apart. Inhale as you sit tall. Lengthen the spine skyward. Exhale and twist gently to the right, placing your right hand behind you or on the side of the chair and your left hand on or near the right knee. Switch sides. Only twist as far as is comfortable, with no strain. You can repeat this posture once on each side.
Alternate leg lifts Inhale as you raise your lower leg from a bent knee, and exhale as you bring it back down. Switch sides. Repeat up to five times.
Alternate Arm Lifts Inhale as you lift your right arm. Exhale as you lower the arm. Switch sides. Repeat five times each.
Final Relaxation rest your back against the chair with your legs one to two feet apart. Allow the legs to roll outward. Relax your arms with palms facing the sky, resting on your thighs. Observe the breath and body; relax for five to 10 minutes. Quiet the spirit and calm the mind. Slowly move your hands and feet to come out of the position and sit tall.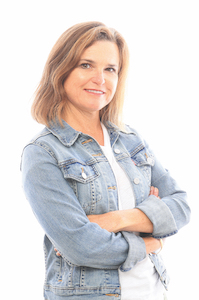 Mimi Towle has been the editor of Marin Magazine for over a decade. She lived with her family in Sycamore Park and Strawberry and thoroughly enjoyed raising two daughters in the mayhem of Marin's youth sports; soccer, swim, volleyball, ballet, hip hop, gymnastics and many many hours spent at Miwok Stables. Her community involvements include volunteering at her daughter's schools, coaching soccer and volleyball (glorified snack mom), being on the board of both Richardson Bay Audubon Center. Currently residing on a floating home in Sausalito, she enjoys all water activity, including learning how to steer a 6-person canoe for the Tamalpais Outrigger Canoe Club. Born and raised in Hawaii, her fondness for the islands has on occasion made its way into the pages of the magazine.