Great news for those looking for a quick getaway with long lasting therapeutic effects. The spa at Sonoma Mission Inn has just completed a multi-million dollar refresh and have created a few enticing packages to celebrate.
"The addition of a number of new state-of-the-art spa experiences will provide our guests endless opportunities to refresh their spirit within our award-winning luxury spa environs," says Allison Abbott, Director of Spa Operations.  
Here's what to expect:
Rain tunnel
Fed by the mineral water of our pool, this whimsical way of "taking water" features 5 uniquely entertaining showers for individuals, or groups to enjoy. Be surprised by the delightful variety or different ways to experience this feature, or simply choose your favorite and enjoy a while. With 5 different ways to enjoy our beneficial mineral water, you will never tire of this tunnel!
Dry Sauna Salt therapy (halotherapy)
Salt is heated and then grinded allowing the inhalation of tiny micro-particles of salt which have high concentrations of negative particles. Over the years research shows that treatment of negative ions can dramatically increase energy, mental alertness, reduce stress and provide an enhanced overall sense of well-being. The salt particles also help to absorb moisture, and alleviate inflammation, making it ideal for those with respiratory issues like asthma.
State-of-the-art, Makeup/styling room
Includes diamond shape cut crystal inserts in the sleek styling desk with inspired classic and elegant vinyl chairs.
WaveMotion Massage
Bodywork performed on an innovative massage table that provides a gentle wave motion, rotation and vibration for deep relaxation. A new approach to massage this table facilitates fluid movements to enhance the massage treatment
Meditation Lounge
Your experience includes:
Zero Gravity chair; optimal for easing back strain, providing ultimate comfort and relaxation.
Color therapy; light of different frequencies and wave lengths of elctro-magnetic energy. Affects all living cells and can have a very profound and healing effect.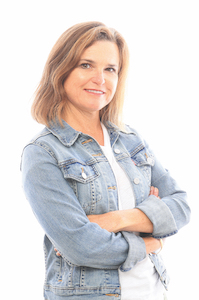 Mimi Towle has been the editor of Marin Magazine for over a decade. She lived with her family in Sycamore Park and Strawberry and thoroughly enjoyed raising two daughters in the mayhem of Marin's youth sports; soccer, swim, volleyball, ballet, hip hop, gymnastics and many many hours spent at Miwok Stables. Her community involvements include volunteering at her daughter's schools, coaching soccer and volleyball (glorified snack mom), being on the board of both Richardson Bay Audubon Center. Currently residing on a floating home in Sausalito, she enjoys all water activity, including learning how to steer a 6-person canoe for the Tamalpais Outrigger Canoe Club. Born and raised in Hawaii, her fondness for the islands has on occasion made its way into the pages of the magazine.