Podcast fans are growing in number, with more than 68 million Americans now listening to them on a weekly basis, according to data reported by podcastinsights.com. However, since the format's beginnings in the early 2000s, male podcasters and listeners have dominated the medium. But that dynamic is changing. An increasing number of women are launching and listening to podcasts in recent years on topics covering everything from careers to health and fitness to true crime. In Marin, we've got our pick of smart, witty local women podcasters to follow. Here are a few to tune into.
Who: Jen Marples is a former public relations executive who is now an entrepreneur, motivational speaker, and business and life coach to mid-life fellow female entrepreneurs.
What: "The Jen Marples Show", which airs twice a week, is dedicated to helping and inspiring female entrepreneurs achieve the business and life they desire in their 40s, 50s and beyond. Each week, Marples features inspiring entrepreneurial women who share their challenges and accomplishments on the path to success, along with how they balance all of mid-life's other challenges.
Why tune in: "Midlife women should listen to know they're not too f***ing old — which is the show's motto — to do whatever they want to in life!" Marples says. Marples interviews midlife female entrepreneurs across the country, but also talks to many women in Marin. Her guests have included Marin Magazine' Editor at Large Mimi Towle, Sparkle Foundation founder Samantha Tradelius and Jambar founder (and Power Bar cofounder) Jennifer Maxwell.
Where: Find it on all major podcast platforms, including Apple Podcasts and Spotify.
Who: Cohost Joanne Greene, who is based in Novato, is a podcaster; writer; and former San Francisco radio and television talk show host and personality on KSAN, KFRC, KGO and KPIX-TV. Cohost Gabi Moskowitz, who also lives in Novato, is the creator of the cooking blog BrokeAss Gourmet, author of four books, the coproducer of Freeform's "Young & Hungry." Her work can also be found in The Washington Post, The Guardian, The Jewish Week, The San Francisco Chronicle and Lenny Letter.
What: Two writer friends who are 30 years apart — Moskowitz, a later millennial, and Greene, a boomer, offer their respective generational perspectives on a wide range of issues that happen to start with the letter F. Their often-hilarious banter is peppered with personal stories, the latest research and news as they explore topics ranging from flirting, fighting and fatphobia to femininity, freedom and freshman year.
Why tune in: "Listening to All the F Words is like sitting in on a great conversation with smart, funny girlfriends," Greene says. "We promise you'll always learn something new."
Where: Apple Podcasts, Spotify, iHeartRadio, Google podcasts and other major podcast platforms.
Who: Claudia Cowan, who lives in Sausalito, is a senior correspondent with the San Francisco bureau of Fox News Channel.
What: "Nightmare in Chowchilla" is a six-part podcast that looks back at one of the most horrific crimes in California and the largest kidnapping for ransom in U.S. history. In 1976, 26 children and their school bus driver were kidnapped at gunpoint by three masked men and eventually buried alive at a rock quarry in Livermore. The crime shocked the nation, and with the phone lines tied up in the small town of Chowchilla, the kidnappers couldn't phone in their $5 million ransom demand.
Why tune in: Learn about one of the most chilling crimes ever, what happened to the kids and the kidnappers, and a miracle of survival.
Where: The podcast was released on Feb. 26, on bus driver Edward Ray's birthday, and can be found on Fox News Podcasts, Apple Podcasts, Spotify and other major platforms.
---
More from Marin:
---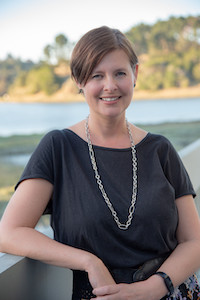 Lotus Abrams has covered everything from beauty to business to tech in her editorial career, but it might be writing about her native Bay Area that inspires her most. She lives with her husband and two daughters in the San Francisco Peninsula, where they enjoy spending time outdoors at the area's many open spaces protected and preserved by her favorite local nonprofit, the Peninsula Open Space Trust.