Loved meeting this couple. They came to Tim Porter's studio on their way -somewhere across the globe. Tim was the one who insisted we interview them – so he gets the credit for getting them into the magazine. Once I looked up Nicholas (M.C. Yogi) a third generation West Marinite who is also a YouTube sensation, I was a fan, too.
My favorite MC Yogi songs…
After interviewing them, I've gone to the his class a few times at Yoga Toes, their yoga studio in Pt. Reyes.
Nicholas and Amanda Giacomoni love each other, yoga and music.
If you've taken a yoga class in the past year, perhaps you've pranayma'ed or bhujangasan'ed to one of Nicholas Giacomini (aka MC Yogi)'s yoga-inspired hip hop CDs. His music videos have attracted over a million views and his debut CD Elephant Power has been in the top 20 world music albums on iTunes for over two years. While the Giacomini family is known in West Marin for nourishing the population with delicious cheeses and sundries via Toby's Feed Barn, one might say Nicholas and wife Amanda are feeding both the body and soul via their on-site studio Yoga Toes. Together they will be teaching a workshop at Renew in Petaluma this month. To learn a bit more about the couple, we caught up with them and their 12-year-old dog Mahatma, aka Mo.
How did you meet? Nick: Back in 2007 before I went to a teacher training I had a premonition that I was getting ready to meet my wife. When Amanda walked in with mismatched socks and pigtails, wearing a miniskirt, I knew she was the one.
What was your first date? Amanda: I think one of our first dates was when Nicholas took me to Toby's for the first time. One of my favorites was early in our romance; we met at dawn and walked across the Golden Gate Bridge.
How do you feel about Yoga Toes being at Toby's Feed Barn, which was founded by Nick's grandfather? Nick: It's magical. It's also the spot where I, and lots of other West Marin kids, sat on my grandfather's lap on Christmas when he dressed up as Santa, and it's where we stood when we got married.
When you were growing up in Point Reyes, was there a business you wished was there? Nick: A video arcade would have been a nice addition. Amanda: Today, I'd love a spa, so I could get a manicure or pedicure, or a sauna and steam.
Favorite restaurants? We go to Stellina's all the time—it's so great to have such a nice restaurant in West Marin; it is definitely our special occasion spot. Om in San Rafael, and Arti in Lagunitas are really good too.
Favorite place to picnic in West Marin? We love Millerton Point in Marshall. You can walk dogs there and enjoy the bay, and there's a tiny beach with picnic tables.
Where is Mo from? Mo was abandoned as a puppy on the streets of Oakland. He was taken in by the caring staff of Citizen Canine, a local dog hotel. Technically Mo is a rescue dog, but he's such a loyal and loving companion, sometimes, we have to ask … who rescued whom? He has his own website, mosnose.com, and his own Facebook page.
Does Mo have a favorite trail? He loves Millerton Point on the way to Marshall and Papermill Creek, which was recently redeveloped and is really beautiful.
Does Nicholas still work with his family? Amanda: He doesn't officially work at Toby's anymore, but occasionally he'll help out his dad. I remember once we just came home from a tour—Toby's needed someone to make a hay delivery and Nicholas stepped in. He loves the store so much, I imagine he'll always be connected to it.
Who produces the videos on YouTube? Amanda: Nicholas and Robin Livingston (another West Marin native) are co-producers of MC Yogi music and Nicholas produces and creatively directs his videos.
Do you have a favorite MC Yogi song?Amanda: Nicholas says his favorite MC Yogi song is yet to be written. I love the "Give Love" song he wrote for Yoga Aid.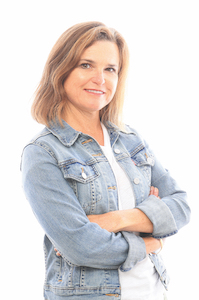 Mimi Towle has been the editor of Marin Magazine for over a decade. She lived with her family in Sycamore Park and Strawberry and thoroughly enjoyed raising two daughters in the mayhem of Marin's youth sports; soccer, swim, volleyball, ballet, hip hop, gymnastics and many many hours spent at Miwok Stables. Her community involvements include volunteering at her daughter's schools, coaching soccer and volleyball (glorified snack mom), being on the board of both Richardson Bay Audubon Center. Currently residing on a floating home in Sausalito, she enjoys all water activity, including learning how to steer a 6-person canoe for the Tamalpais Outrigger Canoe Club. Born and raised in Hawaii, her fondness for the islands has on occasion made its way into the pages of the magazine.