Here we are, only a month into the school year, and already I'm dreading packing school lunches every day. It doesn't help that my picky son doesn't like sandwiches, so the basic, good 'ol PB&J is off the table. I also like to mix it up so I'm not sending the same old lunch every single day and inviting food boredom. It requires me to be a bit more creative, which frankly involves more thought than I would like.
To avoid the trap of sending too many processed foods to school and to create a meal that at least resembles some pieces of the rainbow, I decided I needed a master plan. Fortunately, there are a number of online resources that have done a lot of that work already. Here are my best finds.
Fruits and Veggies Galore
One of the best sites for healthy lunch ideas comes from Modern Honey, which not only provides 10 different menu options, but also a list of mix-and-match main meal ideas, fruits and veggies and snacks. Print out the mix-and-match list and it doubles as a handy shopping list.
Going Gourmet
Bon Appétit supplies a list of recipes for kids' lunches that require a bit more work, but are tasty enough to enjoy for lunch yourself and maybe create a bit of "lunchbox envy" amongst your kid's friends. Check out the recipe for Pecan-Miso Butter and Jelly, which is decidedly a step-up from the traditional variety.
Bento-Rama
Bento boxes are oh-so-cute and trendy, but they are also a great way to include a bunch of variety in one container. Brit + Co. curated this list of bento box lunches that includes simple fare such as pretzel rollups and turkey sandos that aim to please. The good news is that any of these work for the non-bento-box lunchbox, too.
Avoiding the Sandwich Dilemma
Like I said earlier, my son doesn't like sandwiches, so this site from TheKitchn really got my attention. It contains not only sando alternatives, but nut-free ones to boot. I especially like the Rainbow Vegetable Spring Rolls recipe, which includes rice paper wrappers that could be filled with anything, really.
Lunchbox Hacks        
Last but not least, after you've spent the time to shop and prepare, make sure your lunches stay as fresh as possible until it's time to eat them. Use these lunchbox hacks from the Food Network, such as freezing drinks first to keep them perfectly chilled until lunchtime. (my own personal tip: if using avocado, sprinkle it first with a bit of natural fruit preservative to avoid keeping it from turning brown).
Last but not least, don't forget to pack a personal note to your child every once in a while. Sometimes I jot down a joke for my son to tell his friends. I smile to myself at lunchtime, thinking about him reading it and knowing I'm with him even when I'm not there.
---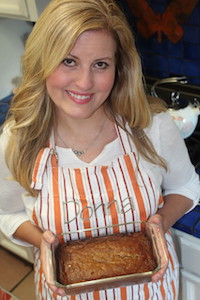 A freelance writer in Marin who writes about family, kids and parenting, Glass is the mother to one son, one dog and a hamster named Miss Geri. When she's not writing, trekking up steep hills in Marin or driving her kid to sports practice, she and her family spend time in their tiny cabin in Lake Tahoe. She avidly supports the California Academy of Sciences, a world class science museum and research institution, and the Institute on Aging which provides much needed services to Bay Area seniors and disabled adults. Glass is obsessed with baking the perfect loaf of banana bread, something she makes so often she no longer needs to look at a recipe card.