On November 13, a community of inspired and motivated supporters, patient families and doctors associated with the PNOC Foundation gathered to raise critically needed funding for the The Pacific Pediatric Neuro-Oncology Consortium (PNOC), which addresses treatment options surrounding pediatric brain cancer.
With a theme of "Around The World" the PNOC Foundation's 2021 Gratitude Gala celebrated the global expansion of the PNOC Consortium, which brings hope and breakthrough treatments to children facing no options for their cancer diagnosis. Pediatric brain cancer is the deadliest cancer for children, despite this fact research is critically underfunded and relies heavily on private philanthropy.
Several people with personal stories and experiences addressed the crowd, including 20-year-old model, actress, author and patient advocate Grace Wethor.  UCSF's Dr. Michael Prados and Dr. Sabine Mueller spoke about PNOC's achievements and an exciting upcoming clinical trial that will leverage a specific immunotherapy approach around "natural killer cells." Lisa Ward, mother of recognized patient advocate Jace Ward also attended to accept Jace's award for Excellence in Commitment and Contribution.
Acclaimed New Zealand singer songwriter Jess Cornelius performed for eventgoers. At the end of the evening, the crowd kicked up their heels to one of California's favorite dance bands, Notorious.
Renowned doctors and surgeons from UCSF attended the Gratitude Gala, including Dr. Nalin Gupta, Dr. Alyssa Reddy, Dr. Michael Reddy, Dr. Shannon Lundy, Dr. Mitch Berger, Dr. Henry Krigbaum and Dr. Javad Nazarian from University Children's Hospital, Zurich.
Sponsors for the 2021 Gratitude Gala included Vionic Shoes, Highline, Day One Biopharmaceuticals, Nice Guys Delivery and Big Pic PR. The event raised $350,000.
---
More from Marin:
---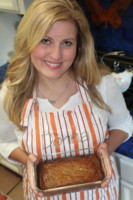 A freelance writer in Marin who writes about family, kids and parenting, Glass is the mother to one son, one dog and a hamster named Miss Geri. When she's not writing, trekking up steep hills in Marin or driving her kid to sports practice, she and her family spend time in their tiny cabin in Lake Tahoe. She avidly supports the California Academy of Sciences, a world class science museum and research institution, and the Institute on Aging which provides much needed services to Bay Area seniors and disabled adults. Glass is obsessed with baking the perfect loaf of banana bread, something she makes so often she no longer needs to look at a recipe card.