We asked, and you submitted 46,183 votes: Now it's time to reveal our 2022 Best of the County winners! From top Thai restaurants and must-shop jewelry stores to standout spin classes and the best venues for live music, you picked your favorite businesses located in both Marin County and the greater Bay Area. See who made the winner's circle here.
Click below to jump to a specific category.
Arts & Entertainment
Best Art Gallery Marin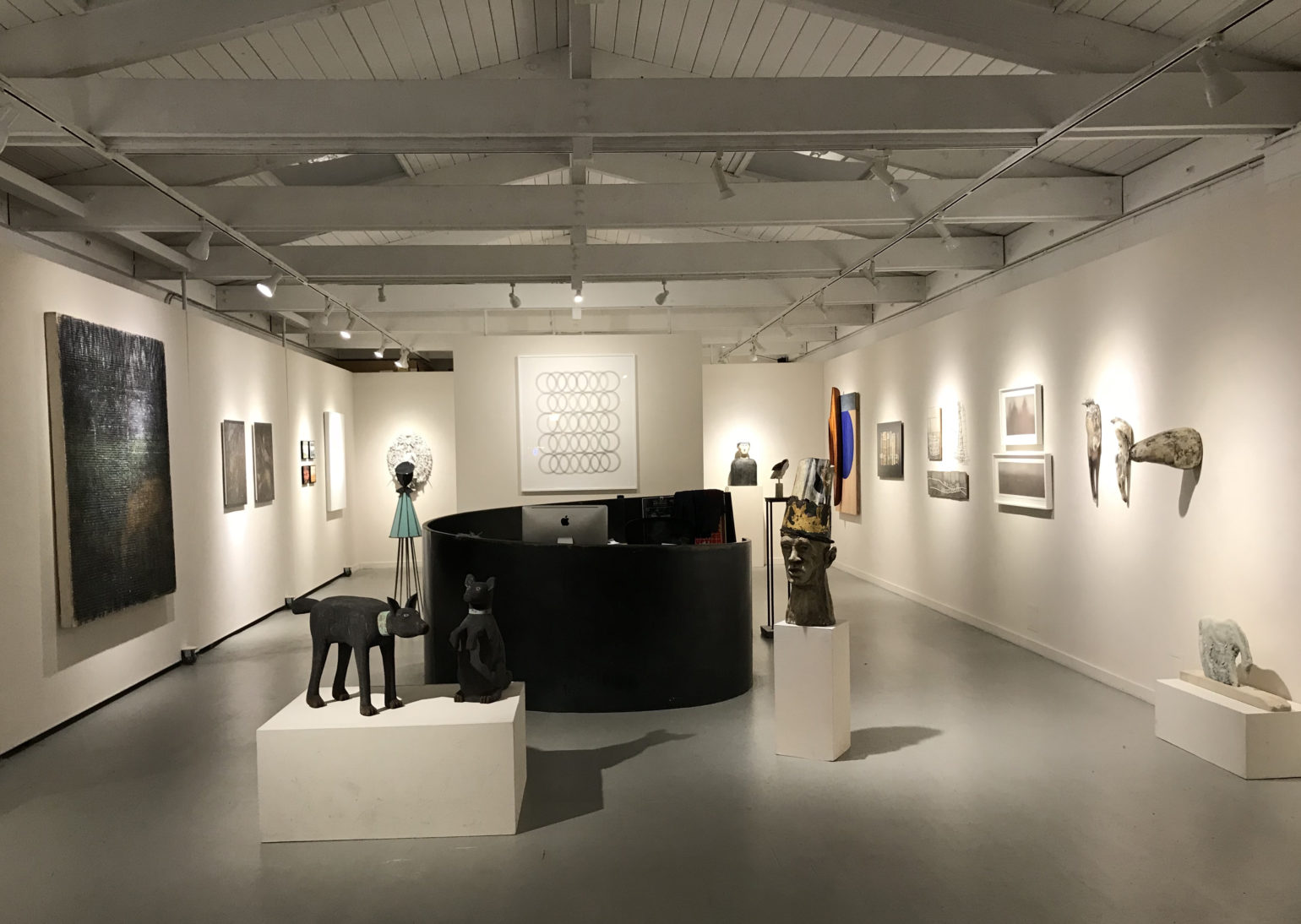 Solo exhibitions of contemporary fine art, especially works that combine content with a mastery of materials, allows for focus on and gives context to the presentation, a winning formula for partners Donna Seager and Suzanne Gray's gallery.
Best Art Gallery Bay Area
A creative home for the entire Bay Area community, Yerba Buena Center for the Arts (YBCA) is an inspiration for its thoughtful, inclusive cultural arts programming and clear mission that art and artists are essential to social movement and social progress.
Best Children's Museum Marin
The reimagined play spaces encourage thoughtful engagement while amplifying learning as fun for all children, stimulating all five sense for children aged 6 months to 10 years and beyond.
Best Children's Theater Marin & Bay Area
Programs at Bay Area schools; immersive, performance-based summer camps; and a drama conservatory for older students produce thespians with a range of skills valuable on stage and IRL.
Best Comedy Venue Marin
"The Throck" is beloved for its commitment to showcasing rising stars in American comedy while also providing community-focused educational programming, a Fresh Voices series and its annual summer celebration of world music.
Best Comedy Venue Bay Area
The regular host of the San Francisco Comedy Showcase and promoter of top line and up-and-coming talent gets the nod from our readers for its commitment to jokes of all kinds.
Best Live Music Venue Marin
All the big names in folk, rock and American roots music drop by Mill Valley's most intimate music venue; plus, the newly remodeled patio is an awesome outdoor space to sit and enjoy brunch.
Best Live Music Venue Bay Area
Anyone who is anyone in rock, jazz and blues wants to be on stage at this former dance hall where the fans are close enough to hear everything that is said on stage.
Best Live Theater Marin
It really does not get more Marin that watching a live theatrical performance in a Greek-style amphitheater on the side of Mount Tam, now does it?
Best Live Theater Bay Area
Known as much for its adventurous audience as its innovative and imaginative programming, an East Bay theater dives into shows that are unusual and/or profane.
Best Music Festival Marin & Bay Area
All are welcome under the tentpole where a literal (and musical) who's who of bluegrass, American roots music and everything in-between come together each fall in San Francisco for a free, noncommercial concert.
Best Museum Marin
Marin Museum of Contemporary Art (MarinMOCA), Novato
Contemporary exhibits and education programs in support of Bay Area artists, including free family days, artist receptions and an art auction are free to the public, helping to ensure access for all to the arts in Marin.
Best Museum Bay Area
With seven gallery floors and 45,000 square feet devoted to modern and contemporary art from American and global masters, the museum easily won our readers' affection and votes.
Beauty
Best Barbershop Marin
Reminiscent of old-school, no-muss-no-fuss barbershops, The Shop offers simple haircut, color and hot shave services at reasonable prices, seven days a week; simply walk in or call in to add your name to the waitlist.
Best Barbershop Bay Area
Readers love this hip, modern barber shop for its quality cuts, shaves and other men's grooming services, along with their luxurious hot towel shaves.
Best Cosmetic Dermatologist Marin
Dr. Zand specializes in treatments for skin cancer, holistic dermatology and cosmetic enhancements with a natural aesthetic.
Best Cosmetic Dermatologist Bay Area
With decades of experience, Dr. Fields is a highly trusted expert that specializes in dermatology and plastic surgery.
Best Facial Marin
Turning Point Spa is a holistic and healing day spa that uses education and the art of European luxury to treat the wellness of the whole body, not just the skin.
Best Facial Bay Area
This skin boutique located on charming Union Street is known for its facials, plus its virtual consulting for clients all over the U.S.
Best Haircut/Salon Service Marin
Sara Pinckney and her team of stylists have perfected the art of tousled, wavy tresses; the salon is also known for its DIY classes on topics including blow-outs and beach waves.
Best Haircut/Salon Service Bay Area
A tropical, modern vibe awaits customers at Sugar, where ultrachic stylists excel at giving clients that laid-back California look.
Best Massage Marin
Offering a wide variety of massages, from deep tissue to lomi lomi (Hawaiian), this studio offers both indoor and outdoor spaces for treatments.
Best Massage Bay Area
Senspa, San Francisco
A robust massage menu — from hot stone to shiatsu — awaits at this award-winning, aesthetically beautiful spa in the heart of the Presidio, which also offers a range of other services, including facials, acupuncture and infrared sauna.
Best Med Spa Marin
Envie's owner takes into account each customer's facial structure, age, skin type and other factors to make treatment recommendations; her gentle and professional approach made this med spa a winner with our readers.
Best Med Spa Bay Area
This med spa offers everything from Botox and fillers to more natural treatments such as peels and hydrofacials; it also offers financing plans for clients.
Best Nail Salon Marin
As a salon with a very loyal following, Three Sisters offers all of the nail and acrylic services you'd expect, plus waxing.
Best Nail Salon Bay Area
High Five, which recently consolidated at the Marin Country Mart, is dedicated to offering each customer a manicure or pedicure that lasts, plus appointments that always start on time.
Best Spa Marin
This light-filled day spa boasts expansive indoor and outdoor lounges, meditative treatment areas, and sweeping views of Mt. Tamalpais and the San Francisco Bay.
Best Spa Bay Area
Book a facial, massage, scrub or therapy treatment in the spa's new halotherapy Himalayan salt room, and then take some extra time to lounge at the property's serene Buddha Pond.
Their top beauty picks:
Osmosis Day Spa
I love the Osmosis Day Spa. I used to live in Japan, and it makes me feel like I'm there without the long flight! It's extremely serene and the cedar enzyme bath is such a unique experience.
Hello Modern Massage
Hello Modern Massage is amazing. They have offered chair massages at our events, and even 10 minutes with Kari is transformative!
The Barrow Salon
The Barrow Salon in San Francisco is my favorite. It was so wonderful to see them all again in their beautiful new location!
Cavallo Point
Cavallo Point is my go-to spot for a lovely girls' day spa and dinner. They even offer local rates to stay over.
Trendy Nail Salon
Trendy Nail Salon in Fairfax is great for a solid mani/pedi by lovely people.
Dining
Best Al Fresco Dining Marin
Sail up to the dock (or just walk in the front door) to access the wide deck overlooking the bay, where the popular drink bowls are designed to be paired with a grand fresh seafood tower or a humble smoked lobster roll.
Best Al Fresco Dining Bay Area
Hook Fish Co, Mill Valley & San Francisco
The lines out the door are a sign of Marin's appreciation for the transparent supply chain of locally sourced fish and seafood, as much as for the casual, coastal vibe of the indoor-outdoor space.
Best Bakery Marin
Everyone knows the story of the crackers requested when Pope Francis visited in 2015, and the fresh salads, sandwiches and patisserie are equally beloved by Marinities and other less godly visitors.
Best Bakery Bay Area
Tartine, San Francisco
A bread empire launched from Mill Valley is as much about craft and art as it is about flour and water, values that resonate with our readers.
Best Bar Marin
Perry's Paper Plane and Buffalo Trace Old Fashioned will convince wine drinkers of the beauty of a whiskey cocktail; the wide bar framed by dark wood and high-backed chairs is as classic as it is comfortable.
Best Bar Bay Area
The allure of the Balboa Espressotini knows no bounds while the room-length bar beckons with a Famous Bloody Mary at brunch and a chicken paillard special for dinner on Wednesday.
Best Barbecue Marin
Cute aluminum trays piled with brisket, pulled pork and house-made hot links are just part of the appeal; the sides of Parker House rolls, collard greens and kettle tallow chips have their own following.
Best Barbecue Bay Area
Widely recognized for his commitment to the traditions and joys of American barbecue, the pit master recently expanded the menu to include more veggies (that red cabbage slaw!) and desserts.
Best Breakfast/Brunch Marin
Where else can you get an egg-a-muffin stuffed with cochinita pork and an egg sourced from down the street, served with an old-school coffee shop vibe?
Best Breakfast/Brunch Bay Area
If you get there when they open at 8 a.m., you might not need to wait in line for the m'omlettes, Benedicts and fluffy buttermilk pancakes. We said "might."
Best Brewery Marin
A new menu includes fresh pretzels and wings, a veggie sandwich and a cast-iron grilled cheese, all designed to complement the rotating menu of fresh beer you cannot find anywhere else.
Best Brewery Bay Area
One of the OG craft breweries (founded in 1993) is now owned by Heineken, but the extensive menu of "special specials" and unlimited release beers paired with live music and a short rib quesadilla keeps this Sonoma brewery at the top of our readers' minds.
Best Burger Marin
Niman Ranch beef (or choose veggie, turkey or Impossible), Bordenaves brioche bun, plus all your favorite toppings equals a spot in the winner's circle for this classic Marin eatery.
Best Burger Bay Area
That ahi burger. That falafel salad. That peanut butter and chocolate shake. And let us not forget those garlic fries tossed with garlic butter. Oy vay!
Best Chinese Marin
The restaurant that nailed the shareable, small plates concept before anyone else is still at it, with dim sum every day and a menu of updated Chinese and American favorites like mushu pork and orange peel chicken.
Best Chinese Bay Area
Chef Brandon Jew's modern San Francisco Chinatown restaurant achieves a fine balance between modern and traditional in dishes like urchin-topped cheong fun and ginger-and-scallion bedecked sizzling black cod.
Best Coffee Shop Marin
The terrific people watching at the downtown café is reason enough to order a matcha shakerato and a berry scone and chill for a stretch before continuing your ride.
Best Coffee Shop Bay Area
The very early morning opening time (5 a.m.), strong brews and friendly service staff made this local chain into a winner with our readers.
Best Fine Dining Marin & Bay Area
Madcap, San Anselmo
The sleek aesthetic of this Michelin one-star from chefs Ron and Kimberly Siegel is similarly reflected on the menu of Japanese-inflected dishes and understated, ever-present service.
Best Ice Cream/Frozen Yogurt Marin
Fairfax Scoop, Fairfax
This small, local and socially conscious shop lists purveyors right on its daily chalkboard menu hung from a tree out front and includes flavors like vanilla honey lavender and vegan chocolate. 415.453.3130
Best Ice Cream/Frozen Yogurt Bay Area
Ever-changing flavors designed in the so-called Wonka-verse may include cinnamon and honey fried chicken or deviled egg custard and smoked black tea or something as mundane (and equally delicious) as vanilla.
Best Indian Marin
Maybe it was the move down the street into spiffy new digs or maybe it is the prix fixe, all-you-can-eat lunch buffet that tipped this long-running San Rafael business into the winner's circle.
Best Indian Bay Area
The Hindi word for snacks, chaat are just part of a menu that includes dosa, uttapam and biryani, in addition to pani puri, samosa and pakora, that are at the heart of this "pushcart" menu.
Best Italian Marin
From their famous Negroni cocktail to pasta primi, vitello, pizze and "alla fiorentina" steak, the consistent, outstanding quality and comfortable digs make Poggio a perennial winner in our readers' hearts.
Best Italian Bay Area
A16, San Francisco
Pizza with a thin, puffy crust; pasta in cuts you may never have heard of (maccaronara?); and one of the most interesting Italian wine lists this side of the Hudson River makes for interesting eating each and every time.
Best Mexican Marin
Playa, Mill Valley
The bar scene is one of the hottest in Marin — we think it's because of the Kill Bill margarita, Hamachi crudo antojito and carnitas tacos with house-made corn tortillas.
Best Mexican
We are suckers for a well-made chicken mole enchiladas, not to mention the convivial ambiance and pinche margaritas, which go down a little too easily.
Best New Restaurant Marin
Zalta, Sausalito
We expected nothing less from the latest project by long-running Marin restaurateurs Susannah and Olivier Souvestre who pivoted from comfortable French to the broader Mediterranean, where a mezze plate and a kofta burger are treated with the same care and attention as ever.
Best New Restaurant Bay Area
The two-level bar and restaurant with all-booth seating from Marin-based chef Tyler Florence makes every dish an experience, including the Caesar salad, cut tableside from a rolling cart and peppered by hand from a giant pepper grinder.
Best Pizza Marin
The signature pies, build-your-own pizza menu and 40-plus taps are customer favorites. Their dedicated community support also sealed the deal with our voters.
Best Pizza Bay Area
Owner/chef Tony Gemignani was the first American to win Best Pizza Margherita at the World Pizza Cup in Naples, Italy, in 1991 and has been slinging Napoletana, New York, California and many other styles of 'za to raves ever since.
Best Ramen Marin
Marin's OG ramen house is as famous for its tonkatsu with a cloudy, slow-simmered pork bone broth as for its vegetarian hearty miso, all available with regular or gluten-free noodles.
Best Ramen Bay Area
Newbies may be shocked by the U.S.-made, skinny Sapporo ramen noodles in the tantanmen, but the locally sourced toppings — pork belly chashu, spicy ground pork, charred cabbage, wood ear mushrooms — turn the bowl into a destination-worthy slurping experience.
Best Sandwiches Marin
This perennial winner is regularly recognized by our readers, who swoon over the bread made on premises and the huge sandos piled with meat, cheese, and enough shredded lettuce to drip out the sides and onto your lap.
Best Sandwiches Bay Area
Though your waistline may be saying "the veggie," the #1 Italian combo with salami, ham, mortadella, provolone and all the fixin's is the go-to order at this Italian deli first opened in 1929.
Best Seafood Marin
Fish, Sausalito
The huge patio facing Richardson Bay is a big part of the appeal of this restaurant dedicated to local and sustainable seafood sourcing, but we're betting it's also because the fish Reuben and poke with chipotle soy dressing are just a little out of the ordinary.
Best Seafood Bay Area
Though they've expanded beyond their Tomales Bay origins, this oyster house remains dedicated to the beauty of a simple shellfish and that, too, is a thing of beauty.
Best Steakhouse Marin
There's something special (and oh-so Marin) about savoring a 12-ounce Brandt rib eye with a classic Manhattan in front of the fireplace in the main dining room that just can't be repeated anywhere else.
Best Steakhouse Bay Area
By refusing to pander to trends, this steak restaurant has become a San Francisco institution with simply grilled bone-in rib-eyes and classic wedge salads that have found a dedicated following.
Best Sushi Marin
For years, the world has looked to this singular restaurant in Sausalito as the standard for impeccably sourced, seasonal ingredients presented in innovative and classic dishes.
Best Sushi Bay Area
Omakase, San Francisco
This 18-seat Michelin one-star serves only edomae-style (or in the style of Tokyo) sushi, using traditional techniques and innovations brainstormed by chef Jackson Yu and his team, for a one-of-a-kind experience.
Best Thai Marin
From the spicy-sweet topping on the corn cake to the fragrant aromas of a plate of Massaman curry, the little touches come through to express a region's cuisine in the best way.
Best Thai Bay Area
Perhaps it's the brilliantly colored tableware or the flowers that create an Instagram-worthy moment at any moment, but we think it's the herbal rice salad and 24-hour beef noodle soup that tipped this local chain into the winner's circle.
Best Vegan/Vegetarian Marin
Self-care starts with the all-vegetarian, organic menu of wraps, salads, and smoothies that taste just as good after a yoga class or before binge-watching "Bridgerton."
Best Vegan/Vegetarian Bay Area
Known for its celebration of vegetables since 1979, this restaurant with panoramic views of the Golden Gate Bridge and the Marin Headlands continues to push the boundaries of exceptional vegetarian cuisine.
We raise a glass to all 2022 Best of the County winners — CONGRATULATIONS!
Top 25 Wineries to visit in Napa Valley San Francisco Chronicle 2022
Education
Best University/College Marin & Bay Area
Did you know this 154-year-old university is rated the best public university in the world according to U.S. News & World Report? Cal has also churned out multiple Nobel and Pulitzer Prize winners and secured nearly 100 national sports championships.
Best Preschool Marin
Marin's only Catholic preschool offers a safe, stable and stimulating environment of fun, love, friendship and security for all children, readying them for kindergarten.
Best Preschool Bay Area
This relationship-based, inclusive preschool lets children acquire the basic building blocks of life-long learning: joy, curiosity, connections and an understanding of who they are.
Best Private School Marin
Marin Catholic's small class sizes create an intimate learning environment with strong teacher-student relationships and a challenging college preparatory curriculum.
Best Private School Bay Area
Starting as a one-room school on Market Street in 1855, this high school is now one of the city's largest — and a reader write-in winner — and strives to develop well-rounded students who excel not only in academics but also as athletes, artists, writers and leaders.
Best Public School Marin
Redwood, a California Distinguished School, is known for its attention to college readiness, as well as its prowess in athletics.
Best Public School Bay Area
The oldest high school west of the Mississippi, Lowell has been recognized four times as a National Blue Ribbon School.
Best Tutoring Marin & Bay Area
Hundreds of Marin City kids rely on Bridge the Gap each year to gain the academic and life-skills development they need to achieve success up to and beyond high school graduation.
Fitness
Best Fitness Classes Marin
With a cultlike following, Now Power Yoga has become the go-to studio to get your downward dog on and make a yogi friend or two in the process.
Best Fitness Classes Bay Area
In line with the new work-at-home culture, audience write-in winner Binay Curtis has perfected the Zoom workout, offering a variety of live and on-demand workouts that can be accessed between conference calls from anywhere.
Best Health & Wellness Coach Marin & Bay Area
The founder of Now Power Yoga first amassed a devoted following when she was a yoga teacher at the Strawberry Rec Center. Known for her graciousness, Hauser makes everyone feel welcome, no matter their level of practice.
Best Gym Marin
This resortlike club boasts a fitness facility with classes, personal training, tennis courts, year-round saltwater pool, clubhouse, and adjacent bar and grill.
Best Gym Bay Area
Locally owned, with eight Bay Area locations including one in Marin, this gym takes a community-driven approach toward health, fitness and overall wellness.
Best Personal Trainer Marin & Bay Area
Marie Holman, Fitness SF, multiple locations
For more than 30 years, it has been Holman's passion to empower her clients to take charge of their health and fitness.
Best Pilates Studio Marin
This Pilates studio offers private, semiprivate and small group classes designed to tone and strengthen the body gently through nonimpact yet challenging exercises.
Best Pilates Studio Bay Area
All instructors at Mighty Pilates are trained and certified in Pilates. The studio offers both in studio and online classes.
Best Spin Studio Marin
Housed inside Body Kinetics, Pelo Fitness offers challenging and fun cycling workouts for all ages and levels.
Best Spin Studio Bay Area
Reader write-in winner Soul Cycle's heart-pounding, music-filled classes can be found at four studios in the Bay Area, including one at the Marin Country Mart.
Best Yoga Studio Marin
Fans of bikram yoga flock to this write-in winner's studio to revel in its combination of heat and humidity, claiming it leads to better cardiovascular fitness, healthier skin and even weight loss.
Best Yoga Studio Bay Area
Audience favorite Love Story caters to the discerning yogi who craves a strong physical and spiritual practice, among friends, in a beautiful and warm space.
Home & Design
Best Architect Marin
This nationally recognized, full-service architecture firm practices "collaborative art" centered around their clients' goals and desires, focusing on private residences, specialty retail concepts, wineries and hospitality projects.
Best Architect Bay Area
Reader write-in winner Robert Nebolon Architects has designed numerous homes across California, from Sacramento to Orange County, and is particularly adept at turning unique site features like topography and sunlight into design opportunities.
Best Builder Marin
Relying on a depth of experience, Hadley is equipped to tackle even the most complex dream home designs, and has built more than 300 custom homes over the last 70 years.
Best Builder Bay Area
It's telling that the majority of Jeff King & Company's work comes through referrals from satisfied customers, thanks to the long-term relationships with clients and team collaborators they have developed.
Best Flooring Marin
For flooring needs, Architectural Design Carpets has it all: sustainable materials, luxury statement pieces and family-friendly choices.
Best Flooring Bay Area
Although they started as a more traditional showroom, Carpet Connection now "brings the showroom to you," with a fleet of sales vans and trucks, so you can try out their range of options in the exact places where they'll be installed.
Best Home Organization Company Marin
For 29 years, the award-winning team at relocation concierge service Changing Places has been alleviating the stress, cost and time required for complex moving, organizing and design projects.
Best Home Organization Company Bay Area
This home organization company takes moving to a new level, connecting clients with their team of professional organizers and designers to get them set up with functional systems to keep them organized in their new homes for years.
Best Interior Designer Marin
A renowned designer with a "rock 'n' roll edge," Holly Kopman brings rhythm, texture and depth to every home she works in. Her keen eye for detail is manifest in every adeptly curated space she designs.
Best Interior Designer Bay Area
Tineke Triggs and her firm, Artistic Designs for Living, create soulful, artistic and imaginative spaces that reflect the unique personalities of their clients. Her unique blend of art and precision make for truly memorable interiors.
Best Kitchen Design Marin
Although Kress Jack is a full-service interior design firm, it's kitchen design where they really shine. Their designs mix old and new, combining contemporary features and appliances with a distinctive blend of modern and retro styles.
Best Kitchen Design Bay Area
Running on the philosophy "High design. Low Blah," Mood and Space Design (MAS) believes tasteful design should be expressive rather than boring, and that's evinced most clearly in their kitchens, which feature refreshing aesthetics in functional spaces.
Best Landscape Design Marin
With a food-forward approach, Christian Douglas utilizes the underused potential of the ornamental landscape to create verdant gardens of wildlife habitat and edible species.
Best Landscape Design Bay Area
Focusing on bespoke landscapes that combine the homeowner's lifestyle and the home's architecture and interior design, Zeterre's out-of-the-box designs have made them particularly popular in Silicon Valley.
Best Painter, Marin & Bay Area
Bob Kunst Painting has become a well-known name in Marin County for the quality work they've done with residential and commercial spaces, as well as some of the area's famous landmarks.
Best Real Estate Company Marin & Bay Area
Originally from New York, Compass now operates more than 300 offices in 30 states, plus Washington, D.C. They have some of the most extensive listings in the Bay Area, and their unique virtual interface offers an unparalleled experience.
Their top home and design picks:
Millsap Degnan & Associates
For custom construction and remodeling, Millsap Degnan & Associates are true masters of their craft.
Mertel Carpets
Mertel recently replaced the carpets at our office, and their work was flawless.
Glass Concepts
We've worked with Glass Concepts for over a decade, and their products and craftmanship are stunning.
Lamperti Contracting & Design
For kitchen and closet remodels, you can't go wrong with Lamperti. Their work is fantastic.
Trevor Lam State Farm
For homeowner's insurance, Trevor Lam's office goes above and beyond. Their dedication to customer service is exceptional.
Kids
Best Day Camp Marin & Bay Area
For more than 60 years, Marinwood has been keeping kids busy every summer with its popular and affordable day camps, offering practically every kid-friendly activity under the sun.
Best Kids Clothing Marin & Bay Area
This mom-owned children's boutique is well-stocked with kids and baby garments mostly made from natural and sustainable fabrics that are eye-catching and colorful.
Best Kids Haircut Marin & Bay Area
Our readers agreed that this kid-centric hair salon makes haircuts especially fun for the younger set. There's even a play castle to keep kids engaged during appointments.
Best Kids & Family Photographer Marin & Bay Area
Photographer and Marin native Torrey Fox puts her local knowledge of the Bay Area to work for every shoot, resulting in portraits that capture both her subjects and the surrounding natural beauty with a soft aesthetic.
Best Overnight Camp Marin & Bay Area
At this outdoor-focused center, trained naturalists lead elementary students through multiday journeys that inspire and motivate them to achieve an appreciation of the natural world.
Best Swim School Marin & Bay Area
An indoor and an outdoor pool for year-round access, plus swimming lessons for kids as young as 6 months all the way up to adults makes this an ideal place to learn how to swim.
Best Toy Store Marin & Bay Area
This award-winning toy store carries an extensive selection of environmentally friendly and educational toys, games and gifts with high play-value.
Philanthropy
Best Family Give-Back Opportunity Marin & Bay Area
This organization supports hundreds of low-income Marin families with rent, security deposits, utilities, food, and car and credit repair every year. They strive to prevent homelessness and provide stability to all the county's residents.
Best Fundraiser Marin
The Center for Domestic Peace brings together feminist thought leaders, social justice advocates and inspiring speakers in this annual event, and all of the funds go toward their mission of ending domestic violence in Marin County.
Best Fundraiser Bay Area
This year, the Big Brothers and Big Sisters of the Bay Area annual gala raised a whopping $605,000 for Bay Area youth. The organization fosters one-on-one mentoring relationships to empower underserved youth across the region.
Best Gala Marin & Bay Area
This one-of-a-kind event put on by Lifehouse Agency combines gourmet food, world-class wine and stellar entertainment to support people with developmental disabilities, as well as a weeklong virtual auction and live auction offering coveted luxury experiences.
Best Charity Marin & Bay Area
This hard-working organization believes people with developmental disabilities deserve compassionate support, respect and purpose, and helps these individuals in the Bay Area lead full lives and with a range of services.
We're proud to support organizations such as Lifehouse as it hits close to home for me. My 12-year-old son has Down syndrome. Maybe one day he might be a part of Lifehouse, living independently on his own in a house like this.
Lifehouse Agency
We're proud to support organizations such as Lifehouse as it hits close to home for me. My 12-year-old son has Down syndrome. Maybe one day he might be a part of Lifehouse, living independently on his own in a house like this.
We are proud to support DSANB, which continues to provide the necessary resources for families in the North Bay.
Services
Best Caterer Marin
Scott and her expert team have perfected the art of good taste; she caters many of the events happening throughout Marin.
Best Caterer Bay Area
With 30 years of serving the Bay Area, this popular catering company offers a diverse, year-round menu, plus seasonal menus three times a year.
Best Chiropractor Marin & Bay Area
Rina Tinozzi, Tinozzi Chiropractic Studio, Corte Madera
Sports chiropractic and body work are the main offerings at this studio; each spine chiropractic adjustment starts with hot packs and a 10-minute deep-tissue massage.
Best Funeral Home Marin & Bay Area
Fernwood is a National Wildlife Federation Habitat offering natural and green burials, traditional burials, cremation and America's first green Jewish cemetery, Gan Yarok.
Best Florist Marin
This living plant florist specializes in custom designs made with orchids, succulents, tillandsia air plants and indoor plants, plus they offer delivery within Marin County and to parts of San Francisco.
Best Florist Bay Area
The iconic burlap-wrapped bouquets from Farmgirl have become so popular that this company now delivers across the country. The premise of using mixed flowers and compostable burlap remains the core of their business.
Best Jewelry Repair Marin & Bay Area
With four locations in the North Bay, Gold Rush Jewelry will fix your watch or jewelry while you wait. They also have an extensive selection of wedding rings and can custom-make any piece you'd like.
Best Movers Marin
This family-owned business efficiently moves up to 10 locations each day, but readers also value Johnson & Daly's commitment to sustainability and high satisfaction ratings.
Best Movers Bay Area
Celtic is a full-service company that combines top-notch service with affordable rates for both moving and storage.
Best Photographer Marin
Skinner's work centers on family portraits, high school seniors, professional headshots, and commercial and web photography.
Best Photographer Bay Area
Risso is known for her extensive work in the advertising realm, but also has a propensity for capturing life's most interesting and emotive moments when photographing both kids and grownups.
Shopping
Best Bookstore Marin
The persistent power of the written word lives on at this locally run store that has hosted more than 10,000 author events, classes and community gatherings in its 40-plus year history.
Best Bookstore Bay Area
The long-running North Beach store is beloved for its commitment to free intellectual inquiry, as well as its warren of shelves that boast titles hand-picked by knowledgeable staff.
Best Consignment/Thrift Shop Marin & Bay Area
Rethink second-hand clothing as a recycling forum, then add a positive and supportive venue where you can donate, chat, seek advice and inspiration, or comradeship and you've got Stella's.
Best Bike Shop Marin & Bay Area
There is a steady, patient thoughtfulness that is built into the customer service here, a systemic niceness to all comers that resonates with the local bike community and pushed this bike shop on Miller Avenue to the top of the heap.
Best Bridal Shop Marin & Bay Area
Understanding a bride's vision and executing bridal wear with a thoughtful attention to detail are what lifted this bespoke designer dressmaker to the pinnacle of our list.
Best Cannabis Dispensary/Delivery Marin
A well-curated variety of products, a customer service team that works to build experiences to fit each customer, and prompt delivery were the keys to success for a delivery-only service based in Mill Valley.
Best Cannabis Dispensary/Delivery Bay Area
Beautiful space, well-informed bud dispensers and in-depth customer service for customers with unique needs helped give this dispensary and weed delivery service the nod.
Best Eyewear Marin
Timely turnaround, a tasteful selection of glasses and sunglasses and an honest opinion of how flattering those glasses really look on your face are what it took to snag the top spot in eyewear from our voters.
Best Eyewear Bay Area
Free adjustments, even if you did not purchase your glasses here, made the difference to voters, as well as the bespoke eyewear and designs from brands that focus exclusively on eyewear fashion.
Best Gifts Marin
Bags and hats that boast Marin local cred, cute-as-a-button vases, pen pal kits and other gifty luxuries helped turn this stationery store into a winner for their gift selection.
Best Gifts Bay Area
The Mill Valley Lumberyard plays host to the regularly scheduled, open-air craft fairs that are helping rebuild the legacy of "American made" by featuring locally made products.
Best Home Furnishings/Home Accessories Marin
From chairs and tables to mirrors, barware and kitchen décor, this store near Pacheco Plaza knows interior design and how to style Marin homes.
Best Home Furnishings/Home Accessories Bay Area
This store has your entertaining needs covered with timeless, covetable serveware and candlesticks, pitchers and glasses for outdoor entertaining, linen napkins, and paper cocktail napkins with cute sayings.
Best Jewelry Store Marin
The playful approach and contemporary feel for jewelry that features rare colored gemstones, like blue wing tanzanite or green paraiba tourmalines, is a winning combination for this store in Strawberry Village.
Best Jewelry Store Bay Area
Perhaps it's their classic Union Square store or the extensive engagement and bridal collection alongside the Rolexes and Breitlings that helped lift this store that first opened in 1852 to the top.
Best Men's Clothing Marin
With perhaps the most extensive collection of menswear in Marin — everything from ties and suits to swimwear and boots — this classic department store gets the nod from our voters.
Best Men's Clothing Bay Area
Let's just be clear here that the extensive range of denim, jeans and chinos, plus trendy gear without looking like it's trying too hard, brings the dudes (and their handlers) through the door time and time again.
Best Nursery Marin
A wide selection of garden tools, grills, cute gifts and candles complements the just-right selection of plants that will thrive in your Bay Area garden (or someone else's) tipped this family-owned nursery into the winner's circle.
Best Nursery Bay Area
With four locations around Marin and others around the bay, this is the place to explore the plant varieties that thrive in the region during the season they grow best.
Best Pet Store Marin
The staff's enthusiasm about caring for animals is apparent in every interaction, while an extensive assortment of pet foods, leashes, collars and other goodies for pets makes this a regular stop for many.
Best Pet Store
We all have those days when we forgot to order the cat (or dog) food, and this store's quick delivery ensures a happy Fido or Fluff despite our human weaknesses.
Best Surf Shop Marin & Bay Area
One part surf shop, one part clothing and shoe store, and one part skate shop, the Mill Valley store covers the cool factor for kids, teens and adults, no matter your coastal California, Marin-driven style.
Best Women's Clothing Marin
Shopping as a social activity — that is, IRL — is a benefit when the shop keep greets with you with warmth and expertise, whether you seek the perfect hat or a bespoke piece of jewelry.
Best Women's Clothing Bay Area
The distinctive knitwear is a signature of this shop that leans into earth-friendly fibers, including Margaret's favorite: Scottish cashmere.
Travel
Best Cruise Line Marin & Bay Area
There may be no better place to view our beautiful Bay Area landscape and city skylines than from a boat on the bay, which is why our readers voted Hornblower the best local cruise line.
Best Hotel Marin
With the Golden Gate Bridge right at its doorstep, Cavallo Point is the ideal launching pad from which to explore San Francisco's stunning natural setting and rich history. It's also a leader in sustainable travel, with innovative green landscapes and farm-to-table dining.
Best Hotel Bay Area
Dreamed up by French restauranter Claude Rouas, and nestled in 33 acres of stunning Napa Valley landscape, Auberge du Soleil reflects a taste of Provence infused with a unique California soul for a luxury travel experience like no other.
Best Northern California Destination Marin & Bay Area
There may be no California landscape more iconic than Yosemite Valley, but America's favorite National Park offers a wide range of awe-inspiring adventures, from its regal waterfalls and historic lodges to its vast tracts of untamed wilderness.
Best Northern California Family Destination Marin & Bay Area
Our backyard playground for winter and summer sports, Tahoe won over our readers with its scenic trails, sunny beaches, epic skiing, gourmet cuisine, microbreweries and so much more.
Best Theme Park Marin & Bay Area
Six Flags Discovery Kingdom in Vallejo started out as a small zoo and aquarium, but now boasts all the attractions of America's most iconic theme park franchise while maintaining its animal roots at an affordable price.