Nestled on the edge of the San Francisco Bay, Sausalito is known for its stunning waterfront views, Mediterranean-style architecture, and bohemian vibes. The city is home to a thriving artistic community and has long been a haven for artists, writers, and musicians. It's a great place to explore galleries, artisan shops, and craft studios, or to attend art shows and live performances. Visitors can take a stroll along the waterfront, enjoying the views of the bay and the San Francisco skyline, or rent a bicycle and explore the picturesque streets and neighborhoods. The city is also known for its excellent restaurants, serving up fresh seafood and farm-to-table cuisine. Whether you're interested in art, history, nature, or simply relaxing by the water, Sausalito is a great place to visit.
---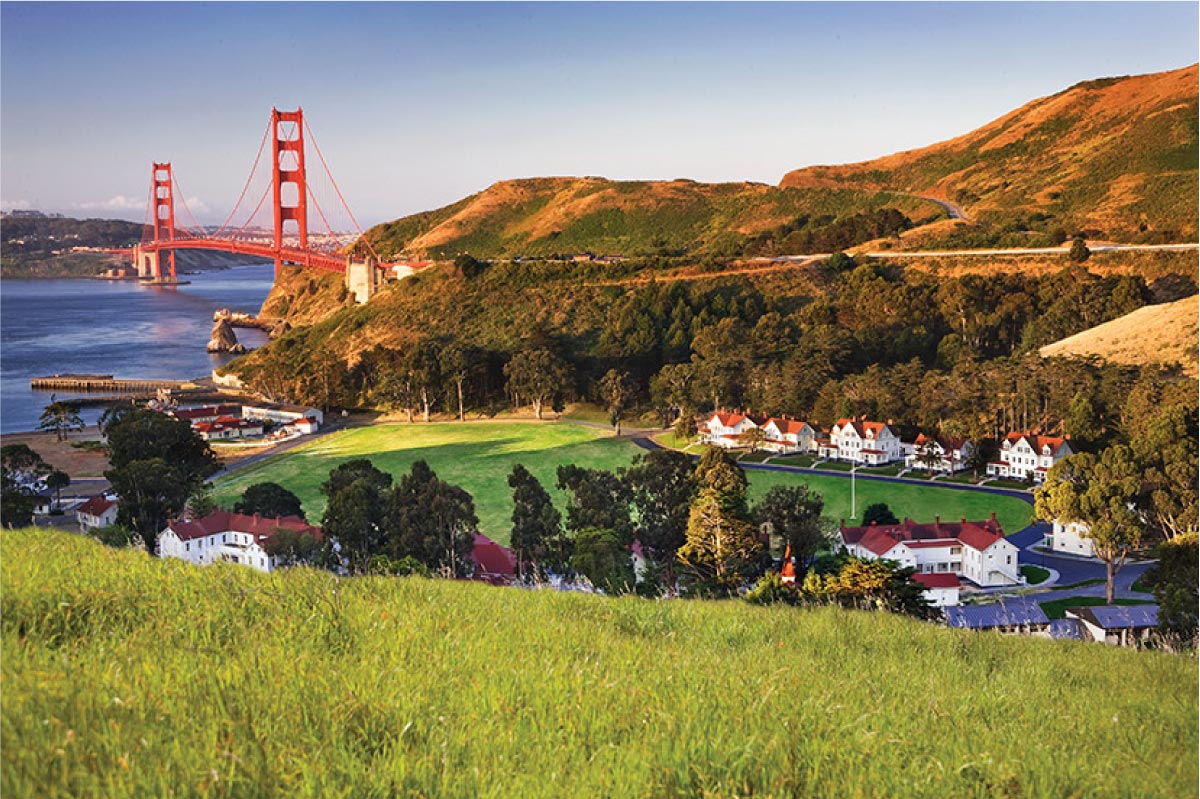 ​​Look around Cavallo Point today and you'd be forgiven for likening the extensive horseshoe-shaped compound to one of the Adirondack resorts renowned for Dirty Dancing-style revelry. But in fact this enclave of isolation directly underneath the Golden Gate Bridge was once Fort Baker, a military installation dating back to 1902. Rooms in the historic officers' quarters are reminiscent of a Greek revival mansion, with wide front porches and turn-of-the-century woodwork, while rooms in the new wings feature radiant heat floors and plate-glass windows. Cavallo Point is known for its luxurious amenities, relaxing spa center, and is the perfect setting for a group getaway.
601 Murray Cir, 415.787.4717
From its perch above the Sausalito waterfront, Casa Madrona Hotel & Spa gazes down with patrician elegance, the tall windows taking in the whole of San Francisco Bay. The hotel started life as a Victorian mansion built in 1885, and even with numerous additions it maintains that crooked-pinky feeling. A 2002 addition houses 31 more modern rooms, many of them with private balconies. Tucked amongst the extensive gardens are casitas designed for the utmost privacy. Seaweed wraps and salt scrubs are among the sought-after spa treatments; once you're suitably relaxed, enjoy a custom cocktail on the roof deck, considered among the best in the north bay. Experience luxury and elegance here when you stay at the Casa Madrona.
801 Bridgeway, 415.322.0502
Binoculars in every room and balconies that jut directly over the water are just two of the reasons to stay at The Inn Above Tide, a bayside lodge. The main one is, of course the view, which couldn't be more spectacular — almost every one of the 31 rooms looks directly out at the city, with Alcatraz and Angel Island in the foreground. Sit on your glass-enclosed balcony and watch the city lights twinkle on, outlining the iconic skyline. The complimentary breakfast is served buffet style in the dining room or delivered to your room, and you'll also be fêted with a wine and cheese reception every evening from 5 to 7pm.
30 El Portal, 415.332.9535