On May 20, more than 80 people attended the first-ever Step Up Marin!, hosted by social services agency Community Action Marin. The event, held at Las Palmas Center at Hamilton Field in Novato was a celebration of steps towards racial and economic equity made in Marin county.
Community Action Marin, founded in 1966, is centered on alleviating the both causes and consequences of poverty within the county by providing services in early childhood education and subsidized child care, safety net services for families and individuals struggling to meet basic needs, mental health services, food security and economic justice services for improved financial management.
Benita McLaren, Director of Health & Human Services for Marin County, spoke to the audience about racial equity at the intersection of social services and public health. "As leaders—elected, appointed, or self-proclaimed—we must have the courage and bravery to stand up, to not accept the status quo as sufficient or enough," said McLaren. "Change is hard and scary at times, but if we want more for our communities, we have to have the courage for the change that will make life better for all."
The evening included hors d'oeuvres, music, a silent auction, and a selection of Community Voices Videos and impact data illustrating how the agency has helped 20,000 individuals and families in the past year, setting them on a path to self-sufficiency. Community Action Marin's CEO Chandra Alexendre presented a Community Courage Award to Kelli McMains, sharing the story of her journey from homelessness to securing a home and stability.
Notable attendees included Marin Supervisors Dennis Rodoni, Katie Rice, Damon Connolly, and Stephanie Moulton-Peters; San Rafael City Schools Superintendent Jim Hogeboom and Assemblyman Marc Levine. By the end of the evening, the nonprofit raised more than $15,000 to support low-income communities. Event sponsors include Lagunitas Brewing Company, Cowgirl Creamery, Hafner Vineyard and Monsieur Benjamin.
---
For more on Marin:
---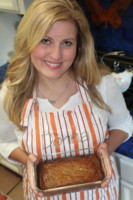 A freelance writer in Marin who writes about family, kids and parenting, Glass is the mother to one son, one dog and a hamster named Miss Geri. When she's not writing, trekking up steep hills in Marin or driving her kid to sports practice, she and her family spend time in their tiny cabin in Lake Tahoe. She avidly supports the California Academy of Sciences, a world class science museum and research institution, and the Institute on Aging which provides much needed services to Bay Area seniors and disabled adults. Glass is obsessed with baking the perfect loaf of banana bread, something she makes so often she no longer needs to look at a recipe card.