It's a summer bummer: You dig out the hammocks, marshmallow sticks and portable cocktail shaker only to realize that every state park campground within 200 miles is fully booked. When facing this trailblock, try staying at a county or regional park instead. In the Bay Area, there are plenty of lovely county park campgrounds to choose from that tend to remain available long after their more-famous state park counterparts are spoken for.
Besides greater availability, county parks are also often more affordable. If you aren't sure how to reserve camping at a park near you, start with the county website. You could also try aggregators such as AllStays or Campendium. Here are some great Bay Area county and regional park alternatives to popular state parks.
Coastal Camping
Jenner's Salt Point State Park, with its majestic coastal hikes and underwater marine reserve, books up fast. Two other local parks in the area, however, Stillwater Cove and Doran Regional Park, also have knockout ocean views, lovely beaches with tide pools, birds galore and access to hikes among the redwoods.
Just south of Salt Point, this picturesque park is a go-to spot for tide-pooling, fishing, diving and ocean kayaking. Or hike 3 miles of trails, including a spur trail, to see the one-room Fort Ross Schoolhouse, which was built at Fort Ross in 1885 and moved to Stillwater Cove Regional Park in 1974 for preservation.
The campground, tucked into a grove of redwoods across the highway from the beach, features 23 campsites (most are for tents or RVs), some with ocean views. $37.
Farther south on Bodega Bay, this park features a wide 2-mile stretch of beach and a boat launch that provides access to Bodega Harbor and Bodega Bay for sport fishing, kayaking and kite surfing. Hikers can stroll the length of the beach or walk a short trail through grassy dunes and on a boardwalk.
Split among five different campgrounds adjacent to the beach are 112 drive-in tent and RV campsites and 15 walk-in tent sites. $37.
Forest Camping
Sleeping among the towering redwoods at Big Basin State Park in the Santa Cruz Mountains is an experience not to be missed, but the campgrounds are currently closed as crews work to restore the park from 2020's CZU Lightning Complex Fire, and even before that, reservations at the popular park were hard to come by. Here are two alternatives for redwood camping in the area.
Located in Santa Clara County, Sanborn County Parkboasts 22 miles of trails that wind through redwoods and tan bark oaks. In August and early September, you can even attend a live theatrical performance when Silicon Valley Shakespeare performs Measure for Measure and Sense and Sensibility — you can buy tickets in advance.
The campground offers 15 RV sites and 33 walk-in tent sites (carts are provided to move gear from the parking lot). $18 tent, $44 RV; parks.sccgov.org/santa-clara-county-parks/sanborn-county-park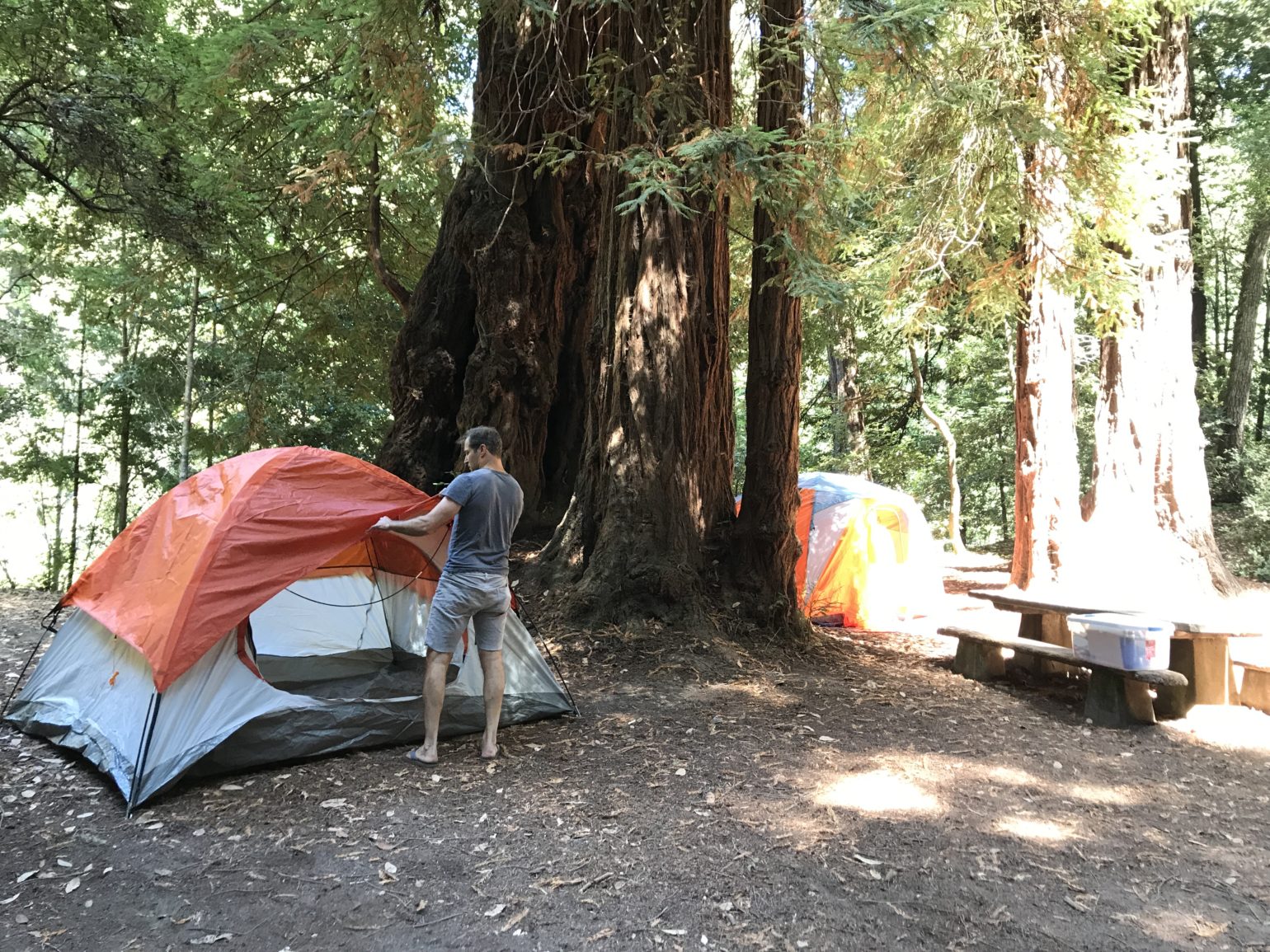 After closing for more than a year to complete improvements, the 673-acre park, located 15 minutes away from Pescadero, reopened last year with brand-new facilities, including new restroom and shower buildings and resurfaced roads. Old growth redwoods, a short hike to a swimming hole in Pescadero Creek and an amphitheater where outdoor movies are shown June through October make this campground a family favorite.
There are a total of 158 campsites at Memorial Park, and some can accommodate recreational vehicles up to 35 feet in length, though there are no hookups. $30 tent, $35 small RVs, $40 large RVs.
Lake Camping
If you missed out on booking one of the coveted campsites at Lake Tahoe's DL Bliss or Emerald Bay state parks this summer, which provide prime access to the lake and the scenic Rubicon Trail, you might still be able to enjoy lake camping closer to home at one of these East Bay campgrounds.
Only 20 minutes from downtown Oakland, this lovely campground overlooks Lake Chabot. Campers can enjoy fishing and boating on the lake, plus miles of hiking, horseback riding and bike trails through the 3,304-acre park's grasslands, chaparral and eucalyptus groves.
Choose from 53 drive-in tent campsites, 10 walk-in tent sites and 12 RV campsites with full hookups. $35 tent or RV with no hookups, $50 RV with hookups.
There are plenty of activities to keep campers busy at Del Valle Regional Park, located 10 minutes away from Livermore. Central to the park is the 5-mile-long lake — perfect for boating, fishing, windsurfing and swimming, with lifeguards on duty during high season when water quality allows. (Check the park's website for updates.) Boat rentals are available at the marina.
Del Valle offers 150 campsites, 21 of which have water, sewage and electrical hook-ups for RVs. $25 tent (hike-in), $35 tent or RV with no hookups, $45 RV with hookups.
---
More from Marin: