Johaan Hill (Red Cup) is the bass player for the gypsy rock band Diego's Umbrella. You can check them out this Friday night, July 27, at HopMonk Tavern in Novato (Tickets $15-20 Show 9:00pm). For tickets click here.
ER: I saw you guys for the first time at BottleRock a few years back and was blown away by your zest and unique sound. How did Diego's Umbrella come to be? Has your sound shifted over the years or have you always been gypsy punk rock mavericks?
JH: BottleRock was a great show that we remember very well. It was awesome to be affiliated with Stevie Wonder and many other incredible artists. We all have our own musical influences from every genre of the last few centuries. From the last decade, much of our sound has been influenced by many of our Eastern European tours and Polka-Pie Eating Contests. If you're not familiar with the contest, you will just have to use your imagination. We are legally bound to keep the secrets to ourselves. Even our ancestors cannot be told. Sorry.
ER: You have two shows coming up in the Bay Area — one on March 16 at 19 Broadway in Fairfax as well as a KC Turner house concert on March 17. Do you prefer a smaller or larger venue? How in the world can you guys fit all that energy into someone's living room?
JH: Larger venues can be better because we typically have more room to prance around and be professional idiots, yet the separation from the crowd can be missed a lot. I personally love intimacy with a good rocking crowd in a small place, because it can force every one to move around. Yet a small club can have the number one disadvantage… women that assume the stage is the best idea to set their purses and coats. That is the WORST place to place it. It will get stepped on. On purpose. 
ER: Can you tell us any bandmate secrets? Like, who's the sloppy one, who's reading Faulkner on the tour bus, who's actually shy in real life?
JH: Our violinist celebrates his birthday every weekend. It is against band policy to speak to a significant other while inside the van (on a cellular device); you have a 23 second time limit to hang up. Also, we are not allowed to listen to any music in the van. Some members prefer the engine noise and trailer squeaks to help them with their migraines. It tends to be a soothing 12 hour driving day, three times a week for them, and a living nightmare for me replaying the same Beavis and Butthead quotes in my brain. 
ER: Finally, I know you have a few other projects in the works — can you tell us more about them?
JH: I am quite the non-monogamous-to-one-band guy. Aside from all the major touring with Diego's Umbrella, I play in a 5-piece melodic hard rock band called Pushing The Sun from Concord, CA. This band has a 4-piece instrumental melodic metal rock project called Fall of Hyperion, and it is basically our newest PTS record we have not released, just with no vocals. 
In 2018 I launched another grimey Rock-n-Roll trio named Ranchero. By default, the band chose me on lead vocals and bass. I have always played bass like a frontman with my old Hardcore Punk/Metal/Screamo bands, but I have never actually been a frontman until now.
I also have duo with my neighbor's kitten, called "Cat." "Sup!?" Once the kitten becomes of legal drinking age, we are going to hit the road pretty hard while prrrring at all the local Litter Dives.
Then I have an emotional solo acoustic project called A Breath for Alexia that I am too shy to expose the sad songs to the public. One day, people will hear these tears. 
ER: Thanks, Red Cup!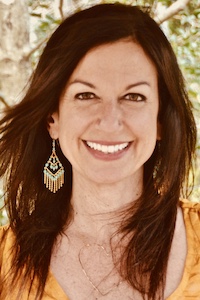 Emilie Rohrbach has taught music and theater to grades pre-school through 8th in San Francisco and Marin counties for the last 20 years. She has been a freelance writer for Divine Caroline for five years, and her writing has appeared in Narratively, Hippocampus, Common Ground, Travelers' Tales, and Marin Magazine, among others. She is passionate about Room to Read, Shanti Bhavan, and Destiny Arts and serves on the board of Knighthorse Theatre Company.