They say necessity is the mother of invention, but what about if it's an actual mother doing the inventing? While there is no shortage of smart, talented women in the Bay Area, these women have taken things up a notch in the innovation department. Some have created products to solve problems, while others have simply created beautiful things. All have created something giftable that moms in varying stages of child raising can appreciate and enjoy.
For Moms with Toddlers: TantrumFix
You can feel it bubbling up to the surface. The walls seem to be closing in and everything stands still as you pray it won't happen…. and then, the screaming. Tears start to flow. Your little one is having a total and complete meltdown.
The remedy: TantrumFix, a delightful box of zen-inducing goodies created by Julia Israch, a San Francisco-based digital marketer-turned-mom-turned-entrepreneur. After consulting a child psychologist about her eldest daughter's epic fits, Julia discovered that there were tools to help her young one cope a bit more easily with her out-of-control emotions. Israch loved the idea so much that she created a box filled with the tools, giving her the idea for TantrumFix. The colorful turquoise box has a soft lovey, glitter-filled calming bottle, bubbles, a board maze, emotion-based flashcards and crayons with paper to "draw about how you are feeling." Plus a guide for parents on how to handle tantrums, and a board book they can read to their child on the process of calming down. Some parents leave the box in a designated calm-down corner of the house, so the kids can access it when they feel things spiraling out of control. $39.
For Uber-Chic Moms: Senreve
The cult-like line of luxury Italian leather handbags from Senreve is about as modish as you can possibly get. With an extensive celeb following that includes Lady Gaga, Selma Blair, Priyanka Chopra, Kristen Bell and Anna Kendrick, it's more than just an "it" bag; this is one that you'll use for years to come, and perhaps even pass on to your own offspring. Silicon Valley's Coral Chung, a former tech executive and strategy consultant, turned handbag guru when she and her co-founder wanted to create a luxury brand for the millennial professional woman; the result is Senreve's line of upscale handbags, which launched in 2016. Chung is also the mom of an adorable six-year-old daughter.
Like many in-demand designer goods, Senreve's bags are often sold out and hard to come by, but thanks to the brand's newly opened, first flagship store in San Francisco's Jackson Square, there's now a chance that you can score one. $395 and up.
For Moms of Cute 'n Chubby Babies: TushBaby
As the mom of a 10-and-a-half-pound baby who was off the charts in height and weight up until he turned age four, I sure could have used a TushBaby a few years ago to ease the pressure on my aching back, arms and legs. This clever contraption was invented by East Bay resident Tammy Rant, who originally introduced it on SharkTank. Later, Rant partnered with another Bay Area mom, marketer Sara Adazi, who had physically suffered her own baby carrying woes and loved the idea of an ergonomic hipseat for babies. From that point on, TushBaby took off.
Not only does TushBaby take the pain out of carrying a baby and even a young toddler on your hip, it's compact design can eliminate the need for strollers and other bulky devices. Even better, the company has a program to donate its products to families with special needs babies and children. $79.
Like so many moms of boys, San Franciscan Whitney Lundeen often found herself playing cars and LEGOs on the floor with them. This led to her inspiration to design a line of play dresses and playsuits for moms that will allow them to move freely, while still looking great.
A single parent, Lundeen started off by sewing the original dresses in the line herself, often after her kids went to bed. The dresses, made in San Francisco, are constructed with a modal-spandex/jersey material that stretches many ways and washes easily; yet the pieces are stylish, making them the ideal throw on-and-go chic mom outfit that goes all day from the playground to dinner. Frankly, they look so comfy that you could easily sleep in them too, if you wish. Starting at $98.
For Cool California Moms: Neve & Hawk
Originally honing their craft as screen printers, Kris Galmarini and her husband Bob would spend their evenings coming up with fun and whimsical t-shirt ideas for kids and adults. They were soon being stopped on the streets of New York by strangers, asking about the shirts they were wearing, which gave them the nudge they needed to forge a full-time into a fashion business.
Named after two of the couple's kids, Neve & Hawk has grown beyond screen print shirts into a clothing line for women, kids and babies.  The namesake brand's line, plus selections from other clothing lines, accessories and gifts are all housed in charming store in downtown San Anselmo that screams laid-back California chic. The store recently expanded to include a cozy coffee bar in the back, featuring drinks made with coffee beans from another woman-owned business, Lady Falcon Coffee Club. Prices vary.
---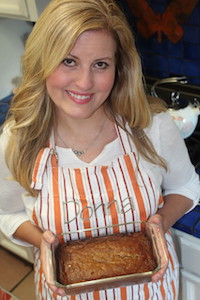 A freelance writer in Marin who writes about family, kids and parenting, Glass is the mother to one son, one dog and a hamster named Miss Geri. When she's not writing, trekking up steep hills in Marin or driving her kid to sports practice, she and her family spend time in their tiny cabin in Lake Tahoe. She avidly supports the California Academy of Sciences, a world class science museum and research institution, and the Institute on Aging which provides much needed services to Bay Area seniors and disabled adults. Glass is obsessed with baking the perfect loaf of banana bread, something she makes so often she no longer needs to look at a recipe card.