Here are the artists about whom this blog post will not pertain: Trombone Shorty. Shakey Graves. Michael Franti. The Head and the Heart. Snoop Dogg. The Killers (whose lead singer, Brandon Flowers, is tied for first in terms of music crushes).  Lake Street Dive. Thievery Corporation. The Revivalists. Bruno Mars (the other half of the tie). That is because I went to BottleRock, all three days, to see these people.
I thought I knew music. I think I still do. But wow – I got schooled. My phone is about to freeze because of all the video I took. (Not kidding. If you call me and leave a voicemail and I never get it – this is why. My little square of technology can only handle so much.) My face is still sunburned, as are my festival feet (you know what I'm talking about – when the tops of your feet become imprinted with the pattern of the top of your flip flops after a music festival and stay that way for the rest of the summer?). My heart is still joyous and light from an amazing weekend…but my music ego has taken a bit of a hit. 
I owe it to you, my music-loving readers, to share this bounty. However, you may have heard of many of these musicians already. I only hope you can respect me in the morning (ie, after you have finished this blog post).
---
Who Schooled Me Friday:
Nahko and Medicine for the People
My friend Lisa got us VIP tickets, and I have to say, VIP is the way to go for BottleRock. Not only do you have more dance space, you also have access to the VIP stage, where many of the artists perform acoustic. That is how I experienced Nahko for the first time. His lyrics are powerful, and his voice is gold. Of Puerto Rican, Filipino, and Apache descent, Nahko was adopted at a young age by a white religious family. His music is often both political and peaceful, as he's not afraid to take on themes of social justice, whether about Black Lives Matter or the activists at Standing Rock. Check out "Budding Trees," and "Warrior People."
St. Paul and the Broken Bones
Lisa and I decided on the first night to venture away from the two larger stages and check out what was happening on the Miner Family Winery Stage. What we found was a slightly overweight fellow bellowing like he was straight out of NOLA…then he disappeared under the drummer's platform and reappeared wrapped in…a carpet. A carpet? Such are the antics of Paul Janeway, the lead vocalist of the band. Relatively new, these guys, from Birmingham, Alabama, formed in 2012 and have since released two albums and two EP's and toured internationally. Check out their NPR Tiny Desk show and the single, "All I Ever Wonder." 
---
Who Schooled Me Saturday:
The Aces
This all-female band from Utah has been playing together since middle school and owned that main stage, despite of or maybe because of the fact that they are in their early twenties. (I read the median age is 21). Described as "an alternative pop quartet," I'd just call them rock super stars. They inspired me so much I reminded my students on FB not to give up on their dreams! Check out, "Physical," Stuck," and "Volcanic Love."
Bleachers
"Who. Is. This. Guy?" I thought, in truncated, breathless form. He came out in short shorts (green), white knee socks, and a Mets hat fashioned straight out of the 80's, and entertained the audience of the Jam Cellars stage for the entire set, complete with high kicks. (I saw nothing.) Come to find out this guy is actually Jack Antonoff, who also happens to be the lead singer of Fun. Check out "I Wanna Get Better," and "Alfie's Song." 
The Record Company
Swoon. Can I leave it at that? This LA based trio got their start in 2011 and calls John Lee Hooker, The Stooges, and The Rolling Stones some of their influences. Any band that incorporates slide guitar has got me hooked. They had the power and energy to keep the Midway Stage audience on their feet for the full set, but I fell completely in love hearing them acoustic on the VIP stage later that day. Listen to "Off the Ground," "Rita Mae Young," and "Baby, I'm Broken," and you'll know exactly why Rolling Stonemagazine included them in their "10 New Artists You Need to Know," list in 2016.
Jacob Banks
By 5:00 on Saturday, after Nahko and St. Paul, we had the idea that some of the best music was on the Miner stage. And that's how we bumped into Jacob Banks. Oh man, does this guy have soul. He's a British singer-songwriter known for his mesmerizing blend of soul, R&B, and hip-hop. He signed with Interscope Records after being the first unsigned act to appear on BBC Radio 1 Live Lounge. Banks released his debut album in 2013, and since then his songs have gained notoriety through various popular culture forms: "Move with You," was featured in an EA Sports game, "Worthy," was featured on the TV seriesSuitsin Season 3, and his songs, "Unknown," and "Monster," were featured on the Starz TV series Power.  
---
Who Schooled Me Sunday:
Magic Giant
I had the pleasure of meeting the lead singer's mom after this show, and she informed me that Magic Giant had played a sold out concert at The Chapel in San Francisco the previous Thursday. What's the acronym when you aren't fearing missing out, but you actually know you did – would that be IKIMO (I Know I Missed Out)? If you know me you know I love concerts at The Chapel because they have a stellar sound system and an excellent booking agent: they somehow secure acts that are just one step away from huge, like Bell x1, Sean Hayes, and Great Lake Swimmers.
Austin Bisnow is magic. This whole band is magic. Austin is gorgeous, magnetic, and has dance moves that rival those of Bruno. (God, I'd love to see that dance off.)  He lights up the stage – oh, and his music is magic, too. Check out, "Set on Fire," and "Window." 
Halsey
Yes, I got schooled by Halsey. Not only did I get schooled by Halsey, I got schooled by the song, "Closer," which I heard for the first time on Train's Sail Across the Sun cruise by an amazing country sisters/ brother trio, Temecula Road. I fell in love with this song and couldn't wait to share it with others once my feet were back on solid New Orleans-ground. And immediately, I was informed that this had actually been a huge hit by The Chainsmokers for over a year. (Listen, we all need humility in our days.)
But Halsey singing it on her own, slowing it down and emphasizing the piano line, just made it a sincere love song. Her voice is unbelievable. So is her history – after dropping out of RISD and community college and struggling with addiction and mental health issues, she lived in a basement with a bunch of friends and was quoted telling a story about a time when she bought a four-pack of Red Bull because it was safer to stay up all night then to fall asleep. In the meantime, music was her salvation, and after posting several videos to social media sites she was asked to collaborate with a producer at a party – the product of which, "Ghost," became so popular online that she was contacted by several record labels. Subsequently, her studio debut, Badlands, was released in 2015. Her collaboration with The Chainsmokers, "Closer," earned them a Grammy nomination in 2016. Um…and now, here she was, schooling me, at the ripe age of 23.
So there you have it. Should your trust in me remain, please check out my "Emilie's Must-See's: June," online right here at Marin Magazine, and feel free to join me Thursday night at Neck of the Woods for Chris Trapper, Friday night at The Independent for Nicki Bluhm, or Saturday at the Novato Festival of Art, Wine, and Music. May our music education continue.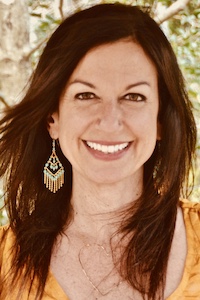 Emilie Rohrbach has taught music and theater to grades pre-school through 8th in San Francisco and Marin counties for the last twenty years. She has been a freelance writer for Divine Caroline for five years, and her writing has appeared in Narratively, Hippocampus, Common Ground, Travelers' Tales, and Marin Magazine, among others. She is passionate about Room to Read, Shanti Bhavan, and Destiny Arts and serves on the board of Knighthorse Theatre Company.