THIS YEAR, MY usual excitement for back-to-school season is tempered by the cascading tragedies we've all seen this summer. The last time I sat down to write my editor's letter, 22 El Pasoans were busy planning for the next school year; the Bettses of Dayton, Ohio, had a son and a daughter just a phone call away; and officer Mario Cerciello Rega had just returned from his honeymoon, focused on keeping the streets of Italy safe. The ripple effect of senseless deaths has given me, and it seems the entire country, pause.
Locally, I turned to Matt Willis, Marin's coolheaded public health officer, for some tips on processing these devastating events. His response echoed my thoughts about mental illness and gun access. "The idea that these senseless acts of violence are caused by mental illness is misleading," he says. "In fact, people with mental illness are far more likely to be victims than perpetrators. Now more than ever, we want to remove any [mental illness] stigma and send a clear message encouraging people to seek the help they need and deserve. The call for stricter gun laws has real relevance here. In the past four years, we lost 61 people in our community to gun-related suicides. Because one in three suicides in Marin are gun related, gun control and suicide prevention go hand in hand."
I was also saddened but relieved to hear that the schools are ready for the worst. "We hate to imagine that we need to prepare for mass shootings, but it's a reality. Our Emergency Medical Services team is equipping Marin classrooms with Stop the Bleed kits, which can help save a life if the unthinkable happens."
To further address that gnawing despair about what can be done to prevent another mass shooting, I contacted my go-to for gun control, Jen Reidy of Moms Demand Action, and asked her for one simple action item we could suggest to our readers.
"If you wanted to share ONE action," she responded, "it would be to demand that Sen. Mitch McConnell pass the Background Check Bill. Text "EMERGENCY" to 877-877."
So I did. It took a few attempts. The text will take you through prompts and eventually a robocall that connects to his office. This was more than I had expected — I was thinking my text would be it — but then the call connected to a voice with a thick Kentucky drawl, saying, "You've reached Mitch McConnell's field office in Lexington, Kentucky." I froze. I didn't expect to have to actually use my voice in order to be heard. The line went dead. Phew. I hoped that was good enough and my call counted. It didn't.
As a dry run for a do-over, I asked my colleagues to make the same call and watched as associate editor Kasia Pawlowska's eyes widened. I could hear the phone call transferred from the prerecorded message to McConnell's office. We both laughed nervously — now what?
"I need a script!" she whispered. My heart raced in sympathy panic: what if someone picks up? I realized just how complacent I have been through all of this. My good friends on both sides of the political divide have marched, made phone calls, written letters (I did send some form emails) in support of the Brady Bill.
In the past month of tragedy I've been frustrated with those who still support a president who cites mental illness and immigration laws as the factors behind public shootings even as they ignore his hate-filled rhetoric and sycophant NRA relationship, usually all because "the economy is doing great."
Yet what had I done? As my grandmother would say, "The beam in my eye has been blocking my view of the mirror." I look around and see signs of strength. San Rafael Mayor Gary Phillips is flying the flags in his city at half-mast until something is done about gun control. Thousands are marching, writing and calling their representatives — actually using their voices to be heard. Maybe it's time we all did the same.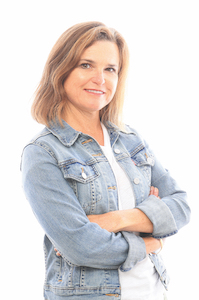 Mimi Towle has been the editor of Marin Magazine for over a decade. She lived with her family in Sycamore Park and Strawberry and thoroughly enjoyed raising two daughters in the mayhem of Marin's youth sports; soccer, swim, volleyball, ballet, hip hop, gymnastics and many many hours spent at Miwok Stables. Her community involvements include volunteering at her daughter's schools, coaching soccer and volleyball (glorified snack mom), being on the board of both Richardson Bay Audubon Center. Currently residing on a floating home in Sausalito, she enjoys all water activity, including learning how to steer a 6-person canoe for the Tamalpais Outrigger Canoe Club. Born and raised in Hawaii, her fondness for the islands has on occasion made its way into the pages of the magazine.