MANY SIGNS INDICATE a successful enterprise: high sales, lines out the door, universal praise. Then there's selling out of bread at the apex of gluten phobia, which M.H. Bread and Butter does regularly, in the middle of health-conscious Marin. Owned by Nathan Yanko, who spent eight years baking at Tartine, and his wife, Devon, the San Anselmo restaurant serves an assortment of baked goods and lunches.
The person behind the lunch efforts is Arielle Giusto. In spite of her Paris birthplace, Woodacre-based Giusto is a local through and through, having spent her formative years in Stinson Beach and attending Tam High. Following a stint at Sarah Lawrence College pursuing a liberal arts degree, she moved back to Marin, deciding it was cooking she wanted to do. Giusto quickly found a job with Ed Vigil at the Olema Inn, now Sir and Star: "He taught me from scratch; I didn't even know how to cut an onion properly," she says. She also worked at other San Francisco restaurants, sold cheese wholesale for Tomales Bay Foods, and helped David Wilcox open the kitchen at Mill Valley Beerworks before joining her friends the Yankos at MHBB. "I have been at MHBB ever since the opening, except for a five-month stint," she says. "This place truly feels like my baby."
Slow-Roasted Broccoli Toast
SERVES 4
Ingredients
2½ pounds of broccoli
8 cloves of garlic
1½ cups of olive oil
¾ pound of Roma cherry tomatoes
Several pinches of chili flake
2¼ teaspoons of salt
1 sprig of rosemary
½ cup of extra-virgin olive oil
1 can of butter beans (or substitute any white bean)
1 lemon, juiced
4 slices of country bread
½ cup of sheep feta, crumbled
1 bunch of chives, chopped
2 tablespoons of toasted sesame seeds
½ cup of pickled red onions (optional)
To Prepare
For broccoli
1. Set a large pot of salted water to boil.
2. Prep the broccoli by removing stalks and cutting the tops into L-inch slices.
3. Once the water is boiling, add the broccoli and blanch for five minutes, drain from water and set aside.
4. Set a heavy-bottomed large pan with a lid over medium heat; add 5 cloves of garlic and olive oil.
5. Cook for a few minutes until garlic sizzles.
6. Add tomatoes and a pinch of chili flake; cook for one minute.
7. Add broccoli and 1½ teaspoon of salt, reduce heat to low and cover.
8. Cook for one hour, turning the broccoli a few times throughout the process, being careful not to break up the florets too much. The resulting broccoli will be silky and rich.
For butter bean puree
1. Slice 3 garlic cloves.
2. Place garlic with the extra-virgin olive oil into a small pot.
3. Cook over very low heat until the garlic begins to release its aroma and becomes soft, about 10 minutes.
4. Add the rosemary sprig and a pinch of chili flake; continue cooking for 2 minutes.
5. Drain and rinse the canned beans.
6. Add them to the pot with the extra-virgin olive oil; stir and cook for 5 minutes.
7. Turn off the heat; discard the rosemary sprig.
8. Add the bean mixture, ¾ teaspoon of salt and lemon juice to a food processor.
9. Process until smooth, taste and add more salt if necessary.
To Assemble
1. Toast the country bread.
2. Spread the bean puree in a thick layer on the bread.
3. Top with the broccoli.
4. Sprinkle on the feta, chives, sesame seeds and pickled red onions (if using).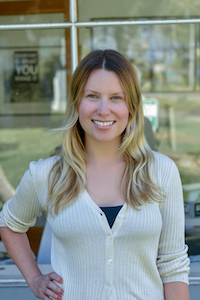 Kasia Pawlowska loves words. A native of Poland, Kasia moved to the States when she was seven. The San Francisco State University creative writing graduate went on to write for publications like the San Francisco Bay Guardian and KQED Arts among others prior to joining the Marin Magazine staff. Topics Kasia has covered include travel, trends, mushroom hunting, an award-winning series on social media addiction and loads of other random things. When she's not busy blogging or researching and writing articles, she's either at home writing postcards and reading or going to shows. Recently, Kasia has been trying to branch out and diversify, ie: use different emojis. Her quest for the perfect chip is never-ending.