For most who backpack the 211-mile John Muir Trail from Happy Isles in Yosemite National Park to Mount Whitney in California's Sierra Nevada range, the trek is the culmination of a longtime dream. It's a chance to spend three weeks in the wilderness, camping under the stars, walking through thick conifer forests, marveling at the high granitic peaks of the Sierras cutting the deep blue sky like a serrated knife, and walking through meadows blooming with an impossible array of wildflowers.
It's also an undertaking of grand proportions, nearly epic in the minds of those who choose it. The planning, preparation and training can seem endless, spanning months, even years. Once a backpacker takes the plunge, circles that magical departure date on the calendar and begins preparations, it becomes an obsession crowding out all other thoughts, rational or otherwise. Terms like pack weight, resupply buckets, temperature rating and many more enter the lexicon.
My own obsession began in late November 2013 during a three-day trip to Yosemite. On the first morning, I hiked the Mist Trail to the top of Nevada Falls. Once there, I sat on the trail, enjoying the cold autumnal quiet while eating lunch before heading back to Yosemite Valley. I was facing the sun, feeling its warmth; then I turned around and noticed a signpost behind me. It was a John Muir Trail sign that gave the distances to various points ahead: Little Yosemite Valley, Half Dome … and at the bottom, Mount Whitney, a scant 215 miles away to the south. I'd hiked to the top of Mount Whitney (14,505 feet) twice before, but until that moment, I'd never considered trying to reach it via the John Muir Trail. The urge to continue up the trail was powerful. Fortunately, with my meager daypack, I decided more planning might be wise.
The Trail and Its History
Backpackers can start at either end of the trail, although most start in the north and head south. Those finishing at Mount Whitney, the highest peak in the contiguous 48 states, still face a 10-mile hike from the trail at Whitney Portal (8,200 feet), so for them the total hike is a bit more than 220 miles. From north to south, the trail takes you through Yosemite National Park, Ansel Adams Wilderness, John Muir Wilderness, Kings Canyon National Park and Sequoia National Park.
The trail was the brainchild of explorer and early Sierra Club member Theodore Solomons in the 1880s. Early on, horse and mule pack trains were the prime consideration, not recreational backpackers. To this day, pack trains are almost a daily sight, serving the needs of backpackers, trail crews, rangers and firefighters. It would eventually take more than 50 years for the present route to be settled on. Trail construction spanned years and was finished in 1938.
Logistics and Preparation
Because of weather considerations, trail conditions and the limited seasons of backcountry resupply facilities, the JMT hiking season is mid-May to late September. Early in the season, the higher passes are more likely to still be covered in snow or ice. July and August see the highest use, as by then the trails are typically mostly clear and inclement weather is less apt to severely impact the hike. Still, thunder, lightning, rain and/or hail are likely at some point in any three weeks during the summer.
The planning required to successfully, and safely, complete the JMT is considerable, especially for those traveling here from other parts of the United States or foreign countries. Fortunately, countless resources can help: books, magazines, websites, social media groups (yahoo.com has an especially well-moderated group, while Facebook has several, including one specifically for women). Elizabeth Wenk's book John Muir Trail (Wilderness Press) is highly recommended; online, the Pacific Crest Trail site's JMT section is one of the better portals to use as a planning starting point (pcta.org/discover-the-trail/john-muir-trail).
For many, taking time off to backpack the entire trail isn't realistic. A popular alternative is to choose a section and spend several days or a week on the trail. Numerous trailhead options along the way — from either the eastern or western Sierras — make that doable.
As for self-preparation and training, it's important to keep in mind that the trail is in the wilderness. A strong body and high degree of self-sufficiency are required. Over the course of the 200-plus miles, there's roughly 50,000 feet of elevation gain and loss, some of it on very steep and treacherous footing. Serious injury or even death is possible. Helicopter rescues/evacuations are not uncommon. It's essential to have certain backcountry skills (and a lot of common sense). The JMT is decidedly not for the casual day hiker.
Wilderness Permits
One of the first preparatory steps is securing a wilderness permit for the trail. Over recent years, demand for permits has exploded, making them difficult to get at times, especially for hikes originating in Yosemite. The National Park Service has instituted tighter quotas for JMT hikers; 90 to 95 percent of requests are denied. Hikers can start applying for permits 26 weeks in advance of departure. Because of the competition for permits, starting points along the trail have become more popular, as has the decision to hike the trail south to north. Another option is to try for a walk-up permit the day before your trek, although that might not be feasible for those coming from afar. Note: at various points along the trail, rangers will check to make sure backpackers have the proper permit. For more information on the permit process, see nps.gov/yose/planyourvisit/jmtfaq.htm.
Given the high demand, in lieu of JMT permits for the entire trail, other Sierra alternatives are becoming popular. Besides section hiking, some people are opting for the Tahoe Rim Trail, the Tahoe to Yosemite Trail, Desolation Wilderness or the High Sierra Trail.
Necessary Gear
Compared to other vacations or adventures, backpacking is fairly inexpensive, especially if you already own the requisite gear. Typically, the pack, tent and sleeping bag are the costliest part. The goal is to carry as little weight as possible without compromising comfort or safety, the trade-off being that the lightest gear is usually the priciest. Books and websites give detailed advice on necessary and less-necessary equipment.
Food and Resupply
It's nearly impossible to comfortably carry a 20- to 25-day food supply for 200-plus miles. Most backpackers mail themselves caches of provisions and supplies to pick up along the way. Four common pickup spots in the northernmost 110 miles include (north to south) Tuolumne Meadows post office, Red's Meadow Resort (near Devils Postpile National Monument), Vermilion Valley Resort and Muir Trail Ranch. South of Muir Trail Ranch, you can choose to carry a large load (I lugged an 11-day supply after picking up my five-gallon resupply bucket at MTR), get resupplied by a pack train from the eastern Sierras (pricey for small groups or solo hikers; a better option for large groups), or come off the trail in either Bishop or Independence and return with enough food to finish the trail. Although dates vary, resupply spots are only open from about mid-May through late September.
The JMT, like the entire Sierra Nevada range, is active black and brown bear country, so hikers are required to carry food in an approved bear canister, checked by rangers along the trail. It's for your own protection and to keep bears from becoming accustomed to human food.
Calorie-dense products are best for keeping the body fueled; dehydrated foods, either homemade or sold as prepackaged meals at places like REI, are a popular choice. Other trail-friendly edibles include instant oatmeal, instant coffee, energy bars, various jerkies, nuts and tortillas. Whatever food you bring, two facts are certain: it's nearly impossible to gain weight during a JMT hike (most lose from 4 to 8 percent of their body weight), and the closer you get to the end of the trail, the more keenly and vividly you'll obsess about real food — be it steaks, doughnuts or fresh fruit.
Hiking the JMT is a once-in-a-lifetime experience that's well worth the planning, but the planning should start early on.
To experience the John Muir Trail by photos, check out the gallery below.
---
America's Naturalist
The Scot who became the father of our national parks.
John Muir's reach extends into many areas beyond the naming of this trail; in fact, it seems there is nary an outdoors- lover he didn't influence. Muir proved that passion could trump a formal education, and myriad generations of wildlife stewards were moved to action by his writings and journeys. A fervent self-taught naturalist, Muir was the first to conceive the idea that glaciers might have formed his beloved Yosemite, rather than earthquakes as assumed at the time, and he was right. Congress later passed a bill based on his writings to establish Yosemite as a national park. Raised in a strict religious household, Muir arranged his own unique connection to God through the natural world, feeling it was more akin to the Almighty than scripture since nature came straight from heaven, untainted by civilization. He encouraged citydwellers to seek the wild outdoors for spiritual nourishment and would be happy to know they've been doing that in hordes, with the millennials (dubbed the "greatest camping generation" by KOA) leading the pack. Additionally, Muir was the first person honored with an official state commemorative day, and he appears on the California State Quarter alongside a California condor and Half Dome.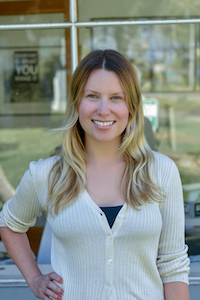 Kasia Pawlowska loves words. A native of Poland, Kasia moved to the States when she was seven. The San Francisco State University creative writing graduate went on to write for publications like the San Francisco Bay Guardian and KQED Arts among others prior to joining the Marin Magazine staff. Topics Kasia has covered include travel, trends, mushroom hunting, an award-winning series on social media addiction and loads of other random things. When she's not busy blogging or researching and writing articles, she's either at home writing postcards and reading or going to shows. Recently, Kasia has been trying to branch out and diversify, ie: use different emojis. Her quest for the perfect chip is never-ending.