Produce olive oil in Marin County? Not likely, according to Marin County agricultural officials back in the early '90s. Nan Tucker McEvoy of McEvoy Ranch in West Marin decided to try it anyway.
Despite dire warnings about olive trees' purportedly poor prospects in Marin's soil, she quietly sought out advice from Italian vintner and olive expert Maurizio Castelli, imported 100 trees from Tuscany, and the rest is history.
Not only has McEvoy Ranch olive oil earned national accolades and awards over the last decade, her progressive spirit paved the way for olive growers in neighboring Sonoma and Napa counties as well as Marin.
Not your typical farmer, McEvoy was born into the bosom of high society: her mother, Phyllis de Young Tucker, established San Francisco's cotillion, that invitation-only ritual of induction into the privileged set. As a young adult, McEvoy left town to travel the world, eventually settling in Washington, D.C., where she was a founding member of the original Peace Corps and served on John D. Rockefeller's Population Council. In this part of the country she's best known for her stint at the helm of (and controversial dismissal from) the San Francisco Chronicle, the paper and publishing company her grandfather started back in 1865.
Although her role of pioneer olive grower seems a surprise, its success is anything but, those who know her say, since whatever McEvoy does, she does right. More than a decade since planting her imported trees, McEvoy Ranch is a thriving business, offering tours, tastings and special events. She's even launched a new product line of organic soap and lotions bearing the McEvoy name.
Why olive oil? Because it didn't involve any animals, and wine had already been done. I wanted to do something in Marin County that hadn't been done before. I have a great passion for food and had been taking cooking classes in Italy. I would lug olive oil home in these five-gallon cans and I thought, "Why not make my own rather than carrying it through customs?" Everyone told me it would never work, so we brought an expert out from Tuscany to assess the ranch, and luckily, Marin County's soil and microclimate are perfect for growing Tuscan olives.
What first attracted you to the ranch? I really wanted a wonderful place in the country for my grandchildren. Marin County was perfect because it's so close to my home in San Francisco, yet once we cross the bridge, we have wide-open land for the dogs and children to run as fast and far as they can go. And the hills—I love the rolling hills.
How many years after planting your trees did you have to wait for a viable harvest? We planted our first trees in 1991. In the late '90s there was enough oil to attract the attention of nice shops like Dean & DeLuca, Williams-Sonoma, Woodlands Market, Mill Valley Market and Draeger's. In 2003, we started making more olive oil and began selling it in larger stores like Whole Foods, Mollie Stone's and Andronico's.
Did you learn any lessons along the way that you can share with armchair olive growers? In 1994 we made the decision to go organic. It takes three years to earn organic certification—and we did it. We use only organic practices in the orchard and mill, which means that the olive trees are grown without any chemical pesticides or herbicides. We bring in sheep to graze on spring grass, so that we don't use mowers, which need fuel. And we also plant cover crops that keep the soil healthy. Throughout that whole process we learned to be committed and patient, which wasn't easy because it's a long
time from planting to bottling.
Has this business been a family endeavor? It has. My son Nion first encouraged me to read Maggie Klein's The Feast of the Olive, which was quite an inspiration for this whole project. Nion is still very involved with managing the ranch. And you could say that everyone who works on the ranch has become extended family. People know us for our olive oil, but they don't realize that we have lovely gardens here, which are tended by Margaret Koski-Kent. And every day, our chef, Gerald Gass, creates an amazing meal at lunchtime using the fruits and vegetables from Margaret's garden. It's very European. We all sit down together and enjoy a long lunch, so you can imagine the banter around the table makes us feel much like a family.
Does farming have any similarities to publishing? It doesn't matter what you do, you have to do it well and be the very best. Otherwise, what's the point? So whether I'm publishing my grandfather's newspaper or producing the best certified organic extra-virgin olive oil, the process is the same. You put the best team together and produce the best product possible.
An article in the New York Times credited you with initiating the modern commercial olive oil in-dustry in California. Will you take that credit? Yes, but I didn't set out to spark an industry. I've always been lucky enough to find interesting projects. When I bought this ranch it was zoned for agriculture, so I had to do something with the land and I wanted to do something that nobody else was doing. So I had this opportunity and got very lucky.
Besides your own olive oil, do you have a favorite brand? No.


Now you've branched off (excuse the pun) into an organic skin care line. Why? Many of us at the ranch use the olive oil on our skin, so we thought it would be fun to put the oil in a product that everyone could use. McEvoy Ranch Verde Body Care Line includes a body lotion, hand cream, body scrub, and olive oil soap—all made with our estate-grown, certified-organic extra-virgin olive oil.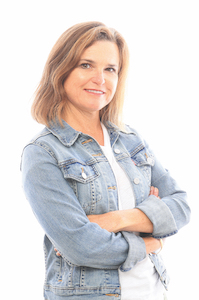 Mimi Towle has been the editor of Marin Magazine for over a decade. She lived with her family in Sycamore Park and Strawberry and thoroughly enjoyed raising two daughters in the mayhem of Marin's youth sports; soccer, swim, volleyball, ballet, hip hop, gymnastics and many many hours spent at Miwok Stables. Her community involvements include volunteering at her daughter's schools, coaching soccer and volleyball (glorified snack mom), being on the board of both Richardson Bay Audubon Center. Currently residing on a floating home in Sausalito, she enjoys all water activity, including learning how to steer a 6-person canoe for the Tamalpais Outrigger Canoe Club. Born and raised in Hawaii, her fondness for the islands has on occasion made its way into the pages of the magazine.