Tell us what an average shift is like.
I generally work two hours at a time. The number of texters varies depending on what their issues are. If the issues are not serious, I will take more than one texter during the shift. If I'm worried about someone being suicidal, I will focus only on them. So, some shifts I will have more texters, and some shifts just one or two. Conversations range from 20 minutes to over two hours, although those are rare.
Are there any themes in the texts you receive?
Many of the texters I engage with just need someone to hear and support them in whatever crisis they are having. Most don't want to burden their parents or their friends. Sadly, some think their parents won't believe them or that they are just being dramatic. Crisis Text Line gives counselors a breakdown of what the most common call themes are. My most common ones are depression, suicide, relationships and anxiety. Many will have more than one issue, including self-harm and drug/alcohol abuse.
What kind of things do you do to support a texter in crisis?
The first thing I do is establish rapport. This is done by validating what their concerns are and reassuring them their pain is real. I try to get just their first name and then use it frequently throughout the conversation. If they have indicated in the initial message that they are suicidal or if it comes up later, I assess for imminent risk. This means asking them directly if they are thinking of killing themselves, finding out if they have a plan, if they have access to the plan, and if they are considering doing it within 24 hours. If they're not at imminent risk, we talk about what kind of support they have, if any. Then we figure out what kinds of self-care techniques they might be able to use. Sometimes we role-play a conversation they can have with their parents or friends to address what the issue is. If they are interested in further resources, I give them those too. We have over 100 resources that have been vetted by Crisis Text Line. Conversations always end with again validating their concerns, noting their strengths and reminding them that there is always someone to listen to them at Crisis Text Line.
On the Job
Micaela Presti, counselor, Crisis Text Line (741741).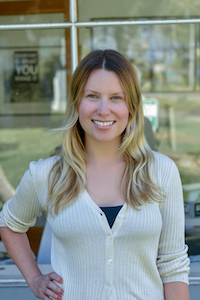 Kasia Pawlowska loves words. A native of Poland, Kasia moved to the States when she was seven. The San Francisco State University creative writing graduate went on to write for publications like the San Francisco Bay Guardian and KQED Arts among others prior to joining the Marin Magazine staff. Topics Kasia has covered include travel, trends, mushroom hunting, an award-winning series on social media addiction and loads of other random things. When she's not busy blogging or researching and writing articles, she's either at home writing postcards and reading or going to shows. Recently, Kasia has been trying to branch out and diversify, ie: use different emojis. Her quest for the perfect chip is never-ending.