IF YOU WANT your outfit to make a statement, don't splurge on a dress or a suit; get some mileage for your money with an accessory. By their nature, multipurpose accessories make the biggest impression — and none do a better job of this than hats. Of course, buying local is always advisable and your optimal topper isn't far away with Kin/K in the neighborhood. Twin sisters Sara Brady and Ashley Cornil, California natives, are the brand's co-founders, and they incorporate visions from their world travels, as well as architecture and landscapes, in Kin/K designs. Passionate about hats from an early age, the sisters blend age-old craftsmanship with modern designs and touches to create a truly unique look in their Sausalito studio.
PHILOSOPHY Kin/ K's mission is to rejuvenate the craft of millinery and to bring hats and their history back into the forefront. "Hat making is a very romantic process," Cornil says. "Hats are one of the oldest found clothing pieces in history, dating back to 3,000 B.C." Brady and Cornil nod to the past by using wood hat-making blocks dating back to the early 1900s, but add their signature Marin-designed accessories to help modernize a classic shape.
THE SCOOP High-quality materials include precious metal, silk and handwoven panama straw. The sisters also favor uncommon juxtapositions of textures and color in their designs. This kind of attention to detail takes time: a single Kin/K hat can go through 90 steps and touch more than 60 hands before it reaches your head. Toppers range from $90 to $180 and are offered in a variety of colors and styles.
BEYOND MARIN Kin/K hats are sold across the U.S., in a number of other countries, and through online retailers.
WHAT THEY SAY "Though hats are a niche accessory, we saw an opportunity in the market and decided to go for it," Brady says. "We learned all we could about the history and process of making wool hats and straw hats, and we fell in love with the blocking and finishing process. Shortly thereafter, Kin/K was formed and a shop was set up in our garage." Cornil adds, "We were bound to start a creative business together. It was just a matter of time."
This article originally appeared in Marin Magazine's print edition under the headline: "Kin/K."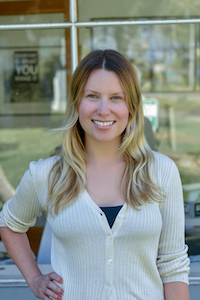 Kasia Pawlowska loves words. A native of Poland, Kasia moved to the States when she was seven. The San Francisco State University creative writing graduate went on to write for publications like the San Francisco Bay Guardian and KQED Arts among others prior to joining the Marin Magazine staff. Topics Kasia has covered include travel, trends, mushroom hunting, an award-winning series on social media addiction and loads of other random things. When she's not busy blogging or researching and writing articles, she's either at home writing postcards and reading or going to shows. Recently, Kasia has been trying to branch out and diversify, ie: use different emojis. Her quest for the perfect chip is never-ending.