Calling all cyclists: You can now stay informed about local bike events — from social rides to swap meets — with a free new app called BikeRider. Set to launch June 1, the app is a passion project of self-proclaimed "bicycle fanatics" and Marin County dwellers Cilla Jelf, Mikael Lirbank and Nick Shorten. "We're a small but mighty team of coders, cyclists, creatives and parents in Marin who enjoy roaming our beautiful landscape from county line to county line," Shorten says. "Our mission is to promote more people on bikes, connect the community, and allow riders of all disciplines to discover and create their own rides."
The trio began building a community of riders on Instagram and its website earlier this year, and have seen an overwhelming response from followers so far. "People are getting ready to come back to events and gatherings, so now is the time to launch," Shorten says. "We're moving full steam ahead and are in it for the long haul."
Relying on coding built from the ground up, the app aggregates data from all over the United States for any bicycle activity, and hosts the sources in a centralized location. "We compile this info in one easy format to navigate no matter where you are," Shorten says. The app also features a submission form process that makes it easy for organizers to publish, share and request RSVPs for upcoming events on the platform. Events on the app aren't restricted to major bike festivals or races; users can find all kinds of local events, including daily social rides, trail advocacy opportunities, city bike access, demo days and swap meets. "These are the events that no one really hears about, but wish they had," Shorten says. "It's about connecting the community instantaneously."
Ride On
Here, BikeRider's cofounders share six of their favorite biking destinations in Marin County, from adrenaline-pumping mountain bike trails to scenic road rides and a family-friendly bike path.
Cilla Jelf
Endor
One of my top mountain bike rides is Endor, a flow trail on Camp Tamarancho in Fairfax. It's a wonderful, well-maintained flow trail with a funny plastic alien watching over you!
Downtown Tiburon
A casual bike ride I highly recommend is the bike path from downtown Tiburon. Start with ice cream or coffee at Caffē Acri by the ferry, and then ride the bike path to Blackie's Pasture and the playground nearby. It's a family-friendly, easy bike ride — perfect for sunny weekends!
Mikael Lirbank
Mill Valley
A really good road ride is Mill Valley via Panoramic Highway to Stinson Beach, then to Muir Beach, and back to Mill Valley. The initial climb is done in two stages, first to Panoramic Highway, and the second from Mountain Home to Pantoll Campgrounds. From there, it's down, down, down toward the Pacific Ocean and Stinson Beach. Then, hop on Highway 1 to enjoy the gorgeous views, speed and awesome flow to Pelican Inn. Ride into Muir woods and hit the last climb back up to Panoramic Highway to end with a high-speed descent into Mill Valley. Sun, shade, trees, ocean, redwood forest, cliffs — can't beat it!
Paradise Loop
I love riding Paradise loop (Tiburon peninsula and Corte Madera) on my road bike. Winding road and beautiful scenery with the bay on one side and the trees on the other. Very few cars too!
Nick Shorten
China Camp State Park
China Camp State Park is my home away from home and where it all started. The backside is quiet and less traveled, loaded with technical single-track and flow, featuring sweeping views of Mt. Tam and steep downhill descents. Begin on Gold Hill Fire road and head to the peak of Nike; there you'll find miles and miles of remote terrain while staying on the south side of the mountain.
Big Rock Ridge
Big Rock Ridge, Novato (the second tallest peak in Marin), via Ponti Flow Trail in Marinwood is a beautiful new, super-flowy trail built by Marin County Open Space District and local volunteers. It traverses mostly through tree cover about 3.5 miles up before you reach the big rock road connection to Towers, with views of Mt. Tam, Mt. St. Helena, the San Francisco skyline and the bay.
---
How to help:
Consider supporting one of these local nonprofits that urgently need support during the pandemic.
---
More from Marin:
---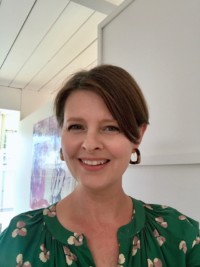 Lotus Abrams has covered everything from beauty to business to tech in her editorial career, but it might be writing about her native Bay Area that inspires her most. She lives with her husband and two daughters in the San Francisco Peninsula, where they enjoy spending time outdoors at the area's many open spaces protected and preserved by her favorite local nonprofit, the Peninsula Open Space Trust.