Summer is here, sweaters are coming off, but face masks are here to stay. California Governor Gavin Newsom issued a statewide order mid-June requiring everyone to wear masks or other coverings in public spaces, including while taking public transportation, seeking medical care, shopping and in most work scenarios.
It is undeniable that when worn properly, face masks help slow the spread of COVID-19 and other respiratory viruses, but something else about them is undeniable as well — they can cause skin problems. Some of the more common issues masks create include miliaria, also known as heat rash, perioral dermatitis, acne, and worsening of rosacea.
To help avoid these, we talked to three-time Best of the County winner, master aesthetician Eva Claiborne, to get her tips for your best summer skin while wearing a mask.
Summer in the Bay Area is unpredictable — foggy, muggy, hot and cold. What tips do you have for dealing with the combination of sweat and mask wearing? 
Make sure that you keep your skin clean. Washing your face morning and night, and even during the day if you are sweating. I also recommend using an antioxidant serum to strengthen the immunity of your skin — it will help prevent any unwanted blemishes. 
Are there any types of materials that allow for better breathing in the heat?
One of my favorite materials to wear in the heat is silk, but I would recommend organic cotton as well. These materials are both breathable and keep your skin cool while offering protection. Fabrics with a tight weave like cotton, and ones that can hold a static charge like silk, are effective because they provide a double barrier: mechanical and electrostatic.
What about SPF and mask wearing?
Always wear an SPF over your skin care products. Since some SPFs have oils in them — which can cause excess sweating and breakouts — make sure that the SPF you are using is oil-free. I recommend wearing SPF 15 at least.
Is there a skincare routine you recommend to help? And should we be washing our faces before/after use? 
My go-to regimen consists of 3-easy steps: 1) wash your skin, 2) apply a serum 3) apply a moisturizer. I suggest to all my clients that they follow their skin care regimen both morning and night, and wash their skin after sweating. If you're on the go and need a quick skin refresher, a spritz of toner is the perfect solution.
From ones that give back to ones that comes attached to your shirt, here is a selection of masks you can purchase online now.
If you buy something through our links, Make it Better Media Group may earn an affiliate commission. 
---
How to Help
For more ways to support local businesses, go here.
---
For more on Marin:
How to Help Local Wildlife As COVID-19 Restrictions Lift
Bay Area's Next Generation of Peacemakers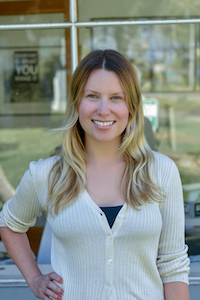 Kasia Pawlowska loves words. A native of Poland, Kasia moved to the States when she was seven. The San Francisco State University creative writing graduate went on to write for publications like the San Francisco Bay Guardian and KQED Arts among others prior to joining the Marin Magazine staff. Topics Kasia has covered include travel, trends, mushroom hunting, an award-winning series on social media addiction and loads of other random things. When she's not busy blogging or researching and writing articles, she's either at home writing postcards and reading or going to shows. Recently, Kasia has been trying to branch out and diversify, ie: use different emojis. Her quest for the perfect chip is never-ending.