Al Fresco dining is one of the joys of living somewhere the weather is usually pleasant. A shared meal complemented by the elements of a bird chirping, maybe a sea breeze, or the friendly chatter of a busy street is hard to beat. The word "Al Fresco" originates in Italy and directly translates to "in the cool." The 2023 readers' choice Best of the County winner is Sam's Anchor Cafe (pictured above). For the rest of the Marin Magazine's Best of Marin County Al Fresco dining picks see below.
Our 2023 Dining category sponsor is Rodney Strong.
We've broken it down by region: Southern, Central, and Northern Marin.
Southern Marin
Sausalito
It has been said that this restaurant and fish market launched the sustainable seafood movement, making it the ultimate place for freshly caught, unobjectionable fare. Order any of the day's offerings–the menu changes daily but usually has a variation of fish tacos, ceviche and grilled fish–then take in the bay views on the open-air deck. Though cash is still king, credit cards are now accepted (woot!).
350 Harbor Dr, Sausalito, 415.331.3474
Sausalito
Vitello sliced excruciatingly thin and topped with lemon and tonnato sauce is a singular dish in the hands of executive chef Benjamin Balesteri who creates Northern Italian fare using local and Italian ingredients. The bar may be the most hopping in town and is recognized for its killer Negroni. Private dining rooms above the restaurant can accommodate larger parties (10 to 150 guests).
777 Bridgeway, Sausalito, 415.332.7771
Sausalito
Set in a turn-of-the-century building constructed for the San Francisco Yacht Club, this waterfront restaurant is a shoo-in for date night where every seat has a water view. Famous for musician sightings in the 1970s, the room with the great vibe is now known for supporting local farmers, fishers and organic food producers in everything from its well-regarded cioppino to a Louie salad with crab or prawns and beer-battered fish and chips.
558 Bridgeway, Sausalito, 415.331.3232
Mill Valley
The normally bustling bar is one of Mill Valley's hot spots, ideal for savoring a seasonal cocktail or an order for their famous kickin' fried chicken. The one-dollar happy hour oyster program still operates from 5–6 p.m., Monday–Thursday and the heated outdoor patio is a new hot spot in town.
44 E Blithedale Ave, Mill Valley, 415.381.2500
Mill Valley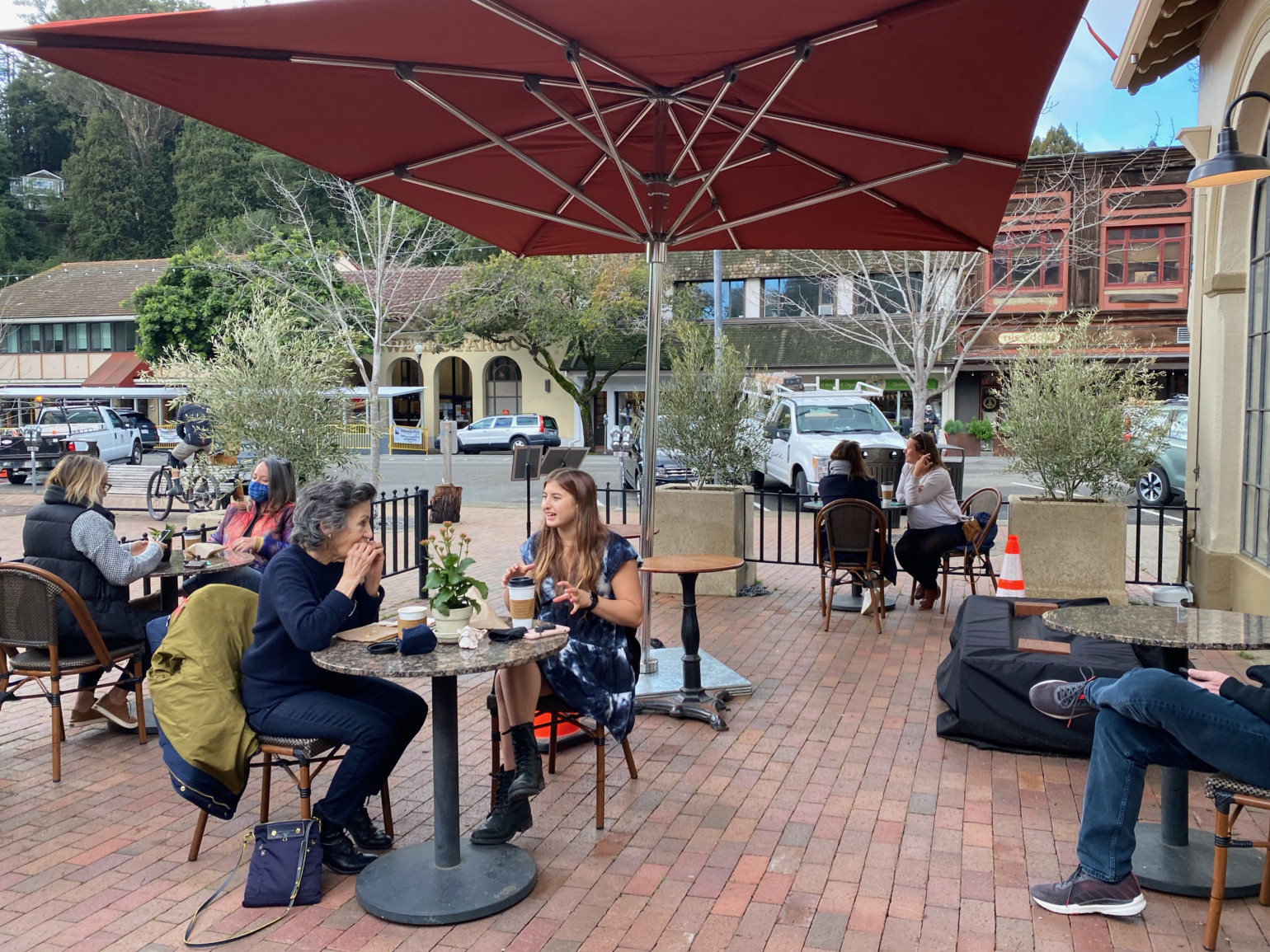 The former railroad depot turned all-day café and bookstore reopened in late January at the heart of downtown Mill Valley. The kitchen, helmed by chef Mary Pult of Mill Valley, offers the same counter service model as before and a veg-forward menu that tilts towards the Mediterranean and points farther east with bespoke pastries from Sausalito's Cibo Bakery.
87 Throckmorton Ave, Mill Valley, 415.384.8921
Mill Valley
The indoor, wood-ceiling dining room feels like a boat's galley and the spot's popular outdoor beer garden adjacent to Mill Valley's Proof Lab at Tam Junction has 13 taps, but the draw at this counter-service joint is the seafood. The transparent supply chain means you can enjoy the poke, fish and chips or fish tacos secure in the knowledge of exactly where and on what boat your meal came from.
254 Shoreline Hwy, Mill Valley, 415.569.4984
Mill Valley
A fireplace lounge and open format concept invites lingering over refreshed menu items such as house made ravioli with lemon cream and citrus gremolata, roasted mushroom pizza with taleggio fonduta and black truffle oil or roasted salmon with artichokes and Calabrian chili in expanded indoor spaces and on the patio with views of Shelter Bay. House made products, such as fresh pastas, sauces, dipping oils and wines from Piatti Provisions mean the same ingredients in the rigatoni Bolognese are now available for home cooks.
625 Redwood Hwy, Mill Valley, 415.380.2525
Mill Valley
Family owned for over 35 years, Piazza D'Angelo evokes a traditional trattoria dining experience. Enjoy a variety of house-made pastas, meat and seafood dishes, wood-fired pizzas, and gluten-free offerings with organic and locally sourced ingredients. A back patio and newer front patio provide ample outdoor dining space.
22 Miller Ave, Mill Valley, 415.388.2000
Mill Valley
Owner Dez Fiedler's devotion to micro-produced and local beer is evident from the 30 taps and a robust can program including Socks and Sandals from Humble Sea in Santa Cruz, and experimental bottlings, like Barebottle Brewing's Tangberry Typhoon, all easy to pair with pizzas from Pizzahacker. Grab your fleece to sip one by a fire pit on the huge backyard patio where live music is often on offer and a kids play area beckons.
226 CA-1, Mill Valley, 415.888.3544
Mill Valley
Gather 'round the fire pit in front of the restaurant at the Lumber Yard or hang out at the long bar for a pre-dinner glass of wine before sampling one of the many dishes curated to reflect the bounty of Marin. The Stemple Creek Ranch burger and fresh pastas are matched with a bevy of simply prepared, easy to share dishes (like spicy rock cod lettuce cups or lamb riblets) that reflect chef Kyle Swain's careful sourcing and focus on local flavor.
129 Miller Ave, Mill Valley, 415.888.2406
Tiburon
With its hardwood floors and blue-checkered tablecloths, the sun-filled, one-room restaurant is an area favorite. Scallops, rib-eye steak, a beef burger and traditional crab cakes with jalapeño dipping sauce are some of the popular choices on the patio.
38 Main St, Tiburon, 415.435.3594
Tiburon
After an extensive remodel in 2019 reimagining everything from the bar to the umbrellas that shade the expansive patio, Tiburon's popular bayfront spot still reigns as Marin's best patio. You still cannot make a reservation, and the line can snake down Main Street, but the uncertainty is worth the wait for the panoramic Angel Island-to-city views, tower of fresh fish and seafood, and drink bowls. There's even a hamburger and Champagne special.
27 Main St, Tiburon, 415.435.4527
Tiburon
Food service at the Lodge at Tiburon is now in the hands of Luna Blu's Renzo and Crystal Azzarello who took the reins in August for the Tiburon Tavern bar, restaurant and other on-site eating opportunities. Chef Babak Nasser is on board to handle the flow from breakfast and brunch through dinner. The same wide patio is back in service, too.
1651 Tiburon Blvd Suite B, Tiburon, 415.435.5996
Central Marin
Corte Madera
Ride up the golden-hued elevator to the top floor restaurant bedecked in RH style and linger over a shaved vegetable salad, a truffled grilled cheese sandwich on Panorama Bakery sourdough or a namesake RH Burger. This rooftop sunroom and outdoor lounge boasts glass ceilings and walls for an epic view of Mount Tam and a feeling of floating above it all.
1750 Redwood Hwy, Corte Madera, 628.266.2040
Larkspur
Perry's on Magnolia has the same classic American cuisine, bustling bar and warm service and personality the San Francisco original has always been famous for. Plentiful outdoor dining options – the patio, the front garden or the redwood grove – are in addition to the three cozy indoor dining spaces. It's bar is a perennial best of the county winner.
234 Magnolia Ave, Larkspur, 415.927.1877
Larkspur / Novato
Organic pastries, breads, salads, and sandwiches are on the menu at this location downtown, including daily seasonal specials. Try the Marin Melt — Cowgirl Creamery's Mt. Tam and Point Reyes Toma cheeses grilled on honey whole wheat, served with dressed baby greens and crisp apple slices. It's even better on the patio.
2017 Larkspur Landing Cir, Larkspur, 415.461.9900, 1407 Grant Ave, Novato, 415.878.4952
San Anselmo
Open for lunch, weekend brunch, and dinner six nights a week for the house's famous homemade pastas, seasonal salads, and wood-fired pizzas that strike a balance between southern Italy and northern California. Full bar and cocktails are available to go or enjoy a tipple on premise at the heated parklet or inside.
510 San Anselmo Ave, San Anselmo, 415.454.2942
San Anselmo
The back patio, shaded by Japanese maples and bright red umbrellas during the day, feels downright Mediterranean at night when strings of Edison bulbs bathe the space in a warm glow. Best of all, the entire menu, especially the free-range veal with gremolata and risotto with housemade sausage, tastes even better in Marin's fresh air.
337 San Anselmo Ave, San Anselmo, 415.454.7800
San Rafael
Chef Stephen Simmons, who served 15 years as food-service director at Skywalker Ranch, has reworked the menu to feature classics like a club sandwich and Chinese chicken salad with updated options including chico tacos with handmade tortillas and Cal ahi poke with sea salt wontons. Most visitors come for the view from every seat, which extends over the manicured driving range to China Camp State Park and San Pablo Bay.
337 Biscayne Dr, San Rafael, 415.454.6450
San Rafael
With no outdoor space available when Covid hit, the Commons crew got to work, building a sweet streetside patio with the same comfortable, traditional pub-like feel as the interior. Known for their 34 beer taps, a new cocktail menu includes a classic mai tai and craftier takes like the Japanese oak, with whiskey and tamarind. Get your bacon fix with the chef's cobb salad or the mission dog — it's wrapped in a porcine blanket.
Northern Marin
Novato
This Hamilton Field restaurant highlights locally sourced organic produce, fresh sustainable seafood, and pasture-raised and free-range meat. Wine lovers can embrace their inner Dionysus — Beso offers more than 20 selections by the glass and more than 50 by the bottle. The patio is naturally shaded by local oaks.
502 S Palm Dr, Novato, 415.883.6700
Sponsor
Rodney Strong: 2023 Best of the County Dining
Rodney Strong was an acknowledged visionary who understood the potential that Sonoma County's soil and climate held for producing world-class wines and was one of the first to plant Pinot Noir in Russian River Valley and the first to produce a Chalk Hill appellation Chardonnay.
---
How do you cater to both oenophiles and newbies?
At our winery, we pride ourselves on creating an exceptional experience that caters to both connoisseurs and newbies alike. We offer a diverse range of offerings and services that accommodate the varied preferences and knowledge levels of our guests and are committed to providing a custom experience.
What sets you apart from other wineries?
Our winery has achieved national recognition for its exceptional craftsmanship, with our wines consistently earning high scores and accolades from esteemed critics and competitions.
How do you cater to both oenophiles and newbies?
At our winery, we pride ourselves on creating an exceptional experience that caters to both connoisseurs and newbies alike. We offer a diverse range of offerings and services that accommodate the varied preferences and knowledge levels of our guests and are committed to providing a custom experience.