PEOPLE PROTECT WHAT they love, and among chef Mo L'Esperance's loves is the ocean. A California native raised near the beach, she carried her devotion to marine life into her professional life with a commitment to sustainable seafood. L'Esperance began her career in San Francisco, working with many talented chefs before making her way to Pescadero, where she became executive chef at Costanoa resort. In 2012 she started her own company, Morganics, to help prevent waste of produce in farmers' markets. Now she belongs to multiple chef-driven groups looking to make positive changes in America's food systems, including the Monterey Bay Aquarium's Blue Ribbon Task Force and the James Beard Foundation, and has teamed up with the latter to affect food policy on Capitol Hill.
As the new executive chef at Tiburon Tavern, L'Esperance is excited to present locally inspired dishes made with the bounty of the Bay Area. The salmon in the recipe shared here "can really be interchanged with your favorite fish," she says, but in that case, "if you want to follow sustainability protocol I suggest arctic char. Squid ink, or sepia, can usually be found at your local fishmonger or high-end grocery store," she adds, "and a little goes a long way."
Seared Salmon Recipe
SERVES 4
Ingredients
2 medium oyster mushroom clusters, trimmed
Extra-virgin olive oil
Salt and pepper
4 cups vegetable stock
1 pound fresh English peas
1 tablespoon chopped fresh tarragon (or basil)
1 teaspoon finely grated lemon zest
1 tablespoon unsalted butter, softened
4 salmon fillets, each about 5 ounces
Squid ink, for garnish (optional)
1 ounce pea tendrils
Fresh lemon juice
To Prepare
1. Preheat the oven to 350°F. Spread the oyster mushrooms on a baking sheet. Drizzle about 1 tablespoon oil over the mushrooms, lightly season with salt and pepper, and toss to combine. Transfer to the oven and roast until the mushrooms are crispy at the ends and still chewy in the centers, 15 to 20 minutes.
2. While the mushrooms roast, bring the vegetable stock to a boil in a medium saucepan. Add the peas and cook until just tender without overcooking. Place a sieve over a bowl to catch the cooking liquid and drain the peas.
3. Transfer the peas to a blender and add enough of the cooking liquid to submerge about three-quarters of the peas. Add the tarragon, lemon zest, and butter and blend on medium-high to your desired consistency. Taste the mash and season with salt and pepper.
4. Season the salmon fillets with salt and pepper. Heat a skillet over medium-high heat. Add 1 tablespoon oil and swirl to coat the pan. Add the fillets and sear, then cook to your desired doneness (they are served medium-rare at Tiburon Tavern).
5. Cover the bottom of each serving plate with the pea mash, paint the plates with the squid ink and arrange a fillet on each plate. Add the mushrooms on the side and toss the pea tendrils with a little lemon juice and mound on top of the fish. Serve immediately. Tip: Garnishing the plates with squid ink is a dramatic (yet so simple) presentation that will impress your dinner guests.
Recipe edited by Lynda Balslev
This article originally appeared in Marin Magazine's print edition under the headline: "Sepia Salmon."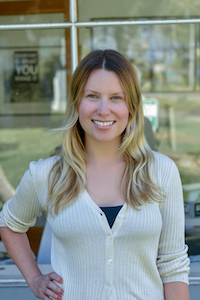 Kasia Pawlowska loves words. A native of Poland, Kasia moved to the States when she was seven. The San Francisco State University creative writing graduate went on to write for publications like the San Francisco Bay Guardian and KQED Arts among others prior to joining the Marin Magazine staff. Topics Kasia has covered include travel, trends, mushroom hunting, an award-winning series on social media addiction and loads of other random things. When she's not busy blogging or researching and writing articles, she's either at home writing postcards and reading or going to shows. Recently, Kasia has been trying to branch out and diversify, ie: use different emojis. Her quest for the perfect chip is never-ending.