Stacey Printz grew up here in Marin sampling recipes with her mom, an inspired cook as well as contributor to the San Francisco Encore cookbook series. "Here in Marin we have access to fresh, organic ingredients," says Printz. "We are spoiled year round with local produce." Much of which is highlighted throughout her recipes. Besides dreaming up new ideas for cookbooks such as Pestos, Tapenades & Spreads, published by Chronicle Books in 2009, Printz teaches dance and is the director/choreographer of a professional contemporary dance company, Printz Dance Project. "Both food and dance are such a huge part of my life," she says. "Both are a wonderful way to connect with people." Marin Magazine recently connected with her to get some tips on making tasty spreads and pestos. 
How does a pesto differ from a spread? Pestos are an emulsified mixture that involves fresh herbs and/or nuts. Spreads are a creamier consistency with base ingredients such as beans, cheeses or avocado.
What are the basic ingredients one should always have in the kitchen/pantry/fridge? I vote for good olive oil, lemons, balsamic vinegar, garlic, Dijon mustard and Parmesan cheese.
What is the shelf life of most of your recipes? Most last for a few weeks in the refrigerator and have multiple uses. For example, in about five minutes, you can make the Green Pea Pesto as an appetizer over crostini for a Friday night impromptu cocktail party, and the
following Tuesday use the rest of it over ravioli or grilled fish for a family dinner.
Sneak Peek:
Two recipes ideal for the beginning of spring.
Beautiful Beet Tapenade
1 1/2 cups chopped beets (about 8 ounces), roasted, steamed or boiled (not canned)
1/2 cup chopped walnuts
2 tablespoons balsamic vinegar
1 tablespoon olive oil
1/2 teaspoon salt, plus more as needed
Freshly ground pepper
Place all ingredients in the bowl of a food processor and blend to a coarse but spreadable paste. Season with more salt and pepper as desired. Makes 1 1/3 cups.
Serving suggestions: Spread over crostini along with soft goat cheese. Dollop over spinach salad with goat cheese, balsamic vinegar and olive oil. Spread on a roasted vegetable or turkey sandwich.
Spinach Pesto
This is a great variation on the original basil pesto. So good it made the book cover!
3 cups packed fresh spinach leaves
1/4 cup pine nuts
1/3 cup freshly grated Parmesan cheese
1 to 2 cloves garlic, minced
1/4 teaspoon salt
1/3 cup olive oil
Freshly ground pepper
Place spinach, nuts, cheese, garlic and salt in the bowl of a food processor and pulse until a coarse mixture forms. With the machine running, gradually stream in the olive oil and blend until the pesto emulsifies. Season with pepper. Makes about 1 cup.
Serving suggestions: Serve on lightly sautéed chicken breasts along with shredded mozzarella cheese and place in the oven until cheese is melted and the chicken is cooked through. Serve as a sauce over your favorite hot pasta. Pour over halved cherry tomatoes and diced mozzarella cheese. Or top crostini with pesto, shaved Parmesan and grape tomatoes.
Avocado-Chèvre Spread
Printz loves guacamole, but wanted to come up with an alternative recipe for creamy avocados. She says this spread is a snap to make and adds lively flavor to simple meals. When zesting lemons, make sure to zest just the yellow part, as the white pith will add unwanted bitterness.
2 medium avocados, split, flesh scooped out
One 5-ounce package of chèvre
3 teaspoons lemon zest
4 to 5 teaspoons fresh lemon juice
1 clove garlic, minced
1/4 teaspoon salt
Freshly ground pepper
Place the avocado, chèvre, lemon zest, lemon juice, garlic, and salt in the bowl of a food processor blend until smooth. Season with pepper. Makes about 1 1/4 cups
Serving suggestions: Serve on crostini with fresh cracked pepper or cayenne pepper and shaved Parmesan cheese. Or spread over sautéed or grilled ahi tuna or salmon. Add to a vegetarian or tuna sandwich. Or serve as a dip for chips or veggies. Whichever option you choose, dust with cayenne pepper and serve with lemon wedges.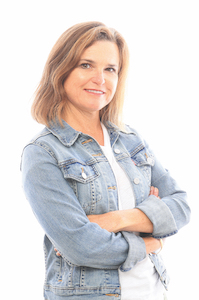 Mimi Towle has been the editor of Marin Magazine for over a decade. She lived with her family in Sycamore Park and Strawberry and thoroughly enjoyed raising two daughters in the mayhem of Marin's youth sports; soccer, swim, volleyball, ballet, hip hop, gymnastics and many many hours spent at Miwok Stables. Her community involvements include volunteering at her daughter's schools, coaching soccer and volleyball (glorified snack mom), being on the board of both Richardson Bay Audubon Center. Currently residing on a floating home in Sausalito, she enjoys all water activity, including learning how to steer a 6-person canoe for the Tamalpais Outrigger Canoe Club. Born and raised in Hawaii, her fondness for the islands has on occasion made its way into the pages of the magazine.