This Mother's Day, Marybeth Bond and her daughters won't be together physically, but they will be in spirit as they train for a June 3 departure on a two-month Bond Girls Bike America adventure. Bond, a travel author, devoted an entire chapter in the latest edition of her book 50 Best Girlfriends Getaways in North America (National Geographic, 2009) to mother-daughter travel. The book also highlights eight of the destinations the posse plans to visit.
In addition to a mother-daughter bonding session, the ride is an effort to boost knowledge about osteoporosis, a condition familiar to the family. "It's the silent disease; it weakens your bones without your knowledge," says Marybeth. "Our ride will raise awareness [and funds] for the Osteoporosis Foundation through a daily blog, media events in seven cities and 'sponsor-a-mile' donations."
How do you train for a two-month bike ride? Dorette Franks of Trifiniti Endurance has created a training plan that fits into both of our busy lifestyles. This means lots of time in the saddle in spin classes, at the gym, on the roads and yoga and swimming. Oh, and naps when possible.

Why across America? JC: When my best friend Laura Maxwell (who is also riding with us) and I summited Yosemite's Half Dome last year, we got the idea of doing a transcontinental bike ride. Combining it with a charity just seemed natural.
JC, why did you invite your mom to join in? Because she's awesome! My mom is my best friend in the whole world and I can't imagine anything cooler than sharing this experience with her. Also, she gives good back rubs.
Favorite carbo-load in Marin? Marybeth: Servino on Main Street in Tiburon serves our favorite homemade pasta tortellini stuffed with fontina, parmesan, mozzarella and ricotta cheese, with ham, English peas and light cream. At Servino we can afford
a dessert too.
Do you have a favorite bike ride? Marybeth: My favorites range from the very local Marin Headlands and Tiburon loop to the hilly terrain of Alpine Dam across the "Seven Sisters" of Mount Tamalpais, to the Marshall Wall loop, to the rolling terrain from Lucas Valley to Nicasio and then to Point Reyes Station. On a sunny day there's nothing finer than to ride up Highway 1 to Chileno Valley and include a Wilson Hill climb.
Why osteoporosis? Marybeth: A few years ago I compared notes with my sisters and mother and discovered that between us we've lost six inches (of bone mass) due to osteoporosis. Recently I learned that girls acquire 85 to 90 percent of their bone mass by age 18 — and to maintain bone health, diet and exercise are key.
Any areas you are excited about visiting? Oh yes. We will pedal through national parks that are old friends: Great Basin in Nevada, Zion, Bryce, Capitol Reef, Mesa Verde in Utah and Cuyahoga in Ohio. When my girls were young my husband and I camped in the parks and we look forward to returning.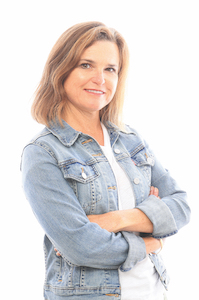 Mimi Towle has been the editor of Marin Magazine for over a decade. She lived with her family in Sycamore Park and Strawberry and thoroughly enjoyed raising two daughters in the mayhem of Marin's youth sports; soccer, swim, volleyball, ballet, hip hop, gymnastics and many many hours spent at Miwok Stables. Her community involvements include volunteering at her daughter's schools, coaching soccer and volleyball (glorified snack mom), being on the board of both Richardson Bay Audubon Center. Currently residing on a floating home in Sausalito, she enjoys all water activity, including learning how to steer a 6-person canoe for the Tamalpais Outrigger Canoe Club. Born and raised in Hawaii, her fondness for the islands has on occasion made its way into the pages of the magazine.