Having earned the moniker "Disasterman" from his international research on how people perceive risk and prepare for natural disasters, Davis has been featured in a Discovery Channel documentary, on radio and in local newspapers. In 2007, he was named Dominican University of California's Teacher of the Year.
What are you wearing? My shirt is Alfani from Macy's; I liked it so much I got two. The Jerry Garcia collection tie was a gift given to me by a former student. Pants are from JCPenney; shoes are Rockports.
How long does it take you to get ready in the morning? From the time the alarm clock goes off to out the door is usually 30 minutes.
Describe your personal style. Indiana Jones without the fedora. I like to be casual and comfortable and I love bright colors, especially orange. I guess it reminds me of things I love: California poppies, Italian buildings…or lava?
Who are your fashion influences? I always wanted to look like Harrison Ford or George Clooney, but with my red hair I was always being compared to Richie Cunningham or Ralph Malph from Happy Days. Sigh.
Favorite designers? While I've always admired the classic lines of Halston and I love what new designers like Suzanne M. Connelly have done with the Izod label, the prêt-à-porter style of Patrick Robinson or Mossimo Giannulli's recent Target lines are great.
Where do you love to shop in Marin? Unfortunately, the Tie Rack on Third Street is gone; that was my favorite. Otherwise, I might find something that suits me at REI or Macy's in Corte Madera.
What is always in your pocket? My wallet, my huge key chain and sometimes a plastic comb.
What is the single most essential piece in your wardrobe? I own close to 100 ties. When I go to Italy or Paris, I usually come home with a new one, and I get them as gifts from colleagues and students. My prized tie has a map of the San Andreas Fault; it goes with the whole disaster theme.
What would you never be caught dead in? Anything pink; doesn't work with my coloring.
Where do you like to eat in Marin? The Buckeye Roadhouse; I like the entire menu. And I love the pumpkin curry and deep-fried sweet potato appetizer at My Thai on Fourth Street in San Rafael.
What was the last book you read? America Alone by Marc Steyn.
What do you splurge on? Travel. I need a 12-step program for my
travel addiction.
What's your fashion pet peeve? Shorts with calf-length white socks.
What's the most expensive thing you've ever bought? Besides my trip to Bora Bora, or my orange Honda Element, clothingwise I bought a shiny black Hugo Boss shirt for the new millennium.
Did the shirt make you happy? It did, and when it fits, I still like to wear it.
If your life were a movie, what would be your theme song? "Landslide" by Fleetwood Mac, and not just because of the title.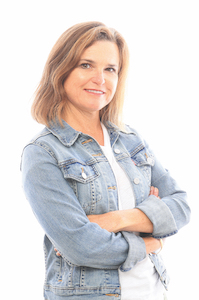 Mimi Towle has been the editor of Marin Magazine for over a decade. She lived with her family in Sycamore Park and Strawberry and thoroughly enjoyed raising two daughters in the mayhem of Marin's youth sports; soccer, swim, volleyball, ballet, hip hop, gymnastics and many many hours spent at Miwok Stables. Her community involvements include volunteering at her daughter's schools, coaching soccer and volleyball (glorified snack mom), being on the board of both Richardson Bay Audubon Center. Currently residing on a floating home in Sausalito, she enjoys all water activity, including learning how to steer a 6-person canoe for the Tamalpais Outrigger Canoe Club. Born and raised in Hawaii, her fondness for the islands has on occasion made its way into the pages of the magazine.