In Flunk. Start., Sands Hall chronicles her slow absorption into the Church of Scientology. Her time in the Church, the late 1970s, includes the secretive illness and death of its founder, L. Ron Hubbard, and the ascension of David Miscavige. Hall compellingly reveals what drew her into the religion — what she found intriguing and useful — and how she came to confront its darker sides. In this candid and nuanced memoir, Hall recounts her spiritual and artistic journey with a visceral affection for language, delighting in the way words can create a shared world. However, as Hall begins to grasp how purposefully Hubbard has created the unique language of Scientology — in the process isolating and indoctrinating its practitioners — she confronts how language can also be used as a tool of authoritarianism.
If You Go:
When: Saturday, March 17 from 7 p.m. to 8:30 p.m.
Where: Book Passage
51 Tamal Vista Boulevard
Corte Madera
Cost: Free
More event information available here.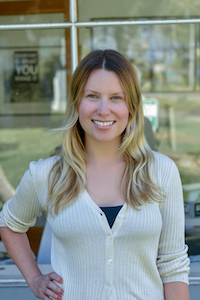 Kasia Pawlowska loves words. A native of Poland, Kasia moved to the States when she was seven. The San Francisco State University creative writing graduate went on to write for publications like the San Francisco Bay Guardian and KQED Arts among others prior to joining the Marin Magazine staff. Topics Kasia has covered include travel, trends, mushroom hunting, an award-winning series on social media addiction and loads of other random things. When she's not busy blogging or researching and writing articles, she's either at home writing postcards and reading or going to shows. Recently, Kasia has been trying to branch out and diversify, ie: use different emojis. Her quest for the perfect chip is never-ending.