On Tuesday, May 5, not only will we celebrate Cinco de Mayo by ordering from our favorite Mexican restaurants, but we get to honor a new holiday that will impact millions around the globe: Giving Tuesday Now. From the group that brought us Giving Tuesday, this new day of global giving and unity is an emergency response to the unprecedented need caused by COVID-19.
Of course, one of the most impactful ways you can help a nonprofit is with a donation. But with many of us finding ourselves in difficult monetary situations right now due to job loss and shutdowns, Giving Tuesday Now has listed other ways to lift others up on this day, because every act of kindness makes a difference.
This includes:
Support: Show your support for your favorite

nonprofits

by posting on social media or sending an email to help get the message out.

Volunteer: There are many ways to help out virtually. See a list of nonprofits in need

here

.

Kindness: Safely check in on your

neighbors

, family and friends. Connecting and showing kindness is extremely important during this time, for our mental health and others.
Marin Nonprofits Seeking Donations
AHO is Marin's only nonprofit organization for homeless teens and young adults, ages 18 to 25, who are without family support or resources to actualize their potential. AHO offers a safety net of stable housing, guidance and community connections for them. The youth served by AHO are the largest growing homeless population in Marin and the nation. The organization's mission is for the entire community of Marin County, at every level — including individuals, businesses, organizations, faith communities and foundations — to come together on behalf of the teens and young adults who are homeless here. AHO offers a model that provides youth stability, and opportunity to beat the odds and succeed in life.
Beyond Differences is a student-led organization based on the belief that change for youth can only be true and lasting if the agents of that change are the youth themselves. It is the only organization singularly focused on ending social isolation, which is often the precondition to the bullying, teasing and violence that often occurs in our schools and communities. And given the times, inclusion is more needed than ever.
Guide Dogs for the Blind is more than an industry-leading guide dog school; it is an enthusiastic community that serves the visually impaired. Guide Dogs for the Blind prepares highly qualified guide dogs to assist and empower individuals who are blind or visually impaired. All of the services for clients are provided free of charge, including personalized training and extensive post-graduation support, plus financial assistance for veterinary care, if needed.
For those without a stable, affordable place to live, the hardship brought on by COVID-19 is massive. Your double-impact gift will empower these families to rebuild their future.
Homeward Bound of Marin remains engaged in the mission that began 46 years ago to provide support and shelter to families and individuals facing homelessness. All shelter and housing programs remain open while the team has adopted different ways of holding meetings, providing new resources to residents and filling extra needs to support health, hygiene and meals. Click to donate and see some of the ways that they are stretching to extend essential services.
For the first time in 30 years Lifehouse was forced to cancel their primary fundraising event, Great Chefs & Wineries. Even as most are confined to their homes, more isolated from each other than ever before, we are also bearing witness, if only virtually — to acts of bravery and generosity that lift our spirits. Please join Lifehouse in their virtual fundraising efforts and help uplift our community in these challenging times.
The Marin Community Foundation's COVID-19 Fund is dedicated to quickly directing financial support to nonprofit organizations serving those individuals and families most in need. If you are interested in supporting vital nonprofits in your community, know that MCF staff are constantly assessing the situation and are in an excellent position to direct funding to those who need it most. MCF donors and hundreds of generous Marin residents, businesses and community groups have already contributed over $1,000,000 to this fund. As the contributors intended, these dollars are providing focused support in the areas of emergency rental assistance, access to food, and specialized services for older adults and people with disabilities. Nonprofits that have received funding include Adopt a Family of Marin, Ritter Center, St Vincent De Paul of Marin, Whistlestop, Marin Center for Independent Living, Agricultural Institute of Marin and many others.
Marin Humane brings animals and humans together, forging a bond that impacts not just our homes, but makes neighborhoods happier and healthier. For over 100 years, they have been here to adopt, foster and advocate for animals, but do so much more. Please join Marin Humane for a special national "Giving Tuesday," in the tradition of coming together to help the animals. All contributions will be matched dollar-for-dollar thanks to the generosity of an anonymous foundation, up to $20,000.
The Pacific Pediatric Neuro-oncology Consortium (PNOC) Foundation brings 225 clinicians and researchers together to push for breakthroughs in pediatric brain cancer. This Marin-based nonprofit supports research and clinical trials through a network of the leading children's hospitals across the world. Founded by a San Anselmo based family Allyn and Bruce Campbell, who's son George was diagnosed at the age of 6 years old and now a healthy teenager, PNOC Foundation was established to support a transformative initiative by San Rafael resident and preeminent UCSF neurologist Dr. Michael Prados, and neuro-oncologist Dr. Sabine Mueller.
The San Francisco-Marin Food Bank's mission is to end hunger in San Francisco and Marin, where one in four neighbors is at risk of hunger. It envisions a community where everyone is able to obtain enough nutritious food in a dignified manner to support the health and well-being of themselves and their families. It addresses hunger head on: from the pantry network and home-delivered groceries, to the nutrition-education classes and CalFresh food-stamp enrollment, it works in many ways to nourish and empower neighbors in need. Every week, 30,000 households count on it for food assistance. Nearly 60 percent of what it distributes is fresh fruits and vegetables. 
---
How to Help
There are so many deserving nonprofits that need your help right now. For more organizations to support, check out the nonprofits here or GoFundMe, where they're matching donations on Giving Tuesday Now for select charities.
---
For more on Marin: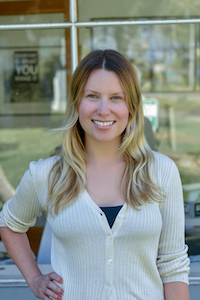 Kasia Pawlowska loves words. A native of Poland, Kasia moved to the States when she was seven. The San Francisco State University creative writing graduate went on to write for publications like the San Francisco Bay Guardian and KQED Arts among others prior to joining the Marin Magazine staff. Topics Kasia has covered include travel, trends, mushroom hunting, an award-winning series on social media addiction and loads of other random things. When she's not busy blogging or researching and writing articles, she's either at home writing postcards and reading or going to shows. Recently, Kasia has been trying to branch out and diversify, ie: use different emojis. Her quest for the perfect chip is never-ending.