Ah, California Wine Country. Sunny vineyards and a sense of European ease that doesn't require
a 10+ hour flight across the Atlantic. When people hear "California Wine Country" they almost always think of Napa Valley and Sonoma County, and for a good reason. Between the two, there are over 100,000 acres of vineyards and countless award-winning wineries.
But which should you visit? Answer: both, eventually. If you're more of a cabernet sauvignon,
buttery chardonnay, or merlot drinker and you enjoy upscale, boutique wineries — Napa Valley is
your place. Do you mostly drink zinfandels, pinot noirs, sparkling wines, red blends, or zesty chardonnays? If yes, Sonoma County is for you.
Thankfully, we've done the "hard work" for you (you're welcome and thank you) to find the best wine tasting experiences around, that also offer some incredible dining.
Louis M. Martini Winery: Outdoor Cabana Experience and Underground Cellar Experience
Bask in the shade of your own private cabana or immerse yourself in the depths and history of the Louis M. Martini estate in their underground 85-year-old barrel cellar during lavish two-hour tastings. Sip on four wines from their Lot 1 paired with Italian bites like flat bread lavash with olive tapenade, and small-lot releases paired with specialty food creations from Chef Aaron Meneghelli, respectively. Reservations are required.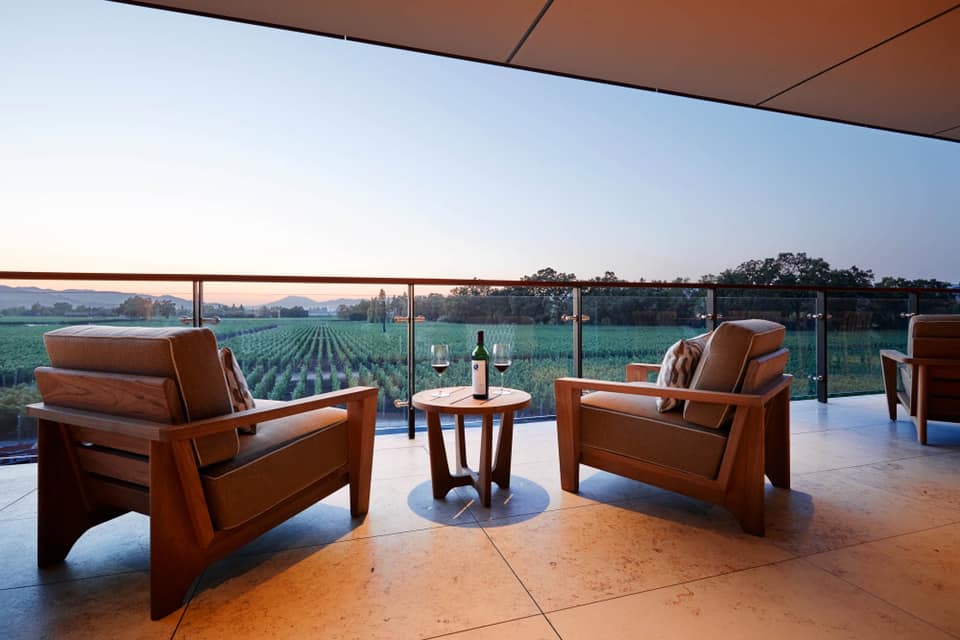 Uniquely designed with a sophisticated earth house vibe, it's no surprise that they are
one of Napa Valley's certified Green wineries. As committed stewards of the environment, from conservation to consumption, they have implemented over 100 environmentally-friendly procedures that not only benefit the winery and their customers, but the surroundings longterm. Take in panoramic views of their serene estate vineyards and 120-year-old olive trees while sampling flights of wine on their courtyard veranda.
Priest Ranch: Bacon and Wine Experience
Bacon and wine? Divine. If you agree, or are the slightest bit intrigued, the Bacon Experience at Priest
Ranch in Yountville is for you: four thick cuts of pork belly meticulously seasoned to enhance the notes
in their respective wine pairings. Priest Ranch takes pride in their adventurousness and unique varietals,
so expect wines like grenache blanc and brut rosé of syrah in addition to cabernet sauvignon and sauvignon blanc at this and their other tasting offerings.

Antithetical to the old saying "chip off the old block," this boutique Yountville family winery takes their spin on the ol' wine tasting and it involves only the best kind of chips: small-batch, artisanal potato chips. The Potato Chip Extravaganza pairs five potato chip varieties from small producers throughout the country with Silver Trident's rosé, sauvignon blanc, pinot noir, red blend, and cabernet sauvignon, respectively. Enjoy this novel approach to wine pairings in their elegantly casual home setting — their
space is decked out with Ralph Lauren home décor and furniture.
Sometimes it's easier to visit someone else's family… especially if they're a winemaking family. All tastings for this certified Napa Green winery and vineyard are held in the Villa, previously the family home. Take a gander around the grounds on their guided "Taste the Estate" tour. Savor expansive gardens along with wines from their Legacy Collection. Pairing menu features bites like chardonnay with caviar, merlot and lamb loin with roasted baby carrots, cumin yogurt drizzle, and a carrot top chimichurri. Read: they offer curated visits which are customizable to your interests — from private tastings to educational chef-led pairings and more.
Basking in ample sunlight, facing both Mount St. Helena and Diamond Mountain, lives Theorem Vineyards, a 60-acre estate in Calistoga. Swirl one (or more) of their seven wines — cabernet sauvignon, merlot, sauvingnon blanc, chardonnay, and syrah — and float in the majesty of the landscape, the peacefulness of the grounds, and the reimagined and reborn 1878 historic site.
Get ready for a Snack Attack — a new way to try Barber Cellars' wines that incorporates everyday snack foods. Held at the historic Hotel Petaluma tasting room, Barber Cellars' family-owned winery is taking the stuffiness out of wine tastings. The best part: bring your favorite bottles back with you, and recreate the experience with snacks from the pantry in your own home.
Experience Sonoma County through community, family, elegant wines, and fine food at Bricoleur Vineyards' Rooted pairing. The vineyard's Culinary Advisor, Chef Charlie Palmer, collaborated with In-House Executive Chef Thomas Bellec and his team to create a sampling of six wines along with perfect pairings for guests to enjoy. The menu is subject to change based on the Chef's Seasonal Selection.
Along with their signature and legacy lounge tastings, let us introduce you to the Bubble Room tasting
— held in a spacious, glass-enclosed, elegant yet relaxed garden view room. Their menu highlights locally-sourced ingredients brought together by the J culinary team and paired with winemaker Nicole Hitchcock's varietal and sparkling wines for a fivecourse tasting.
This 1,200-acre estate offers an array of tasting experiences that cater to your interests. Prefer to discover on foot? Meander through the Jordan chateau, marvel at the libraries and antiques, and finish with a seated wine tasting — complete with hors d'oeuvre and artisanal cheese pairings — in their French-inspired cellar. Looking to experience the vineyards firsthand? Hop in their Sprinter and ride through beautiful open spaces and forests, stopping to enjoy alfresco wine and olive oil tastings along the way.
Chardonnay and pinot noir vines encompass 60 of the overall 81-acre estate. Soak in Spanish-inspired design, foods and wines with an estate patio tasting that includes two red wines, two white wines and a selection of tapas from founder and cookbook author Marimar Torres' cookbooks. Don't miss notable club events such as the paella lunch, Catalan holiday feast and Pinot Noir blending & lunch, all held at Marimar and her daughter Cristina's home patio overlooking the vineyard.
Founded by Chris Medlock James and Ames Morison in 1998, this Alexander Valley winery is committed to the environment through practices like regenerative farming, reducing their carbon footprint, and preserving the biodiversity of the land. Feel the effects of mindful cultivation and unwind in their olive grove with a tasting experience highlighting their organically-farmed Bell Mountain Vineyard wines and Sonoma County's only 3 Michelin Star restaurant, SingleThread's chef curated bento box.
Stretching from the Pacific Ocean to the Mayacamas Mountains, Sonoma County encompasses coastal as well as interior valleys, and Three Sticks has captured this in their latest tasting offerings. In the spring of 2022, their Merroir & Terroir offering featured their chardonnays paired with fresh oysters from the Sonoma Coast. This winter, delight in a flight of chardonnays with caviar from The Caviar Company. Each experience is held in the historic landmark Vallejo-Casteñada Adobe that Three Sticks calls home.

It's very apropos that the iconic winery in the heart of Sonoma Valley named for the patron saint of animals is very dog friendly. In fact, on their annual blessing of the animals all kinds of creatures are encouraged to come — one year, even a camel showed up. And to show their commitment to our four-legged friends, for every wine purchase, a dollar goes towards Canine Companions. This isn't the only reason we favor this 50-year old winery. The team behind the wine (Katie Madigan and Chris Louton — both veteran wine makers — work with Jake Terrell, who manages the 400 acres of Certified Sustainable Estate Vineyards) and the food program headed up by executive chef Peter Janiak who creates "rustic chic" pairings from the on-site two-acre organic garden also score high on the list. The Wine & Food Pairing is a nationally acclaimed five-course fine dining experience highlights Sonoma County's diverse agricultural and culinary traditions. The Estate Pairing takes place outdoors with panoramic mountain and vineyard views and features a Chef-selected line-up of four wines paired with lite-bite, epicurean delicacies. Every hour, you'll hear the 1,000 pound bronze bell cast by the Marinelli Foundry in Italy — famous for making bells for the Vatican — is now a landmark in the valley.