One of our favorite types of local businesses are independent bookstores — and there are plenty to choose from in the Bay Area. With coronavirus having a huge impact on small local businesses, we thought we'd highlight some of the best around Marin County and San Francisco and include some ways to support indie bookstores wherever you are. Most of these shops have met Covid-19 head-on and created an online presence. However, some are also open for indoor browsing. Now, although the notorious bookstore scent is in itself a draw for many, it's time to take in these special places with your other senses — meaning, please wear a mask! 
The liveliest bookstore in the Bay Area has made their Covid-19 pivot with grace. Translating their cozy social environment into a virtual experience, Book Passage now provides a free, live series called Conversations with Authors as well as special ticketed events. Prior to the events (usually held on weekends), guests can register and send in their questions for the author. Rather than readings, these become conversations between the author, the host and the audience. Events are saved to an archive, which can be accessed at any time, and are accompanied by a recommended reading list. 
Covid-19 update: Corte Madera location is open daily from 10:30 a.m. – 4 p.m.; San Francisco location is open Friday 10 a.m. – 5 p.m., Saturday 10 a.m. – 4 p.m. and Sunday 12 – 5 p.m.
51 Tamal Vista Boulevard, Corte Madera
1 Ferry Building, San Francisco
After a thrilling GoFundMe success of $365,000 in a single day, this beloved bookstore — on the verge of closing due to Covid-19 — reopened for business in June 2020. Keeping in line with their reputation for selling "obscene literature," the entrance is devoted to Antiracist books, both fiction and non-fiction. If you're skipping the in-person visits, City Lights Books also offers online shopping, gift certificates and live-virtual readings and events. 
Covid-19 update: open daily from 12 – 8 p.m.
261 Columbus Avenue, San Francisco
With ten locations in Marin, Napa and Sonoma counties, Copperfield's Books is a favorite across the North Bay. Their stores are like upscale libraries, equipped with winding labyrinths of shelves, and quiet, spacious environments — well suited for browsing during Covid-19 times. Shopping online is also possible and they offer free online events a few times a month.
Covid-19 update: open daily 10 a.m. – 5 p.m. for in-store browsing and curbside pickup.
Locations in Calistoga, Healdsburg, Larkspur, Napa, Novato, Petaluma, San Rafael, Santa Rosa, Sebastopol.
While their physical stores are certainly worth checking out in person, Green Apple Books has great resources on their website — from shelter-in-place book recommendations to "distractions" (activity and puzzle books) to Teacher Thank You gift certificates and virtual events. If you're looking for used books, they are more than happy to check their shelves of over 10,000 books for you, just call (415) 387-2272. Looking for a monthly book subscription? Their popular Apple-a-Month Club, which delivers a new fiction book to your front door every month, might be for you. Just want to support them? Donations can be made on the donation page of their website.
Covid-19 update: open daily 10 a.m. – 8 p.m. (10 a.m. – 9 p.m. at the Clement locations).
506 Clement Street, San Francisco
520 Clement Street, San Francisco 
1231 9th Avenue, San Francisco 
2195 Fillmore Street, San Francisco – "Browser Books"
An entire bookstore devoted to books on food, old and new. Need we say more? Well, actually, we kind of want to say more: Omnivore Books is hosting free online author events — many of which are also cooking classes! Let's not forget their ongoing cookbook club membership, which covers four new signed books per year shipped to your (or a loved one's) home. If you have found spare time while sheltering-in-place (maybe what used to be consumed by driving in traffic?), consider diving into Omnivore's thoughtfully chosen cookbook collection. Books are available for purchase online and they offer nationwide (and some international) shipping as well as gift wrapping options. Gift certificates are also available.
Covid-19 update: open Monday through Saturday 11 a.m. – 6 p.m. and Sunday 12 p.m. – 5 p.m.
3885a Cesar Chavez Street, San Francisco 
https://www.instagram.com/p/CDkyVlQBiNj/
From classics to important local and national topics, Point Reyes Books enables visitors to find hidden gems of the literary world. In an interview we did with the Point Reyes Book owners, Steve Costa and Kate Levinson, they described their aim of making the store "based in community, a sustainable and neighborly local economy…working in collaboration with other small businesses." From what visitors say, they've done well. Their bookstore is inviting and magical, just like Point Reyes. Check out their online events presented via their Crowdcast channel and shop their bookstore online, if you prefer to stay home.
Covid-19 update: open daily 10 a.m. – 5 p.m. for in-store browsing and curbside pickup. (*due to the Woodward Fire along the Point Reyes National Seashore, Point Reyes Books is temporarily closed. Call (415) 663-1542 to see if they're open.)
11315 CA-1, Point Reyes Station
Do you have some books you'd like to offload? Good news: Rebound is now accepting book donations. If, however, you're in the market for a new book — well, new to you — Rebound Bookstore sells affordable used books and scores major points for originality. From local San Rafael's writers to a diverse and eclectic collection of California history, art books, English mysteries, books on railroads, foreign language dictionaries and obscure cookbooks, among others, they are bound to have something you never thought you wanted. Their in-store events have been cancelled for the foreseeable future, but they are open for delivery. Call (415) 482-0550 to purchase books and gift certificates.
Covid-19 update: open Monday through Saturday 11 a.m. – 4 p.m.
1611 4th Street, San Rafael
https://www.instagram.com/p/B_q8gGRpJ-A/
Great things come in small packages, and Whytes Booksmith fully exemplifies this. For 40 years, this establishment has taken good care of its customers, offering special book orders upon request in addition to a cozy gathering space and a "conscious community." Michael Whyte (now 77 years old) founded his bookstore in 1980, and after putting it on the market twice — with the stipulation that the buyer continue to run the store as-is — it is still under his care. While this neighborhood favorite does not have a website, it sells both new and used books and is open for curbside pickup.
Covid-19 update: open daily 11 a.m. – 5 p.m. Call (415) 459-7323 with any questions. 
615 San Anselmo Avenue, San Anselmo
Ways to help indie bookstores:
Buy books from them online. If the book you'd like isn't in stock, use this site to buy the book and send a kickback to your favorite bookstore.
Purchase their gift cards. A list of indie bookstores by zip code can be found here.
Attend their virtual author events. Most bookstores that used to host in-person literary events have switched to an online platform — so you can get cozy wherever you are while you dive into a live conversation with celebrated and local authors.
This is not an exhaustive list by any means, and if you don't see your favorite, let us know.
---
How to help:
Consider supporting one of these local nonprofits that urgently need support during the pandemic.
---
More from Marin:
---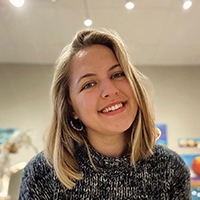 Sabrina Tuton-Filson is the Assistant Editor at Marin Magazine and a graduate of Elon University where she studied Professional Writing and Fine Art. Born and raised in San Francisco/Marin, she loves traveling just as much as coming home to the Bay Area. She has curated a sophisticated palate for food, travel and culture and uses her travels as an outlet to develop her photography portfolio and hone her writing craft.