Everyone talks about the wildflowers that blanket hills this time of year (hello, super bloom) but Emily Whitmer, a veterinarian at the Marine Mammal Center, says early spring is also a prime time to see all kinds of sea mammal pups covering Marin County shores, including elephant seals, California sea lions and harbor seals. If you're heading out, make sure you keep up to date on where you are allowed to go during COVID-19 – check Marin Parks for the latest information.
It's a privilege to get to witness these critters, and much as you'd want to get close, please be respectful and give them space . "Take a moment to evaluate how close you are and use the zoom on your camera to get the shot," Whitmer says. "If the animal's behavior is changing — it's lifting its head and looking around, for example — you're too close." If you feel the animal appears to be in danger, call the Marine Mammal Center hot line at 415.289.SEAL.
The center annually receives over 10,000 calls, fielded by teams of trained dispatchers and trained responders who are able to assess the situation properly. Seals aren't the only ones making appearances in the area: in early March two gray whales were seen feeding and swimming in the bay near Tiburon. Last year about 20 gray whales made their way into the bay between February and May, and some stayed as long as a month. Best place to view them? "Top of Angel Island," center cetacean researcher Bill Keener says. "Cavallo Point and Tiburon are also great spots." Look for spouts.
---
More ways to help:
Although the Marine Mammal Center is currently closed to visitors during COVID-19, there are plenty of ways you can support their work: adopt a seal, give a donation and have it doubled, give an animal lover a gift, or volunteer.
There are all kinds of great ocean conservation and wildlife organizations in the Bay Area. Here are a few:
---
For more on Marin: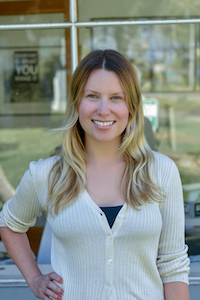 Kasia Pawlowska loves words. A native of Poland, Kasia moved to the States when she was seven. The San Francisco State University creative writing graduate went on to write for publications like the San Francisco Bay Guardian and KQED Arts among others prior to joining the Marin Magazine staff. Topics Kasia has covered include travel, trends, mushroom hunting, an award-winning series on social media addiction and loads of other random things. When she's not busy blogging or researching and writing articles, she's either at home writing postcards and reading or going to shows. Recently, Kasia has been trying to branch out and diversify, ie: use different emojis. Her quest for the perfect chip is never-ending.